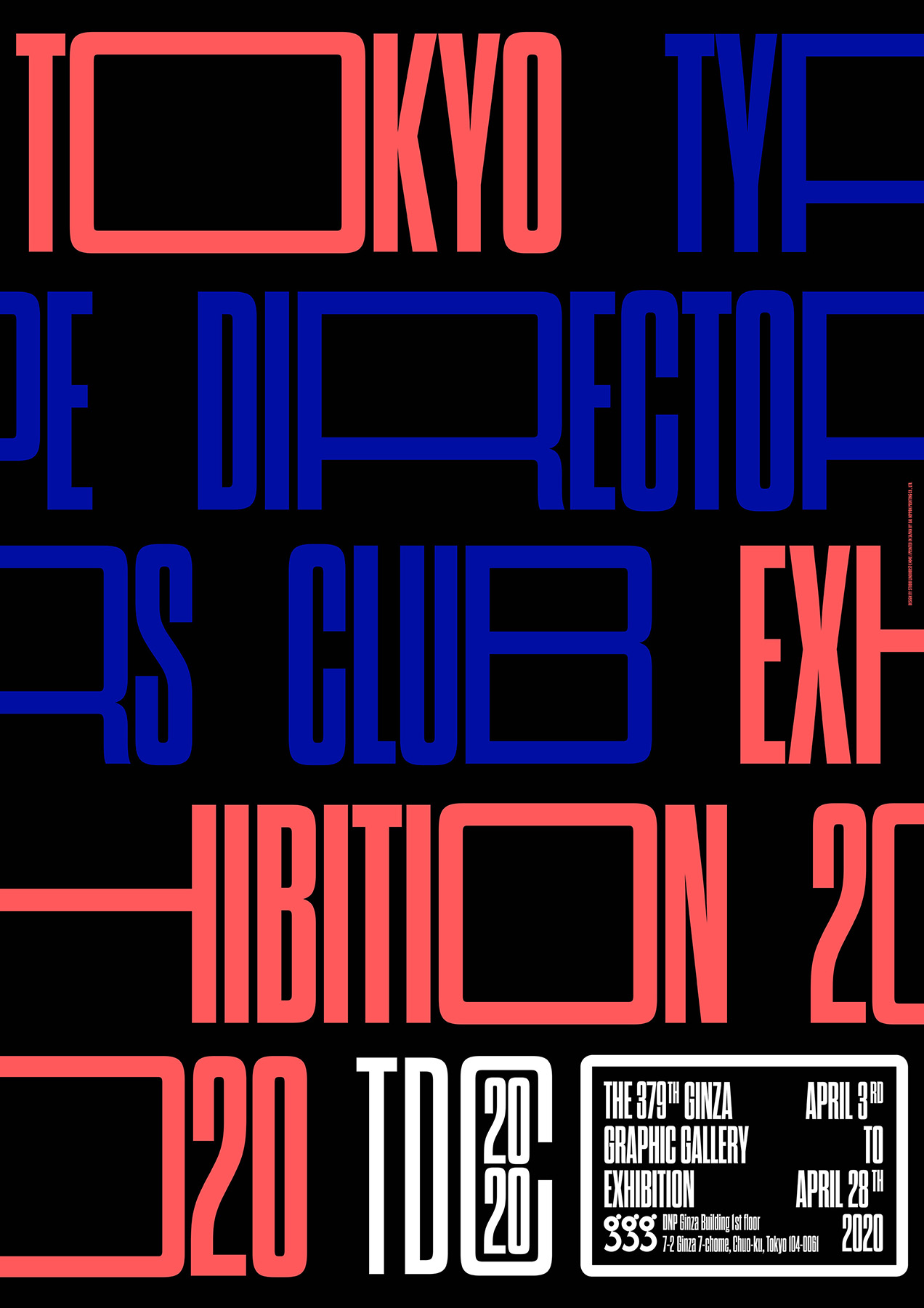 Tokyo TDC Annual Awards 2020: a must-see exhibition is unveiled
Featuring a total of 137 works of graphic design magic Tokyo Type Directors Club is pleased to announce the official TDC Exhibition for Tokyo TDC Annual Awards 2020 at Ginza Graphic Gallery.
The must-see event has a stellar line-up of works showcasing "outstanding pieces of graphic design works focusing on typography centered around the 12 prize winners and nominated works."
From TDC2020 Grand Prize winner aka M/M (Paris) and their brilliant work for fashion hub Galeries Lafayette Champs-Elysées in full display through a book design by artificial intelligence, the digital reconstruction of a representative display typeface in the 19th century, the artist book made in collaboration between Jonathan Ellery and Lawrence Weiner, Seigen Ono's music album and poster for the show of COMME des GARÇONS, the Kyutai 8 magazine edited by the artist himself, the graphic of Yui Takada's solo exhibition which became a hot topic in Beijing, the video work of the exhibition studying Chinese font size on designs, the poster that represents the meaning of the four kanji words 「仁者乐山」and our very own large format limited publication Marlet AntiManifesto that celebrates the release of Parachute Typefoundry's original typeface PF Marlet, this highly curated exhibition will inspire.
Set in PF Marlet, Parachute's latest elegant humanist typeface created by Panos Vassiliou with editorial design by Manos Daskalakis and edited by Typeroom's Loukas Karnis, the publication aims "to inspire and highlight the importance of a woman's liberating spirit across politics, media, philanthropy, activism, beauty and more." For the limited publication Parachute collaborated with world-renowned fashion photographer Bill Georgoussis who "encapsulated the typeface's character in 10 large format portraits inspired by its fierce attitude."
Marlet AntiManifesto, the collectible "oversized (500x700mm) typographic compendium for the new feminine "celebrates féminité extraordinaire. Filled with data and words of feminine wisdom it is not a guidebook to live by, but an inspiring, unconventional, dark, illuminating, witty celebration of the enigmatic nature of woman." The awarded oversized (500x700mm) typographic compendium for the new feminine was created in the event of the release of the edgy elegant PF Marlet, a TDC awarded type system on its own.
"PF Marlet's set of typographic elements is based on a minimal and simplistic approach to elegance. Originally designed as a single-style font for a Mexican cosmetics institute and its exclusive make-up and skincare line aimed at upper-middle income bracket women, PF Marlet has progressively bloomed" notes the studio.
With numerous combinations diverting from passing trends in typography type designer Panos Vassiliou drew inspiration "from the roaring 20s and 30s, decades that embraced women's independence both socially and politically. Taking intricate hints from the era whilst maintaining approachability, the contemporary dynamic version of this humanist typeface evolved with modulated strokes."
With poster design by Sven Lindhorst-Emme, the TDC Exhibition for Tokyo TDC Annual Awards 2020 at Ginza Graphic Gallery -which was postponed following temporary closure in order to prevent the spread of COVID19- is on from June 22 through August 29.
Explore more here.
Tags/ book design, typeface, exhibition, magazine, awards, m/m (paris), tokyo, type directors club, parachute typefoundry, pf marlet, tokyo type directors club, marlet antimanifesto, tdc2020, comme des garçons, seigen ono