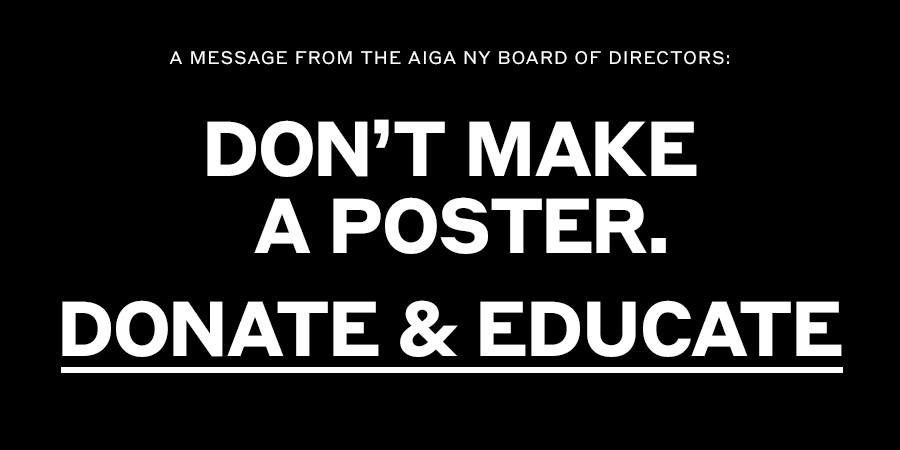 Donate, educate, support: AIGA & more respond to Black Lives Matter movement
"In situations of injustice, like the one we are currently facing, our first inclination is to design something. But before that, it's important to identify the work that really needs to be done to understand how to use our skills most effectively" tweeted AIGA as a response to the Black Lives Matter movement in USA.
The tweet urges graphic designers and artists to educate themselves before posting an artwork and calls for the creation of an "anti-racist future" through education.
AIGA tweeted an already viral online resource with links that enlighten anyone who is interesting in exploring the roots of the problem, therefore change USA's and the already globalized systemic racism.
Anti-racism resources is "intended to serve as a resource to white people and parents to deepen our anti-racism work. If you haven't engaged in anti-racism work in the past, start now. Feel free to circulate this document on social media and with your friends, family, and colleagues."
"We absolutely support creating powerful visual communication when it accompanies personal education and change. What we are trying to discourage is creating content for its own sake without any accompanying actions that will support long-term change" adds AIGA NY.
Sharp Type, an all-American type foundry also reacted to the events through donations.
"As an American foundry, we stand in solidarity with everyone on the streets peacefully asserting black people's right to exist. White supremacy is our cultural legacy. Its on us to make it right" tweeted Sharp Type which is "donating $5000 to black orgs on the front lines today."
As an American foundry, we stand in solidarity with everyone on the streets peacefully asserting black people's right to exist. White supremacy is our cultural legacy. Its on us to make it right

We will be donating $5000 to black orgs on the front lines today. Receipts to follow

— Sharp Type (@SharpTypeCo) June 1, 2020
"Our namesake called out injustices in the 60s" tweeted Herb Lubalin Center. "He was a quiet man who made radical choices and went against the grain in an industry that wasn't accepting. He inspires us to strive to do better. This moment inspires us to ALWAYS do better."
"We are taking time to listen, to learn, to read, to reflect on ways we can be better and support the Black community more. We are doing what we can financially but we pledge to do more. We pledge to continue to expand our design archive to be inclusive of the multitude of voices. To continue to add works by Black designers. To continue to share and speak about these designers. To build new platforms to make this information visible."
"We are also here to listen and to help. Tell us if you need us to amplify your message right now. Tell us if you need resources or materials or leads that we can share with you. Call us out if we make mistakes" tweeted Lubalin Center providing another list of helpful resources.
Ways you can help right now: https://t.co/4TjrD016l4

— Lubalin Center (@lubalincenter) June 2, 2020
As the debate on how to act online with caution -eg. using the #BlackOutTuesday hashtag instead of #BlackLivesMatter for not flooding the movement with black squares devoid of information- continues, Mireille Cassandra Harper, assistant editor at Square Peg Books, posted on Instagram her 10 Steps Guide To Non-Optical Allyship.
"Social media has been a bit overwhelming since I first put up this post so it has taken some time for me to post this. On Friday, I shared this content on Twitter after I felt the conversations online were like screaming into an echo chamber. I wanted to provide those who wanted to support and be an ally with practical tips to move forward and make a change in our society. I am still somewhat surprised and overwhelmed by the reception so please take patience with me at this time" notes Harper.
Her guide is been reproduced by British Vogue and her writer's fee will be donated to the Belly Mujinga Fund.
Also Jezz Chung, a storyteller based in Brooklyn, New York instagrammed her own guide to stay active beyond social media.
"I didn't grow up in a racially conscious household. My mom grew up in a tiny dirt village outside of Seoul and learned to speak English while she was teaching me. There was no space for history lessons. My ongoing understanding of our racial dynamics comes from active learning through intentional media consumption, communal conversations, and deeeeep reflective work. I say deeeeeep because it requires a complete unlearning of what I've been taught at home, what I learned from institutional educators, and what I picked up from mainstream media" she writes before sharing "a few different ways to invest your energy, in case one resonates more than another."
Responding to the systemic racism crisis AIGA Design posted a "Statement, Pledge, and Call-to-Action on the Continued Killings of Black Americans" online.
"To the many organizations and individuals, in and outside of our communities, who have worked and continue to work tirelessly on matters of racial justice, racial equity within design, and amplifying Black voices: Thank you" reads AIGA Design's statement.
"You have helped lead the way to this point, educating and steering change. If you or your organization or institution are already doing this work, and are interested in exploring how AIGA can support your cause, please email us at community@aiga.org to begin a conversation."
And Jessica Walsh tweeted to her many followers another feed of useful resources.
Many new resources added to the google doc. Where to donate, petition, black artists / activists / designers to amplify, back restaurants and shops, etc: https://t.co/C6LecPfnEw pic.twitter.com/mrxOAWQ6AS

— jessicawalsh (@jessicawalsh) June 2, 2020
#BlackLivesMatter was founded in 2013 in response to the acquittal of Trayvon Martin's murderer.
Black Lives Matter Foundation, Inc is a global organization in the US, UK, and Canada, whose mission is to eradicate white supremacy and build local power to intervene in violence inflicted on Black communities by the state and vigilantes.
"By combating and countering acts of violence, creating space for Black imagination and innovation, and centering Black joy, we are winning immediate improvements in our lives" reads the Black Lives Matter manifesto.
Tags/ jessica walsh, aiga, activism, herb lubalin center, black lives matter, donate, racism, support, resources, aiga design