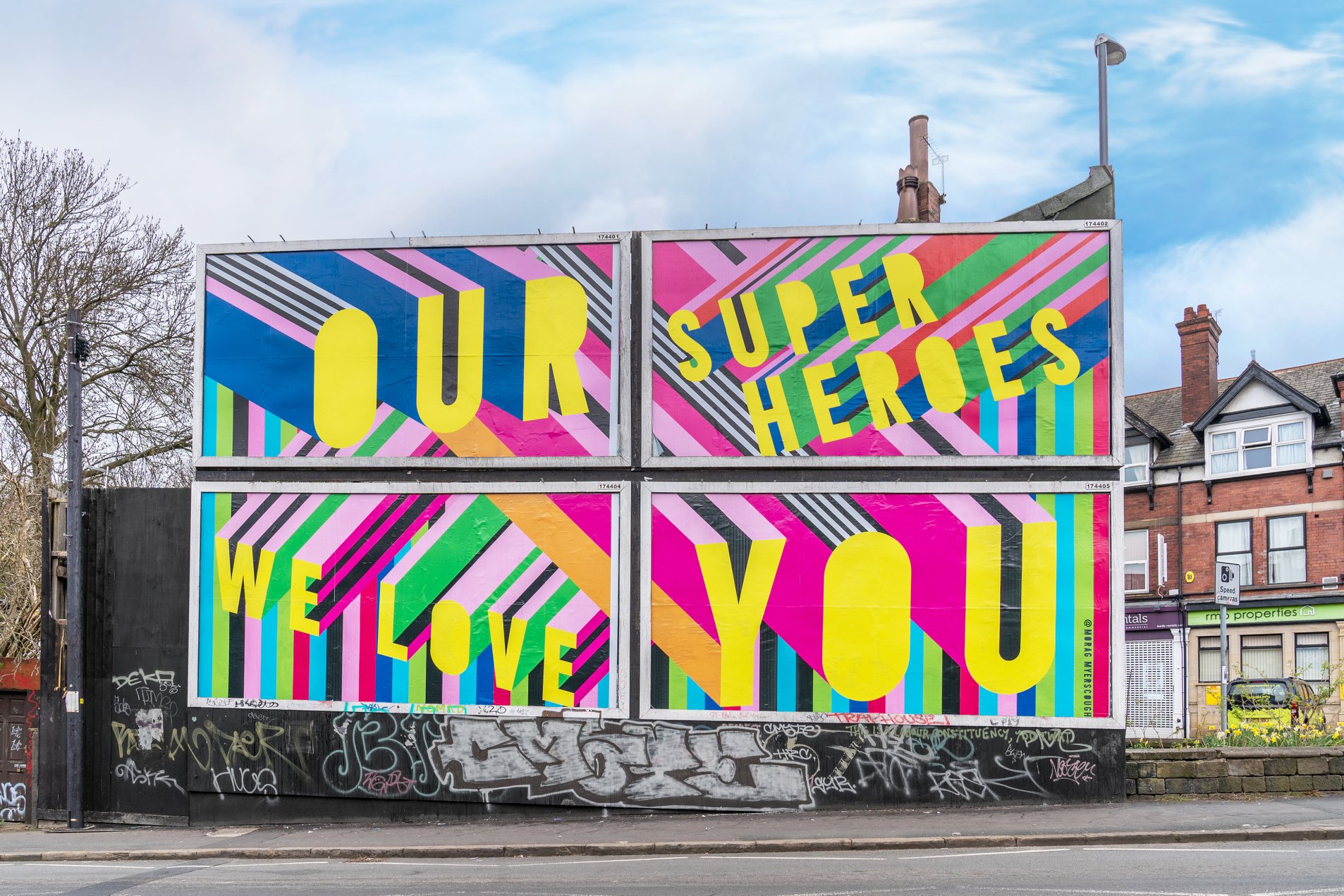 Posters for the People: design your hero billboard and support the true warriors against the pandemic 
UK art project in the North of England launches Posters for the People is on a mission for good. The brainchild of Duke Studios founder, Laura Wellington, Posters for the People aims to raise funds for NHS and key workers charities with its newly launched empowering communication campaign in times of the pandemic and obviously spreading a wave of technicolour positivity is In Good Company's way to "harness people-power" against the COVID-19.
The Leeds-based curated street art project that has created some of the city's most striking murals and installations, has launched an ambitious project across the country to raise funds for charities supporting NHS staff and key workers.
Starting with one high-profile billboard designed by renowned artist Morag Myerscough at Leeds' Hyde Park Corner, soon after lockdown began, In Good Company has now taken over 150 sites in Leeds with poster art conveying thanks and positivity for the true heros of this war against Coronavirus.
Inspired by the public outpouring of gratitude and respect for NHS staff and everyone working to keep vital services running, In Good Company has brought together a collective of eight artists to create vibrant posters focusing on an "empowering and positive messages" that people can buy to display wherever they want and a free print-at-home download you can colour in yourself.
The designs feature messages including 'You're all going to deserve medals after this', 'Conversations make rainbows' and 'Our super-heroes we love you'.
Posters for the People is the brainchild of Duke Studios founder, Laura Wellington who set up In Good Company as a passion project with the aim of bringing more large-scale art, fun and colour to the city of Leeds.
When projects were put on hold as COVID-19 took hold, Wellington wanted to use her skills and connections to amplify the gestures of thanks she saw in the streets around her home in north Leeds.
"I was inspired by the weekly applause and the rainbow artworks popping up on pavements and in windows. Graphic design is key amidst a crisis – it's a powerful tool in communication and we wanted to create a campaign that keeps peoples spirits high. It all started with a massive billboard in Leeds designed by artist Morag Myerscough" she says.
"We wanted to create masses of fabulous billboards and posters across the UK as we wanted the art to be for everyone across the whole country. We turned the first one around in just 72 hours, but it quickly became clear that the national billboard process was just too slow, so we decided to give the power to the people."
"Our projects demonstrate how graphic design impacts what we notice, how it makes us feel, and the comradery it evokes. From our experience, we know that design has a significant role to play in communities and societies when challenged. Empathy and support for others, in any way, is necessary. As artists and designers we thrive in creativity, and there's no bigger opportunity to be creative than in a crisis" adds Laura Wellington of a positive-infused graphic design artivism.
The campaign is been expanded to banners "after an overwhelming call from the public for more."
In Good Company has brought together a group of eight creatives including Morag Myerscough, Studio Build, Rebecca Strickson Illustration, Anthony Burrill, FYI, Luke Tonge, Craig Black and Risotto Studio, each of whom has designed a banner which can be ordered in a range of sizes online and delivered to your door.
Hopefully "the sale of these banners will raise much needed funds, with all the profits going to the eight charities chosen by the artists."
"In times of crisis as graphic designers, illustrators and image-makers what can we do? So many of our friends and family are working literally on the frontline, risking all to help people. So, what can we do?" Design Agency Studio Build commented.
"This project is a result of wanting to do something, to show our love and support. If the resulting work produced for the 'Posters for the People' makes one person smile, feel reassured or just that people are thinking about them, cheering them on then that's job done."
Launching at 1.00pm Monday 20 April, Posters for the People banners will cost £19.80 (including shipping) for a 1m x 750mm banner and custom sizes are also available.
Support the community here and follow In Good Company's projects for positive change through art here.
Tags/ art, posters, campaign, street art, diy, charity, britain, studio, billboard, artivism, design for good, coronavirus, covid-19, street artist, posters for the people, laura wellington, nhs