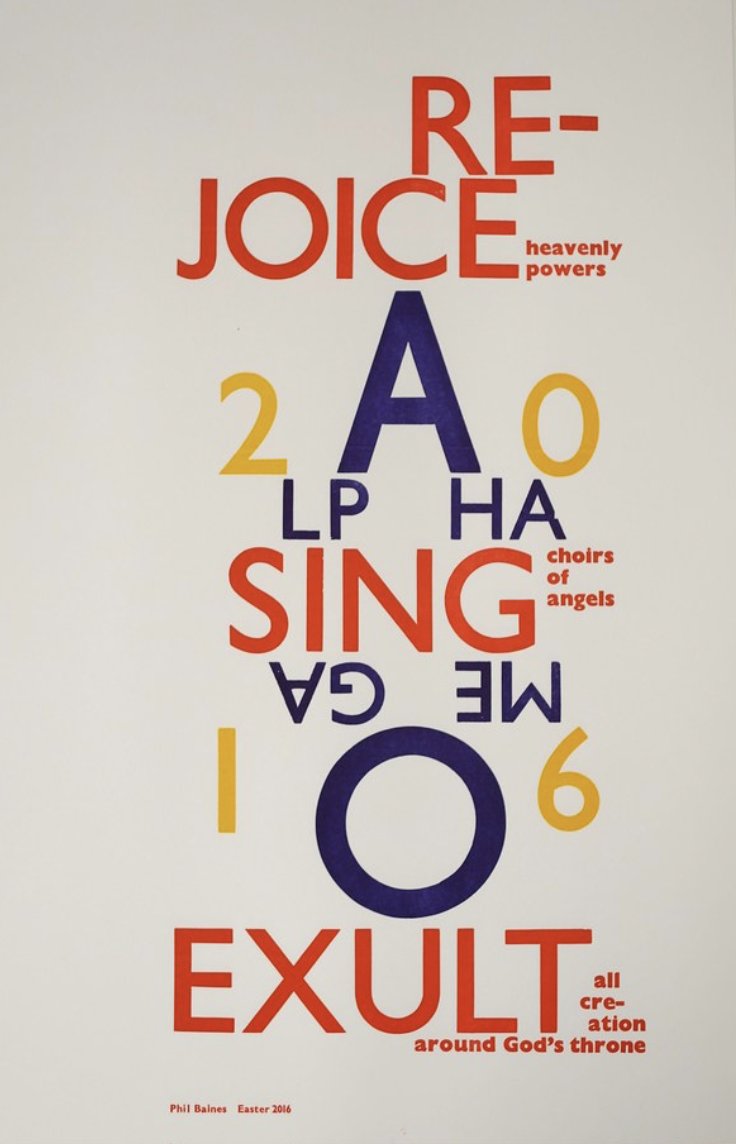 From Corita Kent to Paul Rand & Andy Warhol: highlighting the easter eggs in Font Sunday's design celebration
Celebrating Easter under a lockdown is a first but the graphic design community was present and fierce on Twitter once again for Design Museum's Easter Font Sunday theme.
"From chocolate egg packaging, to egg-painting kits and vintage greeting cards - send in your examples from noon" was the request and inspiration came in a variety of letterforms and "cracking" type.
Eventually works from Herbert Bayer, Sister Corita Kent, Paul Rand, Andy Warhol, Roger Ferriter and Phil Baines were some of the many typographic easter eggs which were retweeted.
"For over three decades, Corita, as she is commonly referred to, experimented in printmaking, producing a prodigious and groundbreaking body of work that combines faith, activism, and teaching with messages of acceptance and hope. Her vibrant, Pop-inspired prints from the 1960s pose philosophical questions about racism, war, poverty, and religion and remain iconic symbols of that period in American history" writes the introductory text to Corita Kent's 'Someday is Now' exhibition that was held four years ago at The Andy Warhol Museum in an attempt to reveal "the impassioned energy of this artist, educator, and activist.
"There are a number of contemporary artists, Maggi Hambling among them, for whom Holy Week and particularly Good Friday is a period for a specific creative endeavour. However agnostic or otherwise those artists might be, there is a sense in which this annual Christian narrative – of corruption, betrayal and pain – is played out through visual images, sometimes literal depictions of the crucifixion, often melancholic allegories of existential import" writes Laura Moffat on Sarky Type's Phil Baines.
"Phil Baines, […] might be counted among these practitioners but his annual exercise is one of exultation. Falling as it often does between terms, each year in Holy Week Baines designs and fabricates a Paschal candle which is the focus of the beginning of the Easter liturgy, symbolising light coming out of the darkness. In most churches these are bought off-the-shelf from an ecclesiastical supplier, but former colleagues of Baines from his pre-art school days at Ushaw College (a training seminary for Catholic priests), have been the fortunate recipients of his designs over the last 32 years.
At St Augustine's, Hammersmith, all 32 of Baines' Paschal candles were brought back to life […]. They stood within a small side chapel in the newly reordered church with clean white walls, marble floors and a simple marble altar. The combined effect of such typographic dexterity was almost dizzying, with words and symbols jumping out in reds and golds and, in later designs, a dark blue."
"As Baines explains in the exhibition booklet, 'the rules for a Paschal candle are few: it should have a cross, it should say A (alpha) and Ω (omega), it should state the year.' Early designs utilise Latin text from the Exsultet (which is said or sung during the Easter Vigil when the candle is lit) with larger lettering providing dynamic intersecting lines and overlayering in cross formations. By the late 1990s the lettering is predominantly sans serif, with mutations of nesting letters and some typically clever uses of letters that act in dual roles. For example, a 't' of 'Et' becomes a cross dividing the pictorial plane into quarters. At the millennium Baines designed his own font, Vere Dignum, specifically for the purpose of the candles and it's deployed with beautiful, lavish effect, and in red only, in a further six silkscreen designs. Scrolling serifs and thin tall letters reminiscent of ironwork and calligraphic scripts are wonderfully redolent of ecclesiastical designs of the past that Baines is able to draw on. But such is Baines' nimble ability to change between styles (and perhaps his impish curiosity) that in 2008 he brings back letterpress work and large chunky Gill Sans letters spelling out (shouting out in fact!) 'ALLEUIA! REJOICE!' […]"
Discover more here.
#FontSunday Sources and Resources of 20th Century Design, The International Design Conference, Aspen, 1966, poster designed by Paul Rand. #easter @DesignMuseum pic.twitter.com/qderL1V1X2

— Wayne Ford (@wayneford) April 12, 2020
Hanes' L'eggs stockings in egg-shaped packaging with logo by Roger Ferriter of Herb Lubalin Associates (1969). #FontSunday #Easter @DesignMuseum pic.twitter.com/ZmZ4k4jmqi

— ???????????????????? (@DanielCookney) April 12, 2020
Phil Baines, Easter candle wraps, 2013 and 2016 @SarkyType @DesignMuseum #FontSunday #Easter pic.twitter.com/b8mBh051q9

— Michael Bierut (@michaelbierut) April 12, 2020
Cracking type! Andy Warhol & Jean-Michel Basquiat, Eggs @DesignMuseum #FontSunday #eggs #typography pic.twitter.com/qdKKKXhTof

— Ben Prescott (@benprescott) April 12, 2020
RT tonyplcc: Derek Birdsall Common Worship Holy Week and Easter DesignMuseum #FontSunday pic.twitter.com/ZvGMjjsoRP

— Basque Design Museum (@basque_design) April 13, 2020
#FontSunday 2020 15/52 @DesignMuseum #easter J. Sainsbury's Broken Eggs carton, 1960s. #sainsburys #brokeneggs #sixties pic.twitter.com/f0rPc599dk

— Ben Atkins Design (@BenAtkinsDesign) April 12, 2020
#FontSunday 2020 15/52 @DesignMuseum #easter J. Sainsbury's Jumbo's Easter Eggs advert, 1936. #sainsburys #eastereggs #thirties pic.twitter.com/RjcMyhB6Jc

— Ben Atkins Design (@BenAtkinsDesign) April 12, 2020
#FontSunday Antonio Boggeri: L'UOVO DI COLOMBO [Studio Boggeri 1933-1937], 1937. "The Egg of Columbus is the simple and universal expression of advertising."#easter @DesignMuseum pic.twitter.com/5gOo31mmG9

— Randall Ross (@modernism101) April 12, 2020
Paul Rand. #easter advertisement for Kaufmann. #designmuseum #FontSunday pic.twitter.com/3j4mo92Qvm

— Doug Thomas (@dougthomas31) April 12, 2020
Design by Marlyn Dantes, Tagged Studio #FontSunday #Easter @DesignMuseum pic.twitter.com/WpFu4ajVSk

— Donald Partyka (@donaldpartyka) April 12, 2020
Studio Anthon Beeke – Dick Bruna poster for Centraal Museum Utrecht, 2000 (and another gratuitous photo of Dick Bruna and Miffy) #FontSunday #Easter @DesignMuseum pic.twitter.com/C2RAxdaDJZ

— SHOW\TRIAL (@ShowTrialStudio) April 12, 2020
.@DesignMuseum's Easter #FontSunday — Mars Hill Easter 2013, by @patrickmahoney. pic.twitter.com/4xtVdd0JxQ

— Armando Roque ????????????????????????????️‍???? (@ArmandoRoqueCcs) April 12, 2020
Poster, Spring in the Country, 1937; Designed by Edward McKnight Kauffer @cooperhewitt collection. #FontSunday #StayHome this #Easter @DesignMuseum pic.twitter.com/xLyxBqZZv4

— ᴍᴀʀɪᴇ ᴅᴜʟɪɴ (@MurrMarie) April 12, 2020
Our Allies Need Eggs @DesignMuseum #FontSunday #egg #typography pic.twitter.com/HMg6eeQRTI

— Ben Prescott (@benprescott) April 12, 2020
#FontSunday The hidden 'Created by Warren Robinett' screen from the Atari 2600 game 'Adventure' (1980) – considered to be the first 'Easter Egg' to feature in a video game.@DesignMuseum #Type #Design #Videogame #Atari pic.twitter.com/yCQ092ScpI

— MHD / Graphic Design (@MHD_Studio) April 12, 2020
1920 Easter greeting card @DesignMuseum #FontSunday #Easter pic.twitter.com/TGjah0rsOX

— kiko84 (@kikocasa844) April 12, 2020
#FontSunday Mahalia Jackson (Poster for an #Easter Sunday concert at Lincoln Center, New York), 1967, designed by Milton Glaser. @DesignMuseum pic.twitter.com/97OvQdrkdR

— Wayne Ford (@wayneford) April 12, 2020
Herbert Bayer – Olivetti Typewriter poster #FontSunday #Easter @DesignMuseum pic.twitter.com/kFtQKtwHsP

— SHOW\TRIAL (@ShowTrialStudio) April 12, 2020
Sister Corita Kent, let him easter in us #2, 1963 @DesignMuseum #FontSunday #Easter pic.twitter.com/XHdwoGqNE1

— Michael Bierut (@michaelbierut) April 12, 2020
Tags/ twitter, herb lubalin, jean-michel basquiat, roger ferriter, easter, atari