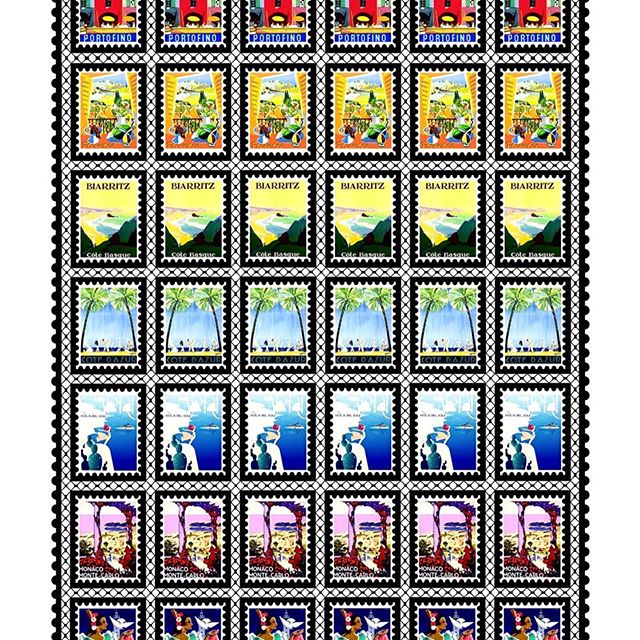 You got mail: from Mary Katrantzou's vintage postcards to this week's Font Sunday, the beauty of the stamp revealed
Stamps are all the rage online as this week, two projects featuring the beauty of the vintage stamp design online.
On Instagram, the Greek fashion designer Mary Katrantzou debuted Mary Mare aka her first seasonless collection with a love letter to vintage stamps design.
The collection's prints are "a cabinet of curiosities, revisiting the success of the brand's 10th-anniversary postage stamps and seashells-inspired graphics. Postage stamps from exotic destinations emblazon cotton poplin, linen and silk twill across a series of day-to-night dresses. Seashells are celebrated across ten dresses. The pattern is projected onto georgette and cotton voile on standout mini-dresses and kaftans shapes."
Unable to shoot the campaign due to the COVID-19 pandemic, Katrantzou and her team illustrated a campaign straight from the past with Instagram posts in the form of vintage stamps.
As noted the brand will be donating 20% of all Mary Mare sales to Age UK and Action for Children to support those most in need at this critical time.
Meanwhile on Twitter, Design Museum's Font Sunday was dedicated the postman who is "still going strong and delivering our post during the outbreak."
From packages, uniforms, letterboxes, stamps to letters, last Sunday, Twitter got mail.
postcards by #RayJohnson (American, 1927-1995; credited with being the first mail artist. Ray was known as "New York's most famous unknown artist", #fontsunday @DesignMuseum thank you #postalworkers pic.twitter.com/Y9oIfpmunz

— DesignApplause (@DesignApplause) May 12, 2020
Georg Olden, stamp commemorating the 100th anniversary of the Emancipation Proclamation, 1963 @DesignMuseum #FontSunday https://t.co/dXEff17wjG pic.twitter.com/qAVcaofg2U

— Michael Bierut (@michaelbierut) May 10, 2020
From the @lubalincenter: Stamp designed by the Lubalin Smith Carnase studio for US Postal Service but never implemented. Mid/late 1970s. #Lubalin100 #FontSunday

H/T: @rileycran pic.twitter.com/f63JIs7d1j

— Center for American Politics and Design (@politicsndesign) May 10, 2020
Herb Lubalin designed US postage stamps.
Twice.
See them all.

Day 49 of #Lubalin100 https://t.co/BJWikq7q5J pic.twitter.com/1B5jSo1ak6

— Lubalin Center (@lubalincenter) May 4, 2018
Tags/ illustration, vintage, instagram, campaign, twitter, mary katrantzou, font sunday, stamps, postcards