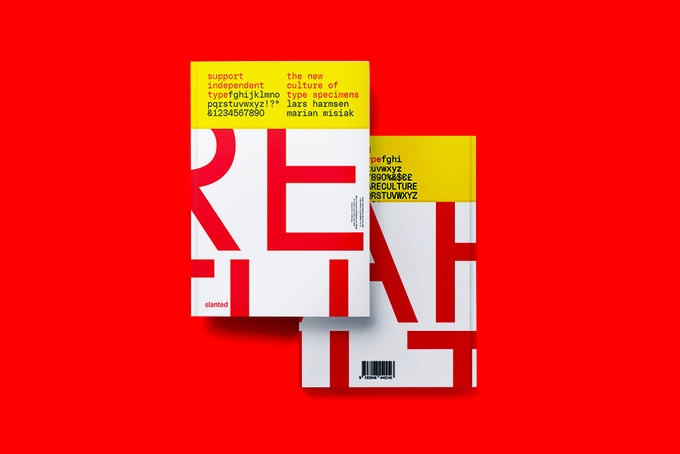 Slanted X Kickstarter urge us to support independent type. This is how
International design magazine Slanted & Kickstarter teamed up to launch the inaugural open-call for graphic designers, typographers, photographers, illustrators, editors, and art directors who seek funding for a project in the wider field of print publications in 2020. As the open-call closed at the end of April, Typeroom highlights one of the selected projects to fund. Enter "Support Independent Type, a book about the New Culture of Type Specimens" by the Polish type foundry, Threedotstype.
"This book is about new type specimens, their impact on design and typographic culture. It is a manifesto for independent type foundries showcasing their work to promote freshly designed fonts and a story which explains why we should support them."

The book is "a compendium of contemporary, physical and digital type specimens. The carefully selected work of over 400 font labels and type designers gives you a glimpse into the adventurous shift of this creative industry" in more than 300 type-infused pages.
"We believe that independent type design reflects culture in its ambition to build an exciting alternative to the monolithic corporate font giants. In that spirit, we put together a collection of the most trendsetting, forward-thinking and provocative type specimens produced in the last decade" notes Threedotstype.
The publication features interviews with innovative type designers on their "stimulators, influences, and 'ninja mentalities' as they often operate in the shadows of corporate noise," insightful essays on the art of type design, a carefully selected collection of physical type monographs and compilations produced in the past decade presented as photographic reproductions of printed publications as well as specimens compiled from digital resources such as Instagram and type foundry / label websites in their respective format of posts and PDFs.
Why support independent type?
"Before digital publishing, type foundries manufactured and sold metal and / or wooden letters (typefaces) and matrices for printers" notes the team behind of the selected by Slanted X Kickstarter project.
"Today, type foundries distribute typefaces created by designers or freelancers as digitized fonts. We believe that these creatives are pushing boundaries of the field, and that independent foundries are the most vibrant spots for typographic innovations and tools."
The book which features "a selection of the most impressive specimen produced in the last decade" is to be published by Threedotstype and Slanted Publishers once it has reached its funding goal.
The Polish type foundry collaborated with professor of typography and program director for the MA Typeface Design at the University of Reading, Gerry Leonidas and Filip Blažek, a renowned expert and type specimens collector from Prague, CZ.
Authored and designed by Marian Misiak and Lars Harmsen of Slanted Publishers and professor for Typography at the University of Applied Sciences Dortmund, DE.
Based in Wrocław, Poland Threedotstype was founded by Misiak. Interested in experimental and cross-cultural type design Misiak has also co-authored a book about history of Polish typography and he is currently teaching as American University of Sharjah, UAE.
Support the project and emerge yourself in a world of boundlessness creativity and change in typography along the way here.
Tags/ kickstarter, slanted, publication, type foundry, digital fonts, gerry leonidas, type specimen, independent type, threedotstype