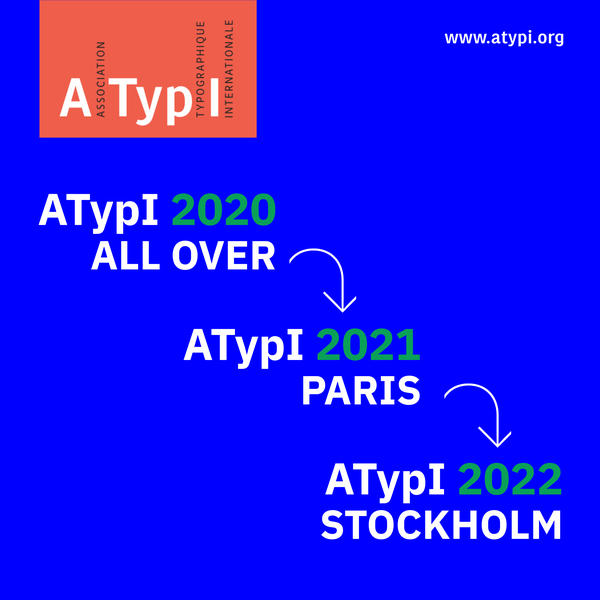 ATypI 2020 All Over: call for proposals in ATypI's first online conference ever
Back in late April, ATypI (Association Typographique Internationale) announced the postponing of ATypI Paris and ATypI Stockholm by a year each due to the global pandemic. But that has changed.
"We couldn't bear to let that much time go by without bringing our amazing community together—ATypI hasn't skipped a year since we began holding events more than sixty years ago. So it's our great pleasure to confirm that plans are well underway and dates are now definite: ATypI's first-ever online conference will be held October 27–31, 2020" reads ATypI's statement of an upcoming virtual event not to be missed and literally an online fest of creativity that you can be part of.
ATypI invites submissions of presentations, demonstrations, workshops, exhibitions, tours, and other programming for ATypI 2020 All Over.
"ATypI 2020 will bring together typeface designers, publishers, developers, educators, and other members of the global type, tech, and design communities" notes the international network that hopes this first ever online conference to be "more inclusive and accessible than ever before."
"We call for presentations that are informative, engaging, and inspiring; we actively seek topics that will provoke debate and contribute to the ATypI spirit of collegial dialogue and exchange. We expect scholarly subjects to be communicated with enthusiasm, and the most entertaining presentation to have a solid intellectual underpinning. We are not looking for academic papers to be read aloud-we seek talks that are visually rich and compelling, fascinating, and thought-provoking. We expect speakers to prepare their presentations with care for the assigned length, and to adhere strictly to our published schedule" notes ATypI.
"We are especially interested in hearing from those from underrepresented communities, and will strive to build a program that is as diverse, equitable, inclusive, and balanced as possible" reads the announcement of this virtual gathering.
All proposals will be read by the ATypI 2020 Program Committee and Final Review Team.
Submission deadline is June 30, 2020.
Save the date! ATypI 2020 All Over, our big virtual event, is set for October 27–31. Call for proposals is now open! Story here: https://t.co/ytWHHIOai3 | Submit here: https://t.co/aAa4XBuiiR #typedesign #typography #typetech pic.twitter.com/2d58OwUqjJ

— ATypI (@ATypI) June 15, 2020
Get involved here.
Tags/ typography, conference, atypi, call for submissions, coronavirus