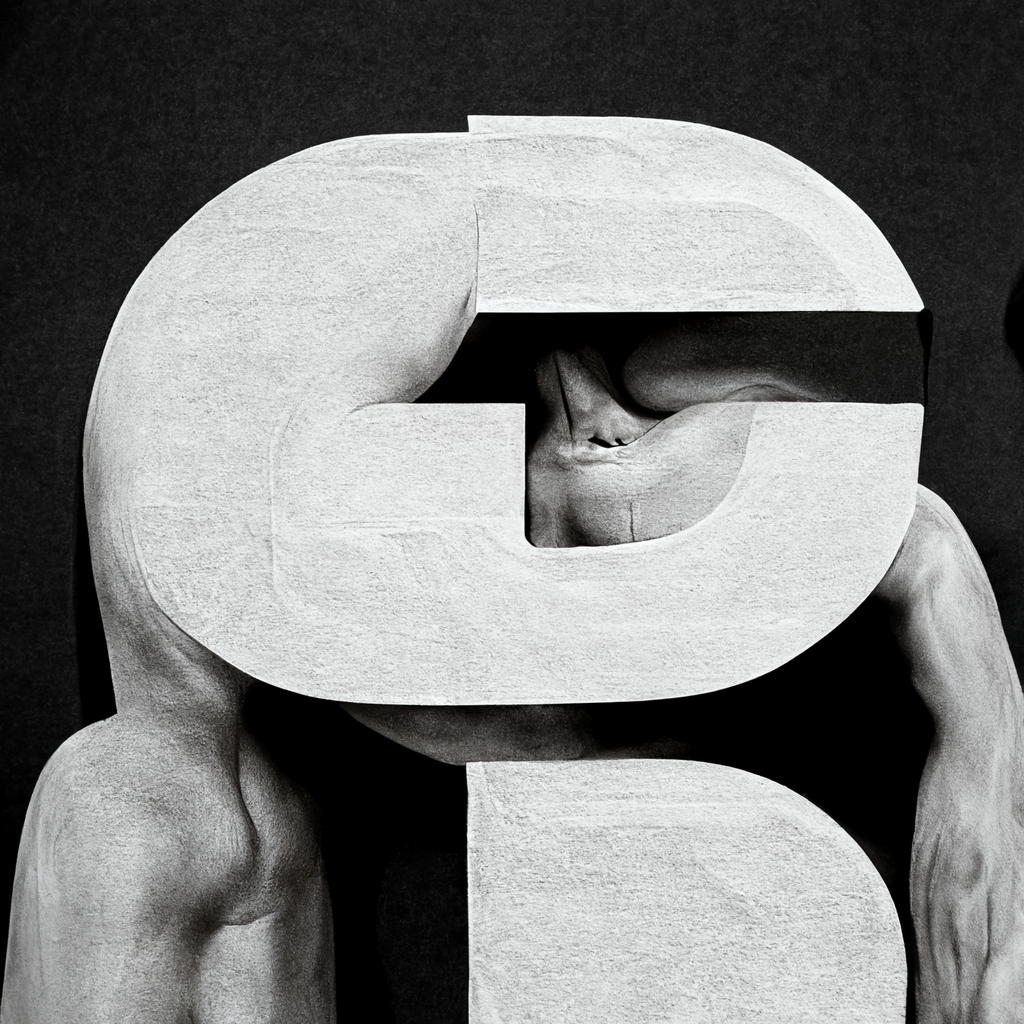 The type in the machine: Gianpaolo Tucci on his AI powered experimental typography 
Gianpaolo Tucci, one of the bold practitioners who shared the online stage of the Inscript Experimental Type Festival, is fearless.
The multidisciplinary designer with +15 years of experience in creative direction, product design, UX and visual design for a variety of (very well) established brands (enter NOKIA, EBAY, PUMA, Zalando, HERE & more), Tucci has shaped, reshaped and released products used by billions via his career path across the globe — but he wouldn't settle for just that.
A core contributor to Google's material design evolution for web desktop & mobile, Tucci has recently entered the Machine Learning realm via his Aesthetics Imperfections project.
Using Instagram as his platform to spread the word on what the future holds, Tucci experiments relentlessly with AI-generated typography made with Midjourney — the similar to OpenAI's DALL-E, publicly accessible AI-powered tool is all the rage lately — breathing life into an almost organic portfolio of letterforms that exist in the intersection of Man and the Machine.
For obvious reasons, he is also one of the many speakers in the upcoming Inscript Experimental Type Festival — the inaugural experimental-type festival taking place online October 12–16, 2022 aims to explore the overlap of typography and experimental tech, including but not limited to artificial intelligence, augmented and virtual reality, creative coding, physical computing, and innovative use of traditional craft.
Bold and pioneering by nature, Tucci is the ideal creative to introduce TYPEROOM to this world of many wonders and the inevitable challenges AI brings to the creative industry as this ongoing relationship between humans and algorithms keeps evolving.
Typeroom: From NOKIA to Google through Gucci, Fiat Group, and more established brands, your clientele in corporate digital design is impressive, to say the least. How did you gain interest in exploring AI's obviously trailblazing potential in typography?
Gianpaolo Tucci: Yes, I had the opportunity in my career to work with a huge variety of corporates, brands, and agencies. As you can imagine, being up to date to ensure always the best in class design solutions for my clients, is a must. I always research and experience while using new emerging technologies, and try to embed them when meaningful, to generate new strategic opportunities that ultimately translate into digital experiences.
AI, WEB3.0, Discord, and decentralized communities, the Metaverse, are currently in demand. These experiences and scenarios to be, are the foundation for a new era to be, and several clients are truly interested in these as we as creatives. On the other side, I'm in love with retro techniques.
Back in the years, I've been doing graffiti art for a really long time, exploring how lettering and typography can encapture their very own meaning. One year ago, more or less, I worked on an assignment for a movie logo title and related entering/exit sequences for Warner Bros Italy on a movie directed by Andrea de Sica who is also a friend of mine. During the process, I decided to create the whole title and background composition by recording how ferrofluids and other liquids responded to typographic elements I created using an array of magnets. The results were pretty inspiring. After that first experiment, I became interested in the many potentials this brand-new form of type design has to offer.
Yet, as AI image generators became available for beta tests I refused to use them in order to generate the next cyberpunk image. Instead, I focused on the visual component I like the most aka Typography.
Removing the established function and rules, exposing its own aesthetic value via cross-breeding it with algorithms, and eventually evolving the way elements of type can be perceived cognitively and artistically digitally became a creative endeavor of great interest. Embedding my analog learnings on materials, lights, and styles into the AI realm was a revelation. This melting pot of styles and inspirations forms what I like to call "aesthetics imperfections."
Even more, I've used machine learning to cross-breed typographic variations of the same letterform as keyframes for Latent Video Walks or FILM — this means ML will analyze and recognize interpolation points of the images to create beautiful morphing that literally breathes life into typography. Typography becomes a living organism, one that is able to adapt, evolve, and eventually die.
TR: What is the scope of your typographic artifacts featured on your @aesthetics_imperfections Instagram showcase?
GT: As in everything the scope is constantly evolving. Initially, it started as a simple collection of my visual experiments, an archive of experimental typography for me and for people to get inspired with. To share and discuss the possible evolution of AI in the context of typography and to reflect, through my own experiments, the infinite possibilities it provides in type design.
I wanted to provide visible documentation of my work evolution on a clear timeline. Meanwhile, I'm considering "translating" them into more human tangle artifacts such as posters and using them as the core elements for an upcoming book/magazine hybrid where I aim to expose my own experiences around the experimental typography outputs shared on Instagram.
TR: Which was your first AI typographic experiment?
GT: My first Typographic well-achieved image co-created with AI was made a few months ago when I gained beta access to various tools such as DALL-E, Disco Diffusion, and Midjourney which I guess is my favorite. As you can see, the typography was not recognizable at all.
Although hints of lettering are evident, it took me a while to reach some decent, legible results.
Having accomplished that I decided to breakdown the process focusing on single letters, materials, compositions, and so on in an effort to define and eventually educate myself and the people who follow this ongoing typographic experiment on its many potentials.
TR: Which is your favorite creation till now and why?
GT: That's a difficult question but if I have to choose it would be an installment in my Body de/con/struction explorations series. I love the graphical body of the deformed R shape, its connections made of bones, and its bright muscles made of neon colors. Obviously, I love anatomy and this is how I imagine and interpret the perfect anatomy for this "type."
TR: What are the challenges for creatives in the machine learning era that unfolds?
GT: ML and AI, might industrialize designer skills and craftsmanship, that's pretty clear. Yet I foresee three overarching levels of challenges. The first is how WE, the humans, shape the ML and AI tools in order to make rather evident that these technologies are not meant to replace the human individual creatives but instead provide a line of tools for infinite opportunities when it comes to reducing effort and time in terms of production; we are the product we use, machines and algorithms evolve according to our usage, therefore we should be ethical in the way we use and consume their respective products.
Where and how AI can be integrated into the design process has already a clear and yet evolving framework. But which can be a utopian paradigm shift in this new era? This is probably the second challenge, to identify the future scenarios for the new era to come, and to embrace AI and ML as part of the process and not a replacement.
I do see already a possible trend of AI image generation tools, "proving again creative motivation and inspiration, unfolding the unexpected", and I see that here we are facing a precious opportunity to reduce the TIME spent in front of the computer in producing a concept, and maybe gain back hours of work in order to explore and evolve it in physical craftsmanship and its respective manufacturing process.
The third challenge that I foresee is ultimately how we, the creators can use AI to generate a more "human" future.
TR: What are the most trusty tools you would recommend to aspiring creatives?
GT: Mind, soul, emotions, and senses to get inspired. Having these it's really just a matter of time to discover how to express your creativity. For me, creativity is not strictly about one's artistic sense and sensibilities. Creativity is the ability to imagine, find solutions, and innovate all aspects of our life, to improve our human society.
I really don't feel like recommending specific software tools as anyone should discover what suits them better to express themselves.
TR: Who would you consider the most trailblazing design professional that inspires you?
GT: It can't be one and it certainly is not a designer, but a creative force overall. Among the many, I would consider Adriana Varejão, Damien Hirst, and Alberto Burri as Artists (A), Stefan Sagmeister, Jonathan Harris, and John Maeda as Designers (D) & Craig Green, Raf Simons, and Martin Margiela as Fashion (F) pioneers.
TR: Typography is a ubiquitous art form that affects our understanding, perception, and trust in what we read. What new elements and qualities does AI bring into the limelight?
GT: AI is opening a path filled with opportunities, it provides us with almost infinite ways to explore stronger visual meaning and associations in a really short time with the minimum possible effort in order to create hundreds of variations.
AI can definitely play an important role in the context of stories or descriptions. For instance, through the use of ML tools online shops will be able to edit a product's description according to the consumer's level of attention and time and level of engagement and it can defiantly help to shape headlines for optimum results and sales.
I also see an opportunity in terms of accessibility and how ML and AI can help in tailoring custom typography to improve visually impaired people.
TR: Have type foundries started to embrace the AI potential?
GT: I don't think so, the quality of sharp typography to be used on several reduction scales and styles is not there yet. Numbers, for instance, are still extremely difficult to be represented — an issue I'm working on lately. It will be interesting to see how AI can influence and elevate the work of a typographer but I definitely see the beginning of a more "dynamic" era in type design through algorithms.
TR: Is machine learning a friend or a foe for creatives or the other way round?
GT: My gut feeling says it is a friend, but keep in mind that Machine Learning is a technology made by creatives and its usage is broad and ever-expanding. This is not about AI image generators, it is an overall prediction of the whole process and its accompanying results. Therefore the way we shape, use, and develop AI will provide the answer to your question.
People asked me several times "how do you create your prompt to get these results, how do you talk to the machine?". Well, this is a fundamentally wrong approach. Should we learn how to talk with ML or should ML learn who I am and the way I talk over time to address me? Should ML technology integrate with whatever product or be unique according to the individual who is using it? I opt for the second option.
Machine Learning and Artificial Intelligence could become an extension of the creative individual whose respective uniqueness, culture, interests, skills, and craftsmanship will dictate the input and the provided outputs. We will see what's to become of this continuous evolution.
TR: What are you working on now?
GT: Besides the Aesthetics Imperfection book mentioned already, I am testing the printing options and techniques for a series of posters soon to be available online shop and I am also working on an interactive phygital Aesthetics Imperfection exhibition in which I opt to combine physical and digital applications with prints and interactive video installations. Meanwhile, I am working as a consultant and creative director for Siemens Healthineers in an effort to reshape the customer experience across products and business units in the healthcare industry.
TR: What is the ideal track to accompany this talk?
GT: Consumed In Key by Plastikman & Chilly Gonzales. In fact, I suggest listening to the whole album, it's a masterpiece three decades in the making.
Tags/ typography, instagram, interview, experimental typography, typedesign, artificial intelligence, gianpaolo tucci, machine learning, midjourney, inscript