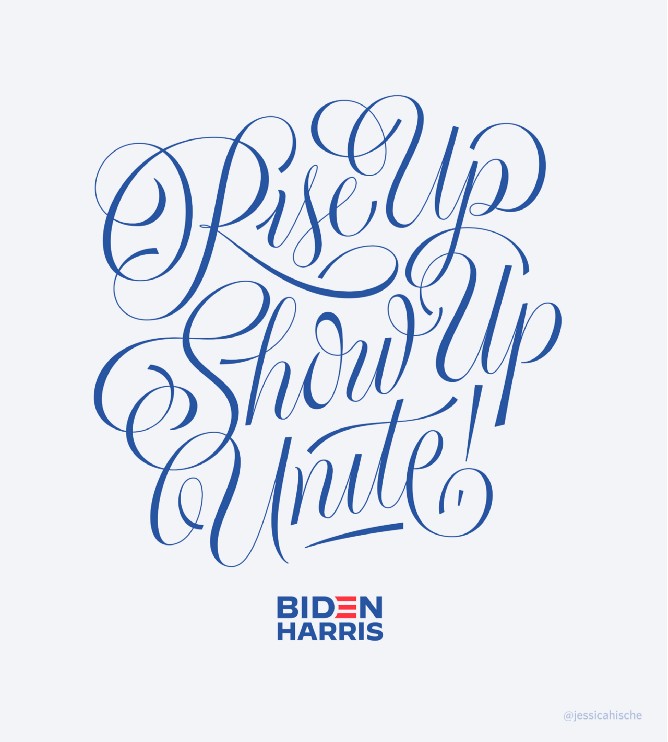 Rise up, show up, unite: Jessica Hische & more lettering artists against Trump
"We are a group of more than twenty American artists united to help Joe Biden and Kamala Harris defeat Donald Trump in the 2020 presidential election" writes Jessica Hische in her intro to the initiative which aims to influence the course of the upcoming US elections.
Aiming to get more people showing visible support for the candidates, the "Rise Up. Show Up. Unite!" is alive and kicking thanks to Hische and a main concern of hers for the upcoming election aka the lack of visible support for the Biden/Harris campaign.
"There are a lot of folx within the creative world and beyond posting on social media about voting (a wonderful and necessary message), but few of those posts mention the candidates by name. It's somewhat implied that if you're promoting voting or voting rights that you're likely voting Biden and encouraging a Biden vote, but it's not explicit. There's a 'I guess I'll vote for him if I have to' vibe throughout leftist social media, but exasperated resignation doesn't get people to the polls."
Earlier Hische had received an email from Scott Thomas, the man who designed Obama's original campaign in 2008, about participating in a get-out-the-vote project he's spearheading about "unity." Eventually, Hische created a lettering piece around this phrase: "Rise Up. Show Up. Unite!" She then reached out to her friend Adé Hogue about joining her.
"As we passed sketches back and forth we schemed about turning our one-off personal project into a full campaign, inviting other artists from the lettering and design community to participate. As artists with large online followings, we feel a responsibility to use our platforms to help causes we believe in and try to bring positive change to the world when possible—even if that means losing a few followers along the way. Nearly every person we reached out to enthusiastically signed on — just over twenty artists in total."
The group's goal as a group is clear and simple. Get people not only voting for Joe Biden and Kamala Harris but talking about voting for them out loud.
"There's a lot of criticism surrounding 'design challenges' for important issues, but I really do believe that a huge show of visible support within the creative community can help change the collective energy around the election" writes Hische of her call to arms.
"This isn't a hollow call to create art for the sake of art. This is a call to flood everyone's feed with open support for our candidates to activate and energize voters who may vote third party or may sit out the election entirely. We must proudly support Joe Biden — by doing so we give others permission and encouragement to turn their quiet support into activism.
More lettering artists joined the cause -Scott Biersack, Allison Black, Noah Camp, Tad Carpenter, Candace Carson, Yao Cheng, Lisa Congdon, Jon Contino, Jill Dehaan, James Edmondson , Maggie Enterrios, Jessica Hische, Adé Hogue, Lauren Hom, Kyle Letendre, Meg Lewis, Erik Marinovich, MaryKate McDevitt, Joana Muñoz, Jeff Rogers, Eso Tolson, Cymone Wilder and more- and if you want to be a part of this project, this is how to do it.
"You're welcome to share the art we have created (you can find it all on instagram under the hashtag #riseupshowupunite) or better yet join us by creating your own art using the phrase 'Rise up. Show up. Unite!' You can find a template with the Biden/Harris logo to get you started here. When you post art, tag @votejoe (an account managed by the Biden campaign) and @time2unite (Scott Thomas's unity project) and include the hashtag #riseupshowupunite."
Rise up, show up and unite here.
Tags/ lettering, jessica hische, instagram, campaign, lettering artist, elections, donald trump, joe biden