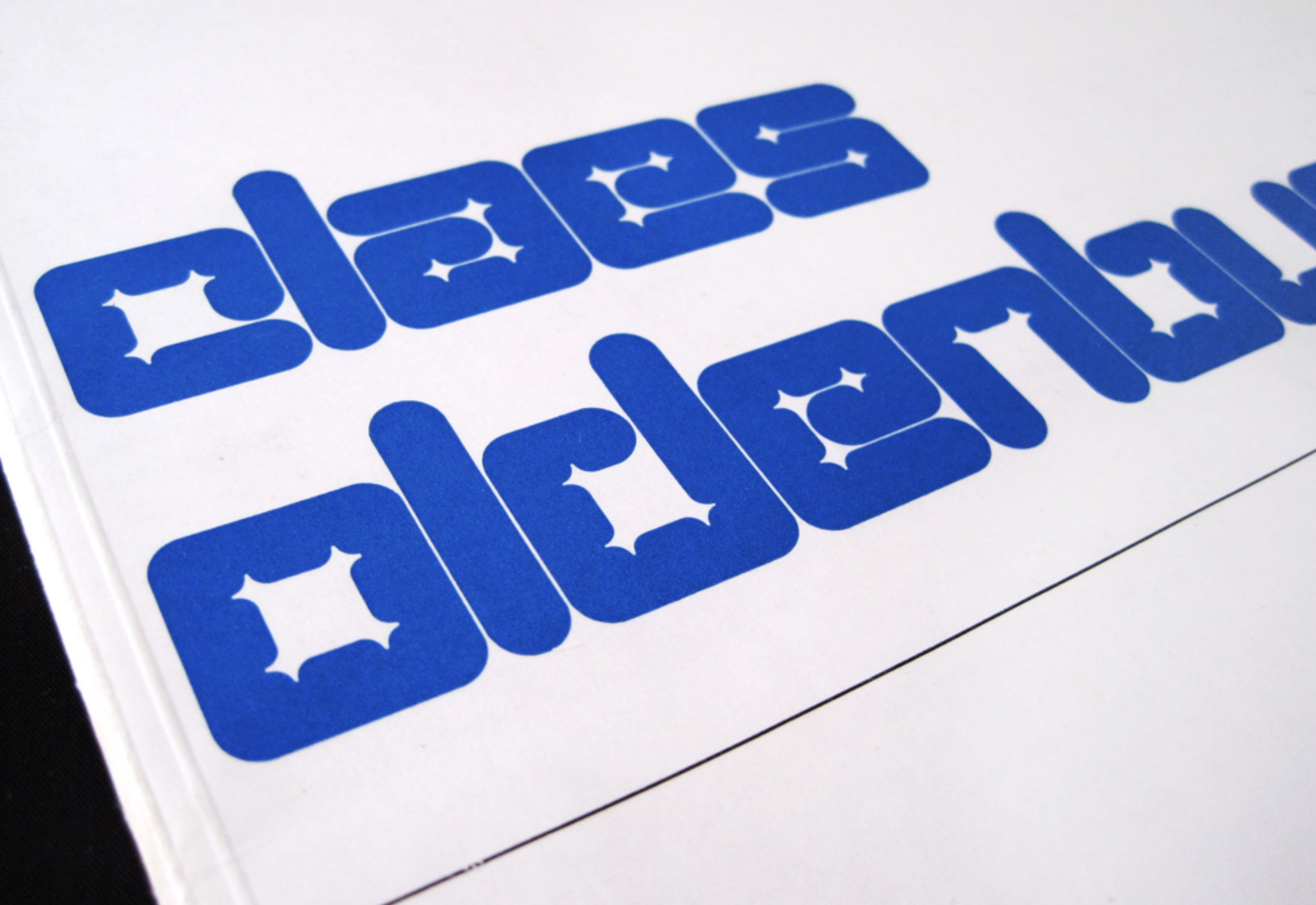 Blue Monday: fonts in cobalt blue at this Font Sunday's Sir Terence Conran tribute
As a tribute to the late English designer, restaurateur, retailer, writer, founder of the Design Museum and philanthropist Sir Terence Conran, Design Museum's Font Sunday asked the Twitterverse to provide some fonts in cobalt blue, Conran's favourite signature colour.
Conran passed away on Saturday 12 September 2020. He was 88 years old.
"Through a series of parallel careers, Sir Terence Conran had a greater impact than any other designer of his generation, revolutionising everyday life in contemporary Britain" notes Design Museum.
"Founding the Design Museum in Shad Thames in 1989 following an innovative start as the Boilerhouse in the basement of the Victoria and Albert Museum, Sir Terence Conran was a visionary mentor, leader and philanthropist."
"His ongoing commitment and support to the museum was recognised with a medal for Arts Philanthropy in 2012 and in 2017 the Queen awarded him the Order of the Companions of Honour for his major contribution to the arts. Terence was the subject of a monographic exhibition The Way We Live Now at the Design Museum in 2011 to coincide with his 80th birthday."
"Born in 1931, Terence studied textile design at London's Central School of Art. Leaving studies in 1948 to seek full time employment, he set up a workshop with his tutor, the artist and print-maker Eduardo Paolozzi where he concentrated his skills on furniture design, ceramics and fabrics. The early 1950s saw Terence work on the Festival of Britain alongside architect Dennis Lennon."
"Terence founded Habitat in 1964, the furniture company that he grew from a single, high profile outlet in London, to a national and international chain. Habitat was the springboard for Conran's expansion into the retail mainstream. As the founder of the Storehouse Group he acquired the Heal's furniture business, set up Next and ran British Home Stores and Mothercare. Terence continued to be involved in retail after he opened the first The Conran Shop in 1972, with eight stores located in London, Paris, New York and across Japan."
"Terence was also at the forefront of professionalising design in Britain throughout his life. Founded over 60 years ago, The Conran Design Group demonstrated the best of design in Britain, specialising in interiors, hotel and restaurant design, graphics, products and homeware. Terence would also go on to establish an architectural practice with Fred Lloyd Roche called Conran Roche and eventually became Conran and Partners."
"Alongside design, food was also one of Terence's great passions and he became a renowned restaurateur. His first restaurant, with Ivan Storey, The Soup Kitchen, opened in London in 1953 and he went on to open many more including Pont de la Tour, Bibendum, Orrery, Quaglino's and Mezzo. His restaurant interests extended to Paris, New York, Copenhagen and Tokyo."
"Terence Conran was instrumental in the re-designing of post-War Britain and his legacy is huge" said Tim Marlow, Director and Chief Executive, Design Museum.
"He is revered by generations of designers from Mary Quant and David Mellor to Thomas Heatherwick and Jonny Ive. He changed the way we lived and shopped and ate. He also created a great institution – the Design Museum - of which he was justifiably proud and with which he remained fully engaged right to the end of his extraordinary life. It was a privilege and an inspiration to know him."
As usual the many graphic designers, artists, type designers and lovers of visual arts provided lots of splendid examples of type in blue.
From Reid Miles' cover for True Blue by Tina Brooks circa 1960 through SEGA and more cobalt blue's hue is a perfect fit for impressive typographic works of art.
Explore more here
Tags/ twitter, fonts, design museum, font sunday, sir terence conran, blue