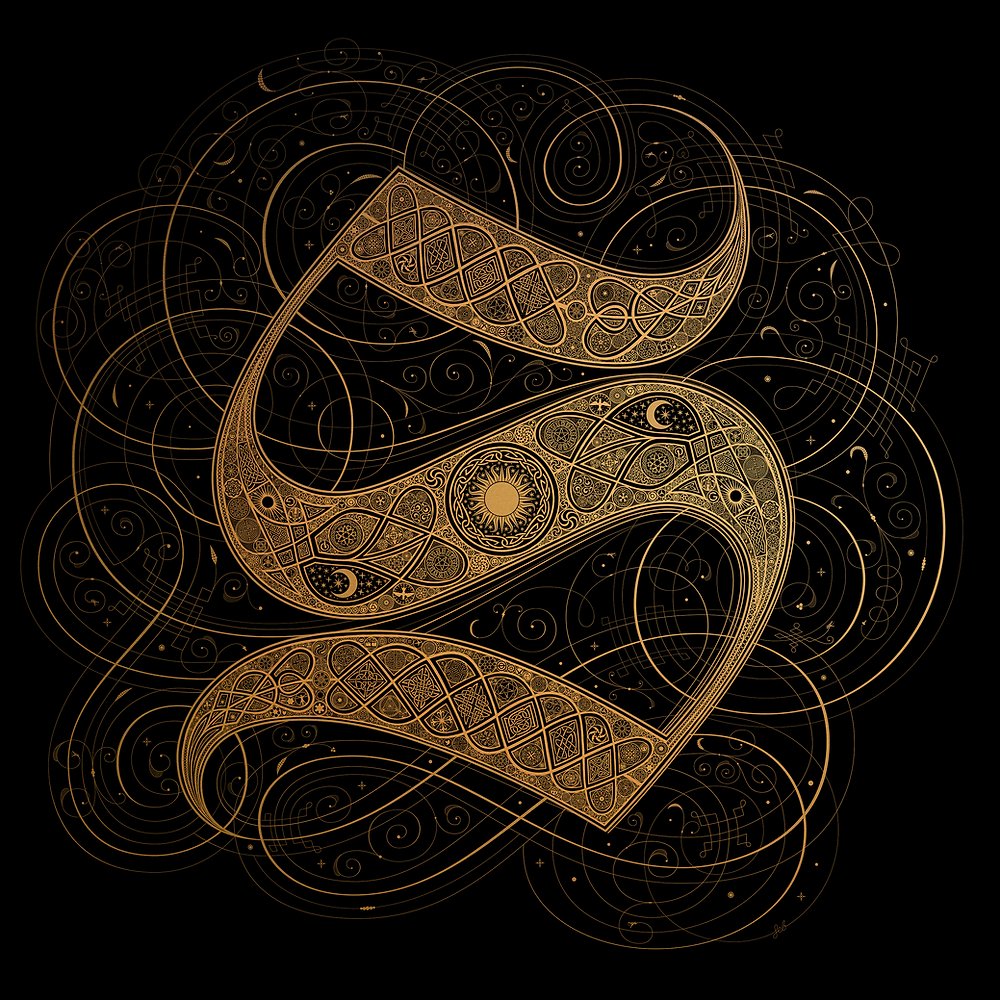 S for superb: Seb Lester's latest screen prints are a beauty to own
With 29 prints remaining from a limited edition of 150 as of today, Seb Lester's 'S' prints are a calligraphic beauty to hold.
Inspired by the finest ancient illuminated manuscripts of the past, these contemporary Metallic Rose Gold screen prints on Black Plike art paper (620mm X 620mm) come signed & numbered by the artist himself.
"The print incorporates hundreds of symbols, from prehistoric cave paintings to Sumerian ornament and Egyptian Hieroglyphics. The piece includes symbols and patterns that chart the Dark Ages, the Middle Ages and the Renaissance, through to modern symbols, logos and emoji" notes Lester.
"Beautiful Asian and Islamic ornament features prominently as well, so this is a truly international affair. I learned so much creating this piece and there is nothing more satisfying than expanding my artistic knowledge and understanding. 'S' is one of my most accomplished prints to date, a true labour of love. This is a joyful and playful piece that I hope people enjoy."
An illuminated manuscript is a manuscript in which the text is supplemented with such decoration as initials, borders (marginalia), and miniature illustrations. The earliest extant substantive illuminated manuscripts are from the period 400 to 600, produced in the Kingdom of the Ostrogoths and the Eastern Roman Empire.
Their significance lies not only in their inherent artistic and historical value, but also in the maintenance of a link of literacy offered by non-illuminated texts.
Had it not been for the monastic scribes of Late Antiquity, most literature of Greece and Rome would have perished. As it was, the patterns of textual survivals were shaped by their usefulness to the severely constricted literate group of Christians.
Illumination of manuscripts, as a way of aggrandizing ancient documents, aided their preservation and informative value in an era when new ruling classes were no longer literate, at least in the language used in the manuscripts.
The majority of extant manuscripts are from the Middle Ages, although many survive from the Renaissance, along with a very limited number from Late Antiquity. The majority are of a religious nature. Beginning in the Late Middle Ages, manuscripts began to be produced on paper.Eventually, the introduction of printing rapidly led to the decline of illumination. Illuminated manuscripts continued to be produced in the early 16th century but in much smaller numbers, mostly for the very wealthy.
One of the highest profile calligraphers in the world -he counts over two million accounts following his regular calligraphic posts on social media- Lester has developed logos and illustrations for some of the world's biggest companies, publications and events, including the likes of NASA, Apple, Nike, Intel, The New York Times, The 2010 Vancouver Winter Olympics and JD Salinger's final reissue of The Catcher in the Rye.
Previously a Senior Type Designer at Monotype for nine years, Lester is a master in developing custom typefaces for many familiar brands including British Airways, Intel, Waitrose, The Daily Telegraph and H&M.
As noted all S prints are sent Royal Mail Special Delivery in the UK and Royal Mail 'International Signed For' internationally, which is a tracked and signed service in most countries.
Buy one of the limited edition products here.
Tags/ calligraphy, manuscripts, seb lester, bespoke typefaces, screen print