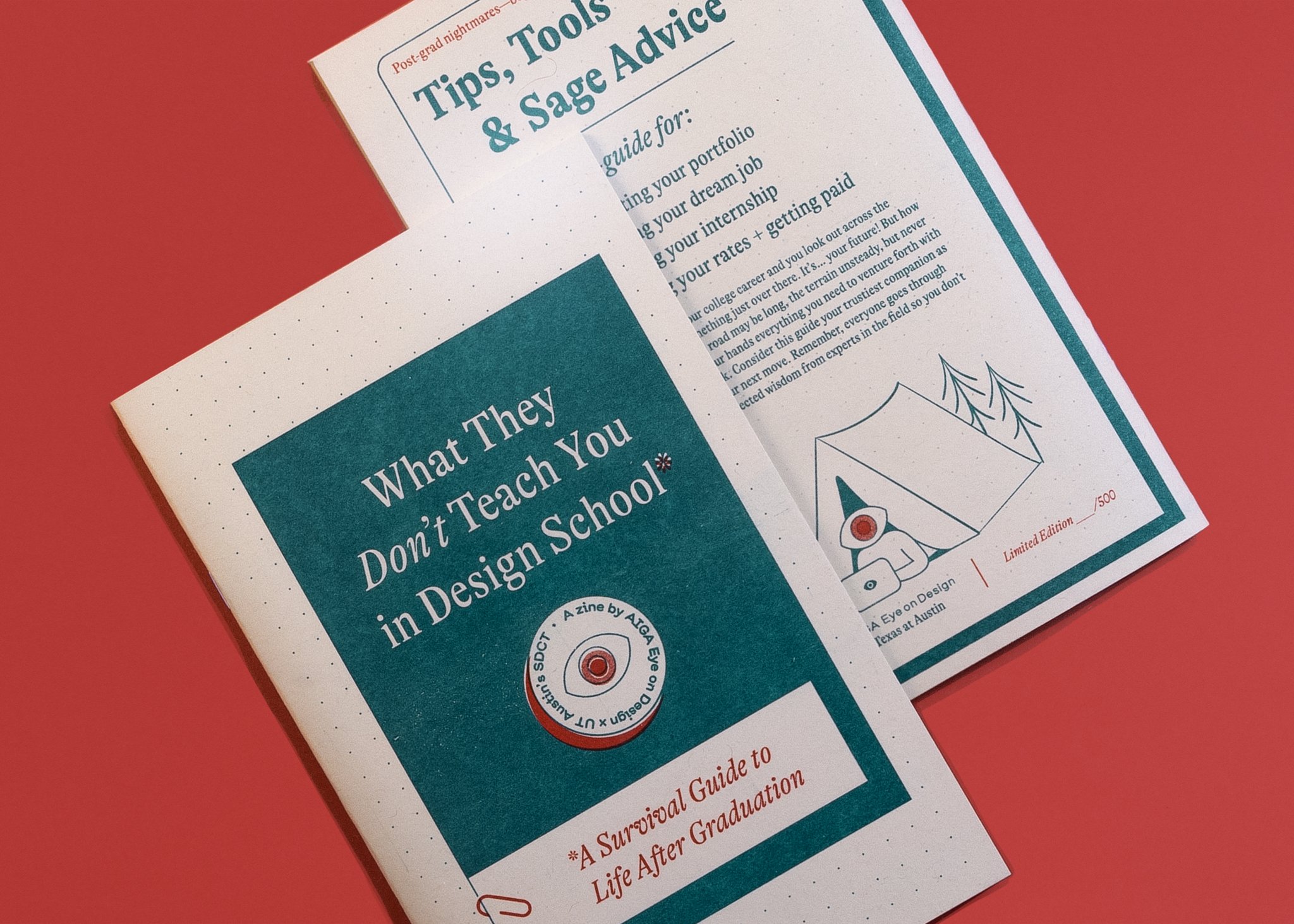 What They Don't Teach You in Design School: download AIGA's insightful zine for free
Student life is hard. Student life in the graphic design industry is even harder. To make any post-graduate life easier AIGA's Eye on Design has partnered with students at UT Austin's School of Design + Creative Technologies for a zine that was so popular -it was sold out in in an hour!- that now is available for free in digital copy by popular demand.
What They Don't Teach You in Design School: A Survival Guide to Life After Graduation aims to be a student's "trustiest companion as you contemplate your next move. With sage advice from experts like Zipeng Zhu, Wael Morcos, Meg Lewis, Julian Glander, Karin Fong, and Bijan Berahimi, you won't have to go it alone."
Written and designed by Maya Coplin, Lindsay Gallagher, Paige Giordano, Victor Guo, Emma Hollingsworth, Linda Li, Huệ Minh Cao, Valeria Olmos, Emily Park, Caroline Rock, Hilda Rodriguez, Moira Scrimgeour, Anna Sing, Jacob Stutts, Veronica Thompson, Neesha Vakil, Ella Whitaker, Kalissa White, and Ben Zerbo the zine was produced as part of UT Austin's Publication Studio class, run by UT's own James Walker and 2020 Designer in Residence + Eye on Design founder, Perrin Drumm with additional design by Tala Safié.
So if you have questions on how to perfect your portfolio, land a dream job or how to get paid in an industry which thrives with unpaid positions the answers are yours to download here as a digital copy for free.
Tags/ students, aiga, zine, design school