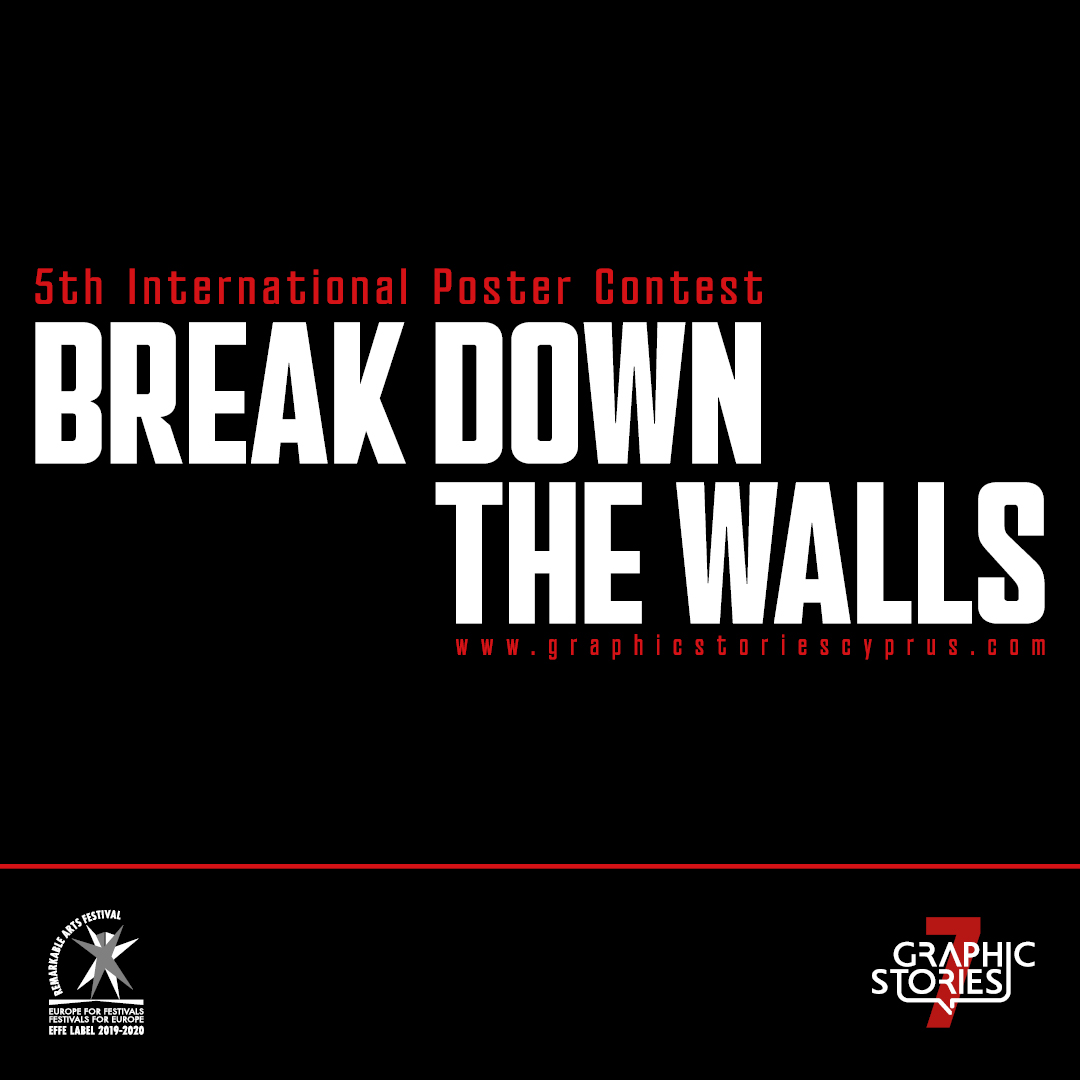 Inspired by Cavafy: this year's Graphic Stories Cyprus 5th international poster contest demands action
Inspired by Constantine Peter Cavafy, the iconic Egyptiot Greek poet, journalist and civil servant whose consciously individual style earned him a place among the most important figures in Greek and Western poetry poetry as well Graphic Stories Cyprus invites all creatives to break down the walls.
"Today, more than ever, people feel trapped in a series of limitations that have been imposed on them without realizing when, how and why. Social exclusion, marginalization and all kinds of restrictions and discrimination for racial, political, socio-economic, religious, national, sexual orientation, cultural, disability, age, professional and other reasons put obstacles in the way of human freedom and self-disposition. These are the walls that, according to the poet Constantine P. Cavafy, imprison and trap every human being" reads the announcement of this year's 5th International Poster Contest of the festival.
"The freedom we thought we had in our lives is no longer a given. The participants in the competition are invited to visualize their thoughts, ideas and concerns regarding the theme of the competition which is: 'Break down the walls." The posters they create should highlight the fact that human freedom is not a given and highlight that in order to achieve freedom we must fight and break down the walls that rise around us. Break the barriers, raise your voice, break down the walls!"
With three categories aka International distinction for professional visual communication designers, International distinction for higher education students [university or college] of visual communication, Cypriot distinction for higher education students [university or college] of visual communication and Cypriot distinction for Lyceum and Technical School students each contestant has the right to submit up to two posters.
Parachute's founder and type designer Panos Vassiliou is a member of the jury along with Dr. Jesús Del Hoyo Arjona, Dr. Arafat Al-Naim, Ioannis Fetanis, Jose Luis Hernandez "Chepe", Zoe Katsigianni, Panos Kostantopoulos, Vassia Kalozoumi, Andreas Xenulis and Chao Yang.
The best 50 posters will be exhibited at the Bank of Cyprus Cultural Foundation and the inauguration will take place on the 19th of March 2021, after the end of the Conferences' lectures.
Sponsored by Parachute type foundry, Graphic Stories Cyprus strive for a better world through art that will remind to all the importance of the great poet, Constantine P. Cavafy, whose Archive by the Onassis Foundation is a treasure to discover for inspiration.
The international contest is part of the 7th Conference on Graphic Design and Visual Communication in Cyprus that will take place between 19-21 of March 2021.
The submission of projects can only be done electronically by email from the 1st of July until the 15th of November 2020.
Check more here.
Tags/ parachute, panos vassiliou, poster, competition, poetry, parachute typefoundry, bank of cyprus cultural foundation, graphic stories cyprus, contest