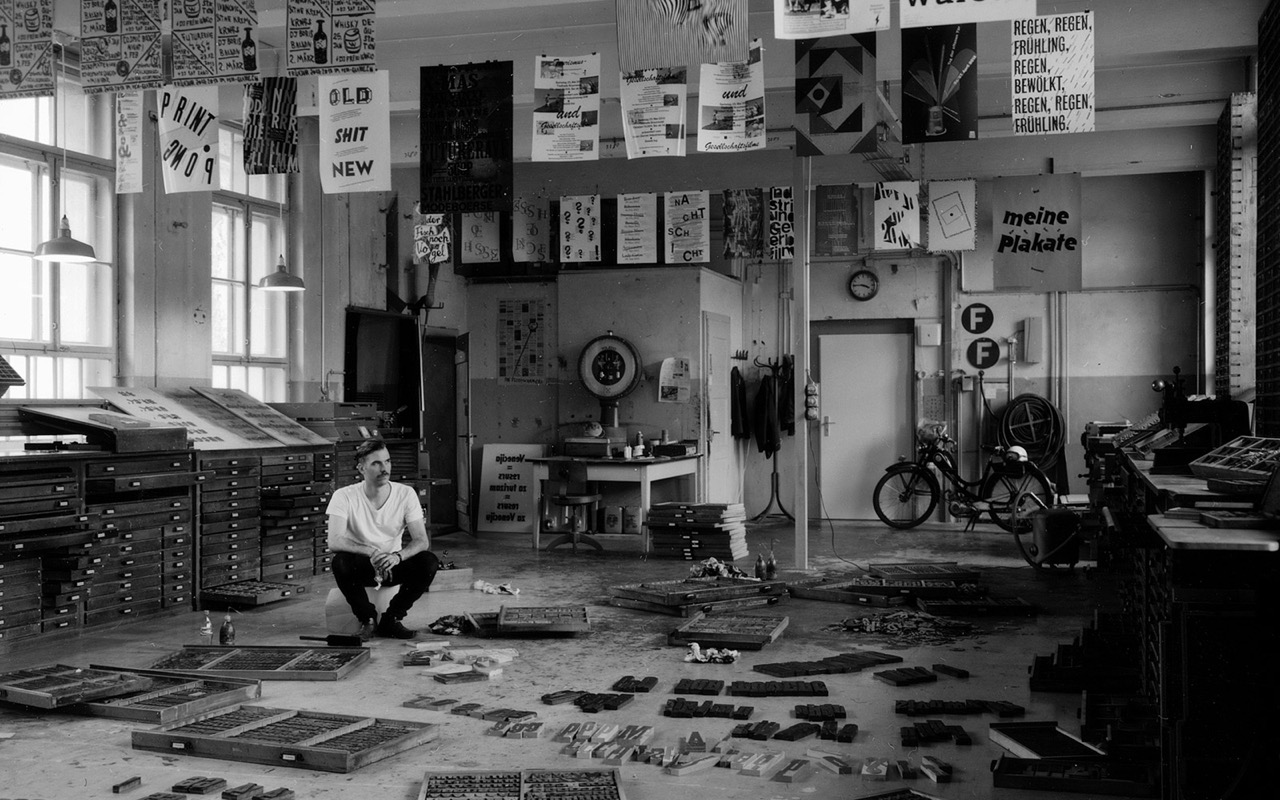 A summer invitation to the cult of Swiss type from Dafi Kühne
The dates have been announced and this summer is going full on typography with Dafi Kühne's "Typographic Summer Program" in Switzerland.
An invitation to international graphic design students and professionals alike, the workshop started in 2016 with one summer session over 2 weeks and established over the last years to a 2 session summer program.
"The workshop's goal is to bridge the gap analog design and production tools and professional contemporary typographic posters. The participants will go through a number of analog tasks to experience the layout qualities of simple type-only layouts. All the experiments and layout exercises will be realized with traditional letterpress printing presses and physical type."
"Through this very slow but accurate analog process, the participants will learn to put emphasis on concept and micro typography. This program is a great opportunity for students to see and learn first hand from one of the few internationally successfull contemporary letterpress poster designers. Besides of a lot of process results, sketches and small experimental prints, the participants will collaborate to produce each a letterpress printed typographic poster printed with a variety of possible production tools like physical type (wood & metal type), chipboard, lasercut mdf, linoleum, handcast ludlow type lines, and many more…" notes the introduction of this type-infused reason to be in Switzerland this summer.
Kühne's invitation is ideal as the participants will be joined by visiting instructors on several days of the program.
Long-standing faculty member of the Visual Communication Deparment of Zurich University of the Arts Professor Rudolf Barmettler, an expert in type history, fine typography, layout and letterpress printing, Jonas Niedermann, typography expert and educator with his own studio practice in St. Gallen and Julia Marti, designer and art educator with her own studio in Zürich are some of the many guests of the program curated by Dafi Kühne.
Scheduled lectures for the 2020 sessions are by renowned poster designer Niklaus Troxler, Neo Neo's Thuy-An Hoang and Xavier Erni from the Geneva based studio and poster designer Erich Brechbühl.
The workshop is a great excuse to experience the art of Kühne, graphic designer and letterpress printer, in person.
Dafi Kühne studied in Zürich in the Visual Communications Department of Zurich University of Arts and made a Master of Research in Type Design at University of Reading, UK.
Since 2009 Dafi Kühne has built up his studio and workshop "babyinktwice" in Näfels, "straight in the Swiss Alps, specializing in posters for music, art, architecture, theatre, and film projects."
"Every project he produces somehow gets processed through at least one of his number of printing presses from the 1960s. Dafi's posters can be found in different collections in Switzerland and the USA, have been awarded multiple times with Society of Typographic Arts in Chicago and 100 Beste Plakate, and have been shown in many international publications on graphic design and letterpress printing."
A scholar as well, Kühne has been giving lectures in Europe and the USA and teaching short seminars and full semesters at different universities in at different universities and art colleges like Écal Lausanne (Switzerland), Schule für Gestaltung SfG Basel (Switzerland), F+F Zürich (Switzerland), HBKSaar Saarbrücken (Germany), MICA Baltimore MD (USA), VCU Richmond VA (USA) and Center for Book and Paper Arts at Columbia College Chicago (USA).
With the early bird fee deadline approaching, join the cult of type and motivate yourself for a Swiss-designed summer here.
Tags/ typography, workshop, type design, switzerland, posters, letterpress, swiss design, swiss studio, zurich, education, swiss type, swiss designer, dafi kühne