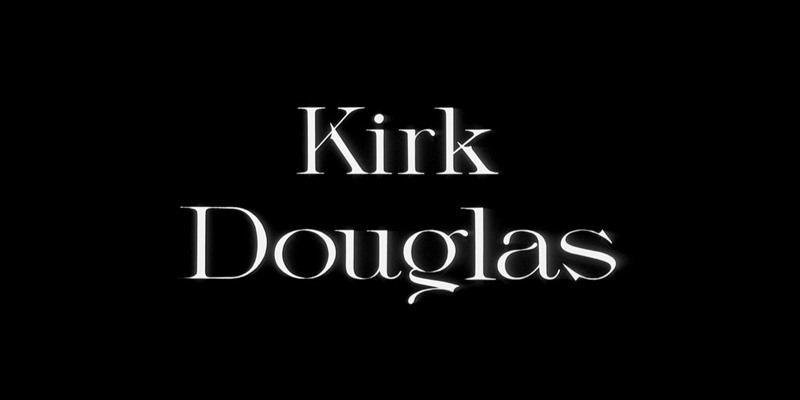 Kirk Douglas: a life in type
"I've seen a lot of movies over the years. To prove I've sat through at least the first ten minutes of them I started making screenshots of the titles. Then my computer crashed and I almost lost them all. To save them for future generations I created this little website" writes Christian Annyas, a website designer with a task. To remind us of how a good title design looks like.
In the event of Kirk Douglas' death, we entered the vast archive of Annyas' impressive archive of movie stills to collect some images with Tinseltown's Spartacus, the Hollywood icon by the name Kirk Douglas.
Douglas "had a fine contempt for the Hollywood studio establishment, something that may well have made his career less successful than it was" writes BBC of the man who was born Issur Danielovich Demsky to penniless Jewish immigrants in the city of Amsterdam, New York state, in 1916.
Per his autobiography Douglas "had more than 40 jobs" before becoming a man against many. Douglas paid his way through drama college by "fighting professionally, ushering and working as a car park attendant and bellhop."
His portrayal of Midge Kelly, in Champion in 1949, earned him the first of three Oscar nominations. Nevertheless, he never won an Oscar for a role. His only Oscar was an honorary award in the 1996 Academy Awards for 50 years as a "creative and moral force in the movie industry."
"When you are so poor as I was, and when you start at the bottom, you are driven to succeed," Douglas told People.
"One of Douglas' most singular accomplishments was his role in ending the Hollywood blacklist era, which saw screenwriters and cinematic creatives with suspected Communist leanings blocked from finding employment. Despite the crackdown, Douglas openly hired and credited blacklisted screenwriter Dalton Trumbo for his work on Spartacus, an epic about ancient Roman slave rebellion released by the actor's personal production company" writes Smithsonian on its obituary for one of Classic Hollywood's last stars.
Defiant for many -"Spartacus represented his own battle against the establishment" writes BBC- a rumour remains unanswered.
In 2012, a Gawker article alleged that Kirk had raped Natalie Wood when she was just 16 years old at the Chateau Marmont Hotel in Los Angeles back in 1954.
The allegation came from a commenter who many believed to be actor Robert Downey Jr. Six years later, in 2018, Natalie's sister Lana Wood confirmed to The New York Times that she had been raped at a young age by a Hollywood actor who was twice as old as she was.
Natalie Wood died in a mysterious 1981 accident that's still unresolved and she never spoke about the allegation herself. Douglas on his behalf never publicly addressed the allegations, either.
Douglas, who was given a lifetime achievement award from the American Film Institute in 1991, suffered a stroke in March 1996 which paralysed one side of his face.
"I don't need a critic to tell me I'm an actor," the famously defiant of Tinseltown's power brokers once said. "I make my own way. Nobody's my boss. Nobody's ever been my boss."
Tags/ fonts, tribute, christian annyas, title design, movie stills, kirk douglas, obituary