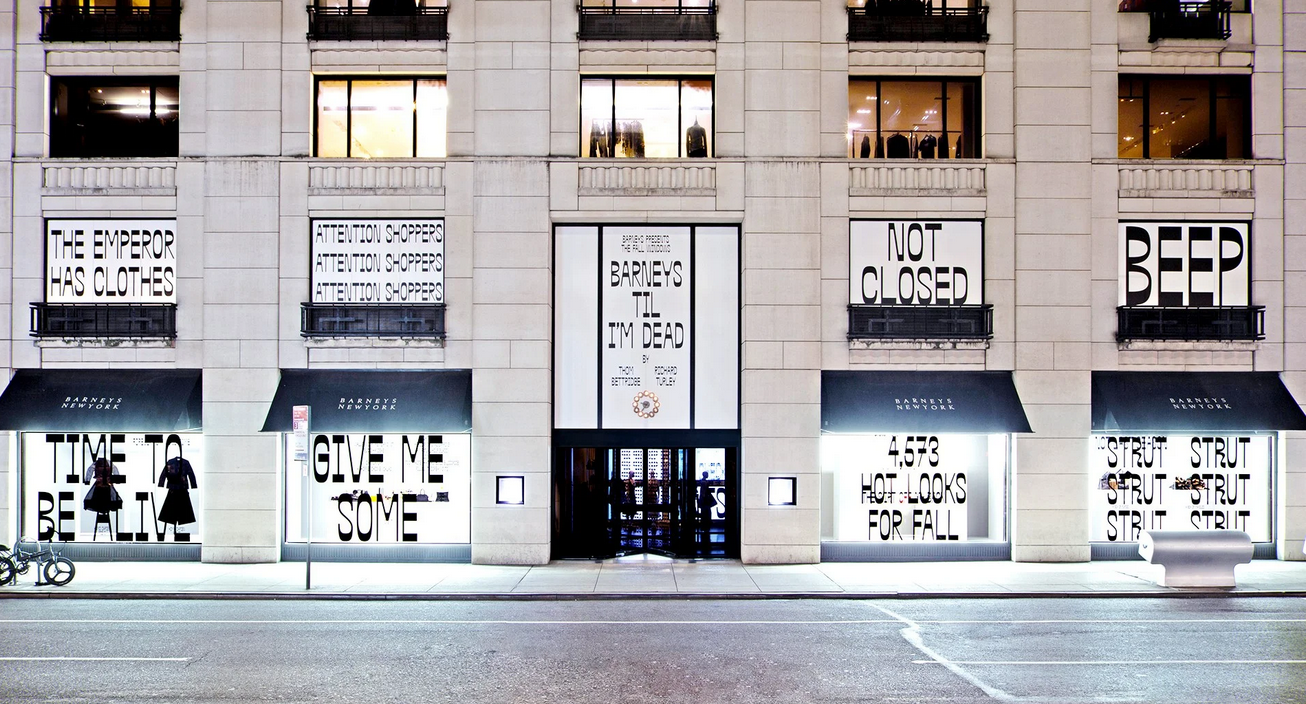 Barneys, Jessica Svendsen & more windows of type in this week's Font Sunday inspiration
A display window is a window in a shop displaying items for sale or otherwise -and in this case totally infused with type- designed to attract customers to the store.
The first display windows in shops were installed in the late 18th century in London, where levels of conspicuous consumption were growing rapidly writes Wikipedia.
Retailer Francis Place was one of the first to experiment with this new retailing method at his tailoring establishment in Charing Cross, where he fitted the shop-front with large plate glass windows. Although this was condemned by many, he defended his practice in his memoirs, claiming that he "sold from the window more goods...than paid journeymen's wages and the expenses of housekeeping."
Eventually the window display took off due to the increased availability of plate glass in the late 1800s. "Shop owners of the day began fitting the front of their stores with large windows in which they could display their merchandise to the general public" notes The evolution of storefront design: The first decades.
R.H. Macy, founder the department store chain Macy's, is credited with being one of the first people to create a large scale, Christmas in this case, window display in 1874. Selfridges brings window display to the UK in the early 1900's.
"Harry Gordon Selfridge founded Selfridges & Co in 1909. This revolutionary department store had a huge effect on visual merchandising in the UK, as it was one of the first retail outlets in the country to use fashionable window design to attract customers. Before this, shopkeepers would often stand in their doorways and attempt to convince people to come inside in person. This in-person marketing was not popular with everyone, apparently earning shopkeepers a reputation for 'greed, pettiness and narrow-mindedness'."
"Later, during the Balkan Wars from 1912-13, the flagship Selfridges store in Oxford Street began posting news about the war in their shop window. When the First World War broke out in 1914, the branch brought back its 'War Window', which became an attraction in and of itself as it drew people from all over London to Selfridges just to read its contents... By the late 30s, high profile artists were being commissioned to design storefront window displays for major stores. This was a pivotal time for retail as it helped establish storefront design and visual merchandising as a true art form in the retail industry."
With Design Museum's Font Sunday on Twitter bringing brilliant windows of type to the fore, Typeroom selects some of the highlights.
From Barneys viral "NOT CLOSED" heavy-type and rather controversial campaign spearheaded by the store's creative director, Matthew Mazzucca, in partnership with High Snobiety editor-in-chief Thom Bettridge and Interview editorial director and Wieden + Kennedy global creative director Richard Turley to Jessica Svendsen's brilliant posters for Yale School of Art fonts on windows are mesmerizing.
Enter the glass kingdom here.
Jessica Svendsen, poster for Yale School of Art, 2012 @DesignMuseum #FontSunday #windows https://t.co/AvXuEVpfcy pic.twitter.com/VWjHUCrfrQ

— Michael Bierut (@michaelbierut) February 2, 2020
To Do, Illegal Art, 2007, Brooklyn. Post it note typography @DesignMuseum #fontsunday #typography pic.twitter.com/IARA44xlYI

— Ben Prescott (@benprescott) February 2, 2020
#FontSunday Storefront Window Photograph By Russell Lee @DesignMuseum pic.twitter.com/lPhZR0rouK

— Shock Corridor ???????????????? (@Shock_Corridor) February 2, 2020
A true sign of Summer, with more type than window! Carnival food vendor, seen in Fargo, North Dakota #FontSunday @DesignMuseum #travel pic.twitter.com/7cdEumz45G

— Ross Creative Works (@RCreativeWorks) February 2, 2020
Swiss Style Now / part of the 2018 Weltformat Graphic Design Festival. @DesignMuseum #FontSunday #windowfonts pic.twitter.com/siMtM99P8m

— Selected Works (@selectedworks_) February 2, 2020
Thank you to everyone who took part in today's #fontsunday. Here's a final favourite from us. pic.twitter.com/IbpBSRQR9L

— Basque Design Museum (@basque_design) February 3, 2020
Tags/ typography, twitter, yale, michael bierut, design museum, font sunday, jessica svendsen, barneys, display window