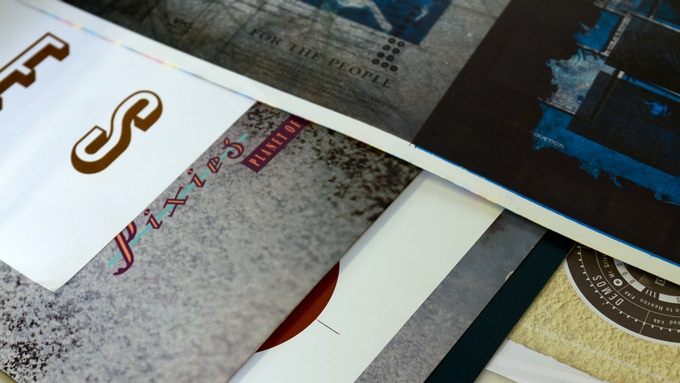 Vaughan Oliver, the visual master of 4AD passed away
Vaughan Oliver, the acclaimed English graphic designer who defined the aesthetics of a whole post-punk genre via his work for London imprint 4AD amd one of the few graphic designers with an instantly recognisable style has passed away.
Born in Segefield, Durham County to working class parents "the young Oliver spent most of his school days in the 'art room' where he developed an interest in Surrealism and the work of Salvador Dali. The local record shop was his 'art gallery'" writes Vaughan Oliver Archive's Kickstarter page.
"After studying graphic design at the Newcastle-upon-Tyne Polytechnic, he went south to London to work for one of the big design groups. But Oliver wasn't made for the world of commercial graphic design, and a chance encounter with the record label owner Ivo Watts Russell led to a 30-year marriage between Oliver and the cult indie label, 4AD. "
"I like to elevate the banal through surrealism," he has said. "Mystery and ambiguity are important weapons in a designer's arsenal. I try to make images where you don't always get "the message" straight away – but these things leave a hook in you. Leaving some space for interpretation is important."
His enigmatic visuals are his trademarks, a tribute of his to Roger Dean and Dali, who inspired him to follow the path of graphic design and mesmerize everyone.
Oliver was best known for his work with graphic design studios 23 Envelope and v23. Both studios maintained a close relationship with record label 4AD between 1982 and 1998 and were to give distinct visual identities for the 4AD releases by many bands, including Mojave 3, Lush, Cocteau Twins, Dead Can Dance, The Breeders, This Mortal Coil, Pale Saints, Pixies, and Throwing Muses.
Oliver also designed record sleeves for such artists as David Sylvian, The Golden Palominos, and Bush.
23 Envelope consisted of Oliver (graphic design and typography) and Nigel Grierson (photography). Together, they created the artwork for almost all 4AD releases until 1987.
Grierson left 23 Envelope in 1988 and Oliver continued to work for 4AD under the studio name v23, collaborating Simon Larbalestier, Marc Atkins and others.
Vaughan Oliver, 1957-2019.

(Photo by Luca Giorietto)

We are incredibly sad to learn of the passing of Vaughan Oliver; there was no-one else like him: https://t.co/mmhtJ6uvOz pic.twitter.com/XfGkTT5aB0

— 4AD (@4AD_Official) December 29, 2019
In February 1990, in recognition of graphic design starting to acquire the status of art, Oliver was asked to bring together the work he had done so far for the label 4AD, shown for the first in an art gallery, the Espace Graslin in Nantes, France.
The exhibition gathered so much media exposure throughout Europe that it moved to the Parc de la Villette in Paris in June and July 1991 to even greater acclaim.
An illustrated catalogue titled Exhibition/Exposition was published to coincide with both Nantes and Paris exhibitions.
In 1994, many of those that had collaborated with Oliver over the previous decade contributed to an illustrated catalogue for the retrospective exhibition of his work held at the Pacific Design Center in Los Angeles, This Rimy River. Like so many publications produced by v23, the catalogue quickly became a collectors item.
In 2011, Oliver was awarded an honorary Master of Arts from the University for the Creative Arts, where he taught on the Epsom campus as a Visiting Professor.
Oliver's passing was confirmed by Adrian Shaughnessy, writer, designer, and editor of the 2018 collection Vaughan Oliver: Archive, through his social media.
"My friend and design hero Vaughan Oliver died peacefully today, with his partner Lee by his side. Vaughan Oliver 1957–2019)" Shaughnessy wrote.
Oliver died on December 29, 2019 at the age of 62.
Twitter is already full of his visual, mystical as ever, storytelling.
RIP Vaughan Oliver, one of the greatest album cover designers ever pic.twitter.com/KqxbkoxZy2

— Matthew Perpetua (@perpetua) December 29, 2019
RIP Vaughan Oliver, 1957-2019: a brilliant designer who defined a generation. Great interview here: https://t.co/ZnSacI2AkS pic.twitter.com/vTV8h4fUs2

— Michael Bierut (@michaelbierut) December 29, 2019
All images via Vaughan Oliver Archive's Kickstarter page.
Tags/