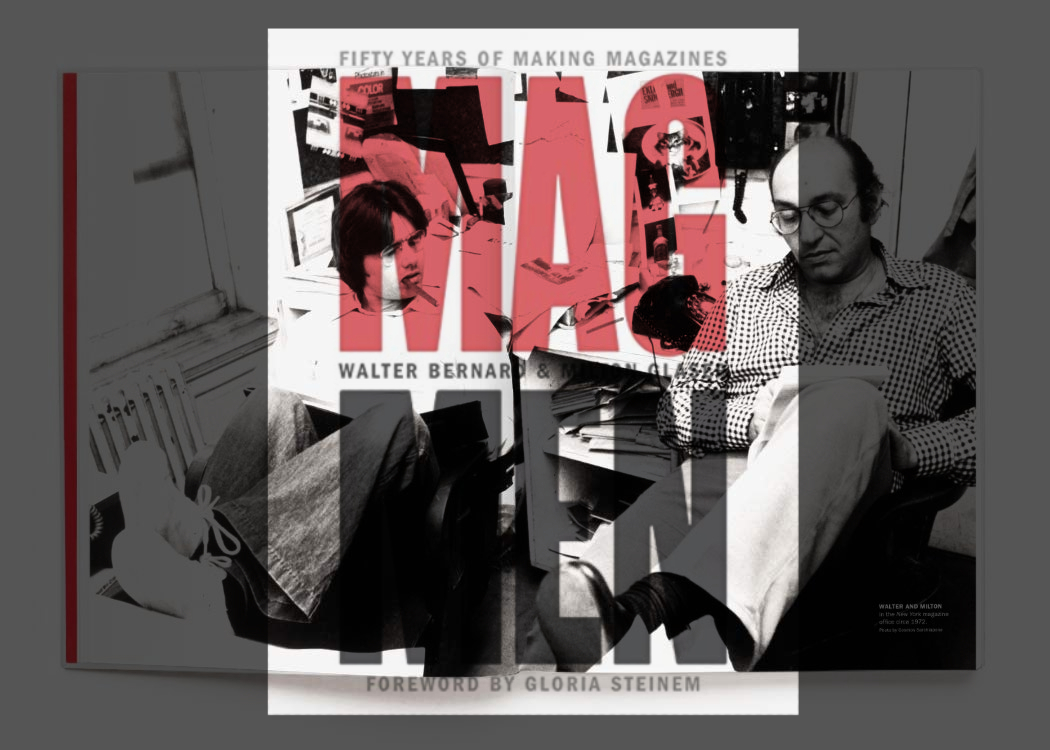 Walter Bernard & Milton Glaser: how two mad mag men revolutionized the industry
"Bernard and Glaser revolutionized the look of magazines, and in the process, they reinvigorated the art of visual storytelling," writes Walter Isaacson, former editor of Time and author of "Leonardo da Vinci and Steve Jobs" of a book filled with vivid examples of Milton Glaser's and Walter Bernard's genius these legendary designers infused into the world of magazine making.
For more than fifty years, Walter Bernard and Milton Glaser have revolutionized the look of magazine journalism.
In the book published by Columbia University Press, "Mag Men" Bernard and Glaser recount their storied careers, offering insiders' perspective on some of the most iconic design work of the twentieth century.
The authors look back on and analyze some of their most important and compelling projects, from the creation of New York magazine to redesigns of such publications as Time, Fortune, Paris Match, and The Nation, explaining how their designs complemented a story and shaped the visual identity of a magazine.

Richly illustrated with the covers and interiors that defined their careers, "Mag Men" is bursting with vivid examples of the industry's mad men of talent.
Designed to encapsulate their distinctive approach to visual storytelling and capture the major events and trends of the past half-century Bernard and Glaser's work is remarkable to explore and study.
Highlighting the importance of collaboration in magazine journalism, Bernard and Glaser detail their relationships with a variety of writers, editors, and artists, including Nora Ephron, Tom Wolfe, Gail Sheehy, David Levine, Seymour Chwast, Katherine Graham, Clay Felker, and Katrina vanden Heuvel.
The book features a foreword by Gloria Steinem, who reflects on her work in magazines and her collaborations with Bernard and Glaser. At a time when uncertainty continues to cloud the future of print journalism, Mag Men offers not only a personal history from two of its most innovative figures but also a reminder and celebration of the visual impact and sense of style that only magazines can offer.
Walter Bernard has been the designer and art director of many of the best-known magazines and newspapers in the United States, including Time, Fortune, and The Atlantic. He co-produced the documentary "Portraits of a Lady" (2008). In 2013, he received the Henry R. Luce Lifetime Achievement award for his work at Time Inc.

Milton Glaser is one of the most important graphic designers of the twentieth century, responsible for many iconic designs, including the "I Love New York" logo. In 2009, he was awarded the National Medal of Arts, the first graphic designer to receive the award. He has written several books, including "Drawing Is Thinking" (2008) and "In Search of the Miraculous: Or, One Thing Leads to Another" (2012).
In 2013, Bernard and Glaser received the American Society of Magazine Editors Creative Excellence Award and this book is a must-have for all those who want to know why.
Tags/ book, magazine, milton glaser, graphic designer, walter bernard, industry, columbia university press