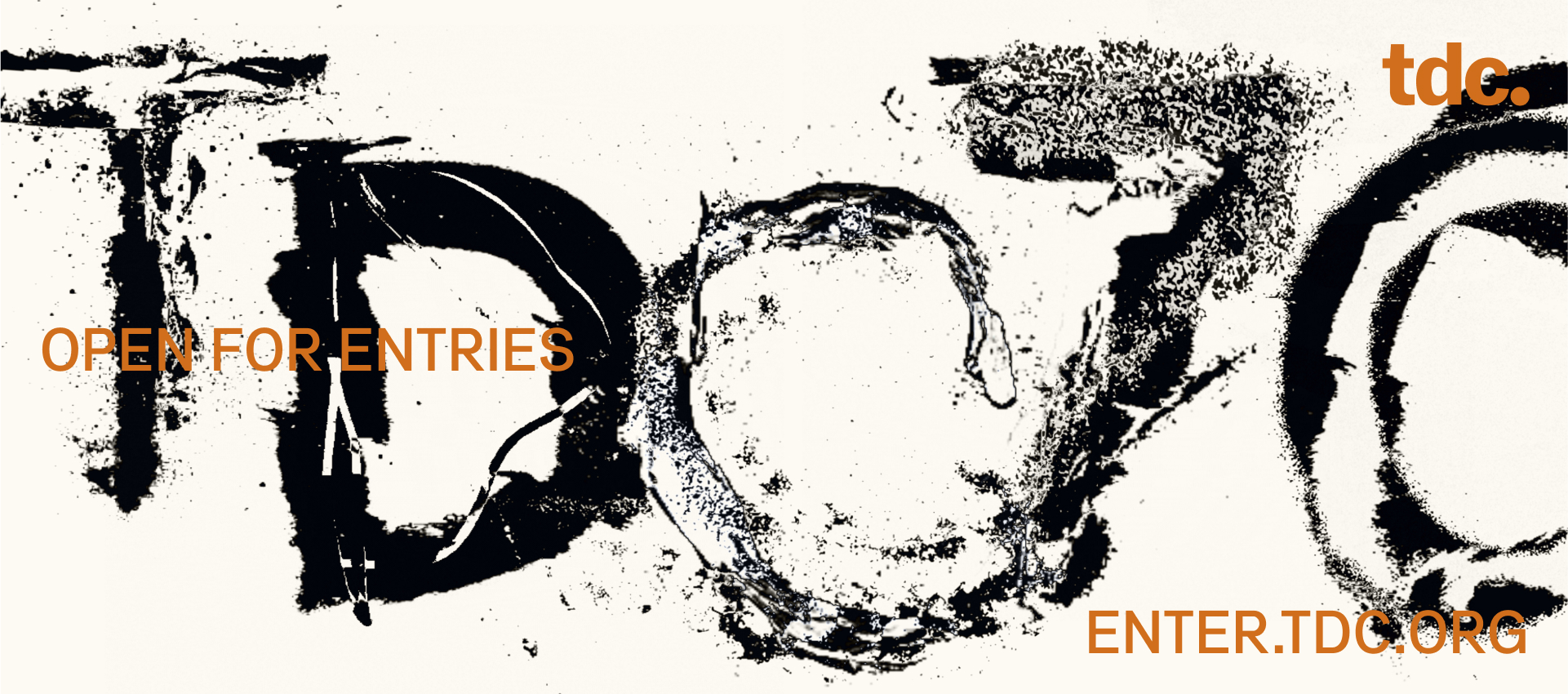 TDC70: Submit your finest work and join the world's best creatives
The Type Directors Club (TDC) - international institution dedicated to all things typography - has been receiving submissions for its prestigious TDC70 competition for more than a month now. As from last year, the TDC competition is no longer divided into different disciplines. Instead the three major categories - Communication Design, Lettering, and Type Design - are now integrated into one wider category, inviting more and more people to participate.
"TDC's annual competition strives to always remain relevant to the greater typographic community in all regions and cultures, and we're excited to accept and celebrate entries in more disciplines and styles than ever before," said Carol Wahler, executive director, Type Directors Club.
One of the most important aspects of TDC70 is of course its global character and global reach. TDC offers regional discounts to make the competition accessible for more and more people on a global scale. Also, TDC aims to ensure that a wide spectrum of different cultural heritage and design traditions are fairly recognized by appointing a rich panel of judges specializing in writing systems from various regions and cultures.
In fact, the Type Directors Club just announced this year's Global Jury. Let's take a look.
Communications Design
Maria Asare-Boadi, art director, Meta, New York
Andy Chen, partner, Isometric Studio, New York
Mark De Winne, creative director, Relay Room/Multitudes, Singapore
Manija Emran, cofounder, creative director, Me & the Bootmaker, Los Angeles
Emily Oberman, partner, Pentagram, New York
Tala Safie, graphics and multimedia editor, The New York Times, New York
Yoshihisa Shirai (白井敬尚), graphic designer, Shirai Design Studio; professor. Musashino Art University, Tokyo
Type Design
Nada Abdallah, assistant professor, College of Fine Arts and Design, University of Sharjah, Sharjah
Elí Castellanos, font developer, CocijoType, Queretaro
Jo De Baerdemaeker, typeface designer, font developer, scholar, studio type, Antwerp
Cyrus Highsmith, creative director, Occupant Fonts, Providence
Caroline Laudon, MFA graphic designer, type designer, type director, Laudon Design AB, Gothenburg
Sammy Or, type director, VMType, Hong Kong
Isao Suzuki (鈴木功), director, type director, Type Project Inc., Tokyo
Lettering
Alanna Flowers, lettering artist, designer, AGF Design Studio, New York
Ricardo González Contreras, artist, designer, IT'S A LIVING, New York
Ilana Griffo and Katie Johnson, co-owners, Goodtype, New York/Austin
Ben Johnston, artist, designer, Toronto
Ken-Tsai Lee, associate professor, ken-tsai lee design Lab/Taiwan TECH, Taipei
Lygia Pires, lettering artist, illustrator, graphic designer, Lygia Pires Studio, São Paulo
Arley Torsone, letterer, designerer, illustrator, Ladyfingers Letterpress, Colorado Springs
As for the winners, apart from significant recognition they receive a Certificate of Typographic Excellence and a digital seal certifying their work is among the world's best of the year. Winning work will also be featured in the highly respected TDC Annual, The World's Best Typography®, and showcased in eight exhibitions that travel to museums, schools and design organizations around the world. TDC70 winners are also part of The One Club's prestigious Global Creative Rankings, earning points alongside winners in The One Show and ADC Annual Awards to chart the world's leading independent creatives, ad agencies, production companies, and brands.
Early bird deadline for entry is November 3, 2023, with entry fees increasing for the regular deadline of January 19, 2024, and final deadline on February 2, 2024. Don't sleep on it, enter the competition here!
Tags/ typography, type design, lettering, communication design, tdc, award