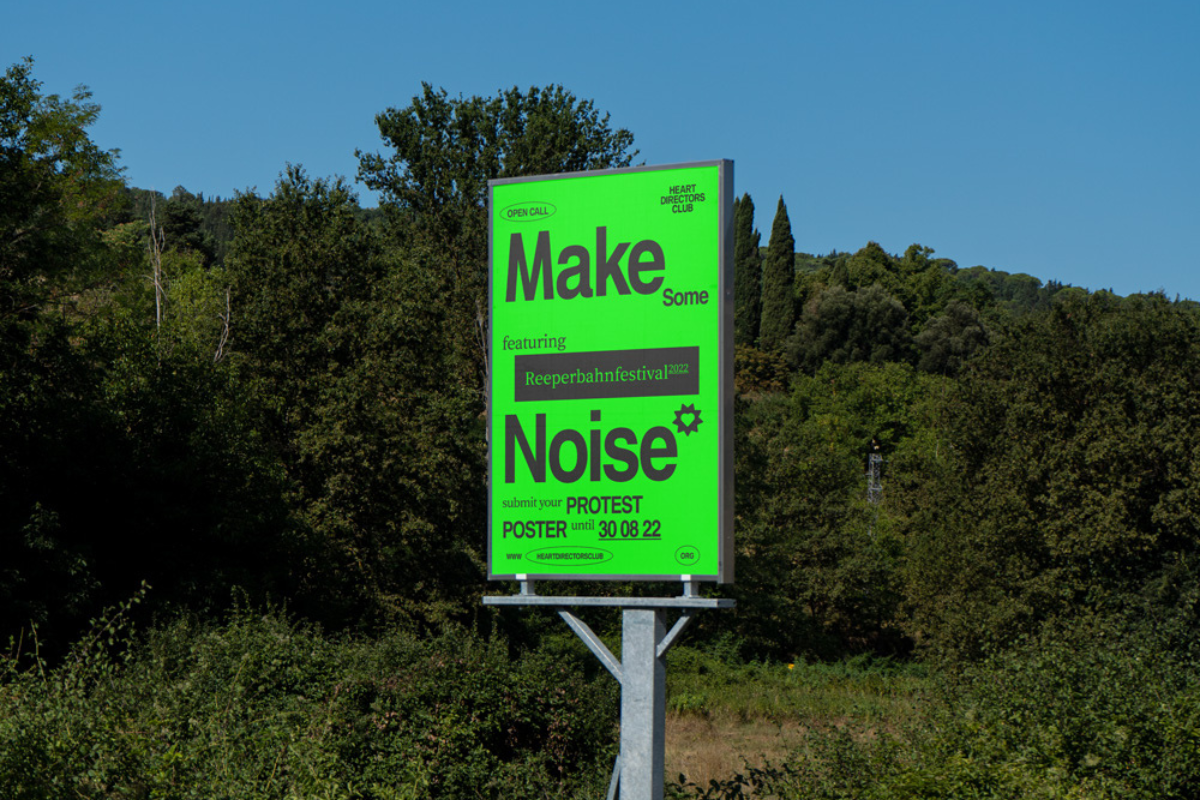 Open call: The Heart Directors Club wants your protest poster art for good
Design can be disruptive, meaningful, and beautiful. Design should have a heart advocating for social change, enter The Heart Directors Club.
The charitable design club and community project initiated in 2020 by independent art director and design lecturer Nikolai Dobreff is on a mission to support meaningful projects via design partnerships and now HDC joins the Reeperbahn Festival 2022 (21-24 September) in Hamburg. In doing so, HDC has launched an open call.
"Reeperbahn Festival 2022 stands for diversity and progress in the music business, it combines culture with conference, arts with politics and information with entertainment. What a great stage for you and us to demonstrate design with attitude" notes HDC, a project that embraces design for good.
"The open call for the Reeperbahn Festival is simply: Protest Poster. The theme doesn't matter, the motto is: Make some noise! The posters will be shown at the exhibition (IN)BETWEEN by Bareis+Nicolaus at Heiligengeistfeld" explains HDC.
"Beyond showing protesting art we will talk about it. Must design be political? Have designers a chance to shape society? What's the role of creatives (is there any)? We discuss these and more relevant questions live on stage. Nikolai will ask two special guests about responsibility and attitude in design."
"The Heart Directors Club is a project by the good ones in the creative industry. Every month a group of selected designers & artists provide work for charity. Why? Because charity has no limits. Neither creativity has" explains HDC which has partnered with artists and organizations to help those in need.
"Knowing that artworks won't save the world it's a win-win situation for everyone: Artists & Designers can provide their skills, emotions, ideas for purpose. Organizations like Seebrücke get some Euros for emergency aid on site. You get a nice artwork that reminds and inspires you and your family + friends. Much better than just donating money on Facebook" announced back in October 2020, upon launching its MORIA limited poster series to raise funds for the ongoing refugee crisis.
"After 3 months of HDC I want to share my experience with you. 1st of all: Thanks to all the Heart Directors for your contributions. Everyone provides their work for free — which is not self-evident just because it's a charity project. Merci for your time and brains! Of course I also appreciate everyone who supported HDC by buying a product. You made a difference although everyone was struggling with their own pandemic issues — financial, social, sanitary, and psychological" wrote Dobreff in December 2020, the year that Heart Directors Club was born.

Its core idea? Fundraising money "for NGOs and foundations that fight for equal rights, anti-racism, youth welfare, reforestation and more!"
With this open call and its live talk on the topic of design with a heart, the charitable design club that has already "featured more than 120 engaged artists in 9 limited editions" is back with a bang.
"Join the submission with a Protest Poster to any issue. New and old work is allowed (old ones might be edited:) Your poster will be printed on NEON GREEN paper and must be designed in BLACK & WHITE only. Why? We want the submissions to be considered as a series" reads the Open Call announcement.
Deadline is August 30th, info on design specifications and submission can be found on the HDC homepage here.
Follow this heartfelt project on Instagram for more updates here.
Tags/ exhibition, poster, activism, protest, open call, heart directors club