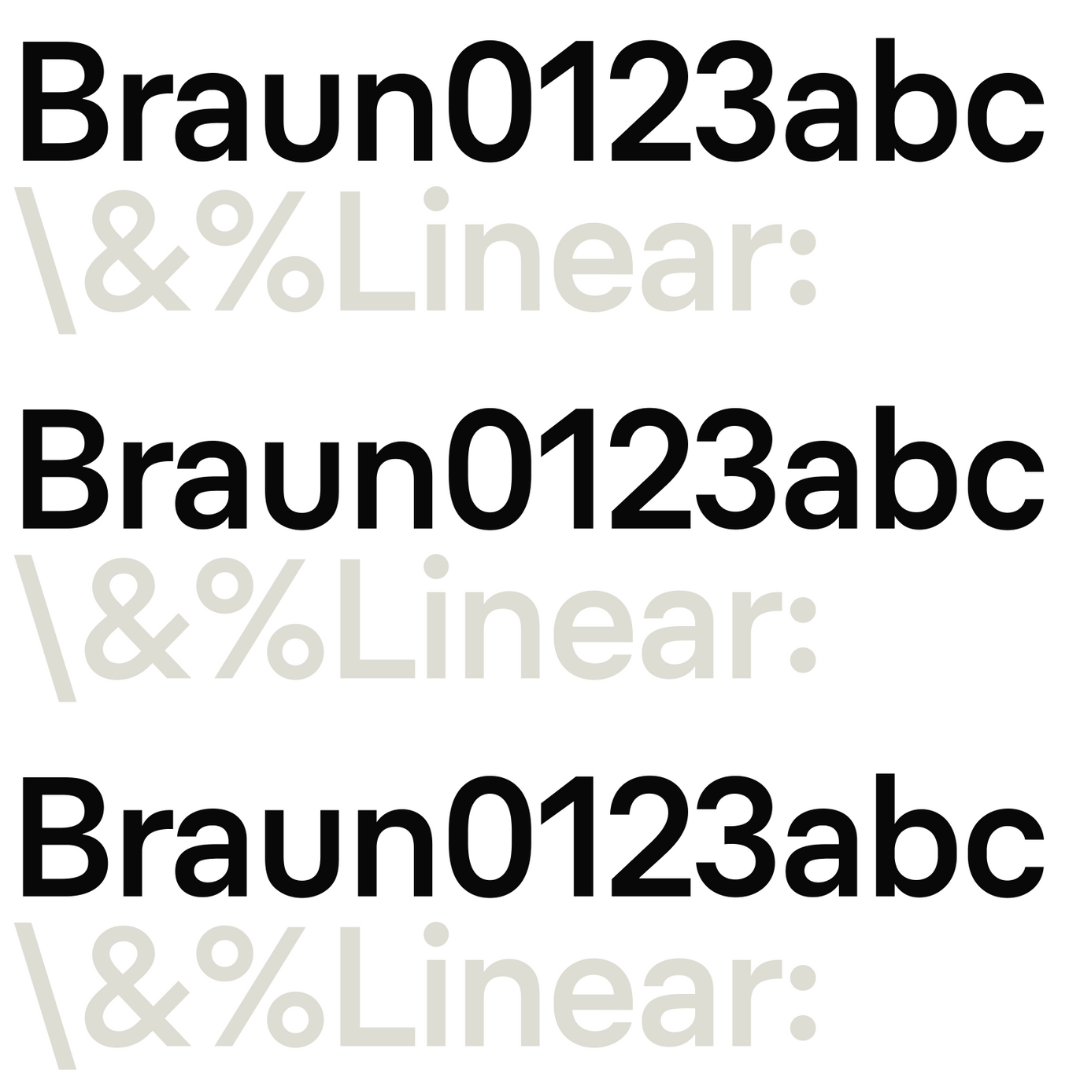 Iconwerk X Braun: Braun Linear is a new bespoke typeface that encapsulates the company's iconic design heritage
Stefan Dziallas aka Iconwerk, a designer known for his custom work for a variety of big corporate clients (Google, Disney, IKEA, Microsoft to name a few) has unveiled his latest project, a bespoke typeface for Germany's iconic consumer products company founded in 1921 aka Braun.
A brand particularly well known for its industrial product design from the mid-20th century now a wholly owned subsidiary of Procter & Gamble, Braun's legacy is closely associated with Dieter Rams, an industrial designer and retired academic whose unobtrusive approach and belief in "Less, but better" design generated a timeless visual and functional approach.
Aptly named Braun Linear the company's custom humanist corporate typeface "has very little modulation in the line strength" explains Iconwerk, the creative who aims to use "the latest technology to build future-proof systems that speak to the heart."
"I built it together with my colleague Ludwig Übele and Nina Sagra, prof. Oliver Grabes and Renke Thye of the Braun design studio. It was super exciting and also a little scary to re-think the corporate typeface of a company like Braun that has this important design heritage" he adds.
Simplicity, modesty, sustainability: why the design ethos of Dieter Rams is vital to follow
"My typography professor Eckard Jung studied Ulm School of Design (Die Hochschule für Gestaltung Ulm) and learned from Otl Aicher. The design of Braun is based on the principles of the Ulm school. So, somehow a circle closes" elaborates Iconwerk about the "sleek, useful, friendly, german, modern typeface that expands the communication of the new Braun" to become "a valuable corporate asset."
Opting for a custom type design to replace the company's previous font Neue Helvetica – a font that "looks really curvy and 50s in comparison to the new Braun Linear" – to achieve a cost-effective solution, the new letterforms are "based on the racetrack shape, a major design element of Braun's industrial design" across the company's massive product range.
Designer, fighter, thinker: celebrating Otl Aicher's legacy with 100 posters
"The racetrack-shapes form the new letter shapes while the typographical details were still maintained to achieve the best possible legibility. The new font comes with super big rounded corners that beautifully dissolve into the straight lines" he adds.
The typeface's new capitals are less wide to make the font as efficient as possible. Eventually, Braun Linear's symmetrical construction "provides a friendly appearance." As for the dots, they have evolved into circles – "a typical Braun design element" writes Iconwerk.
Explore more here.
Tags/ typography, graphic design, custom, branding, otl aicher, humanist, typedesign, corporate design, germany, dieter rams, braun, iconwerk