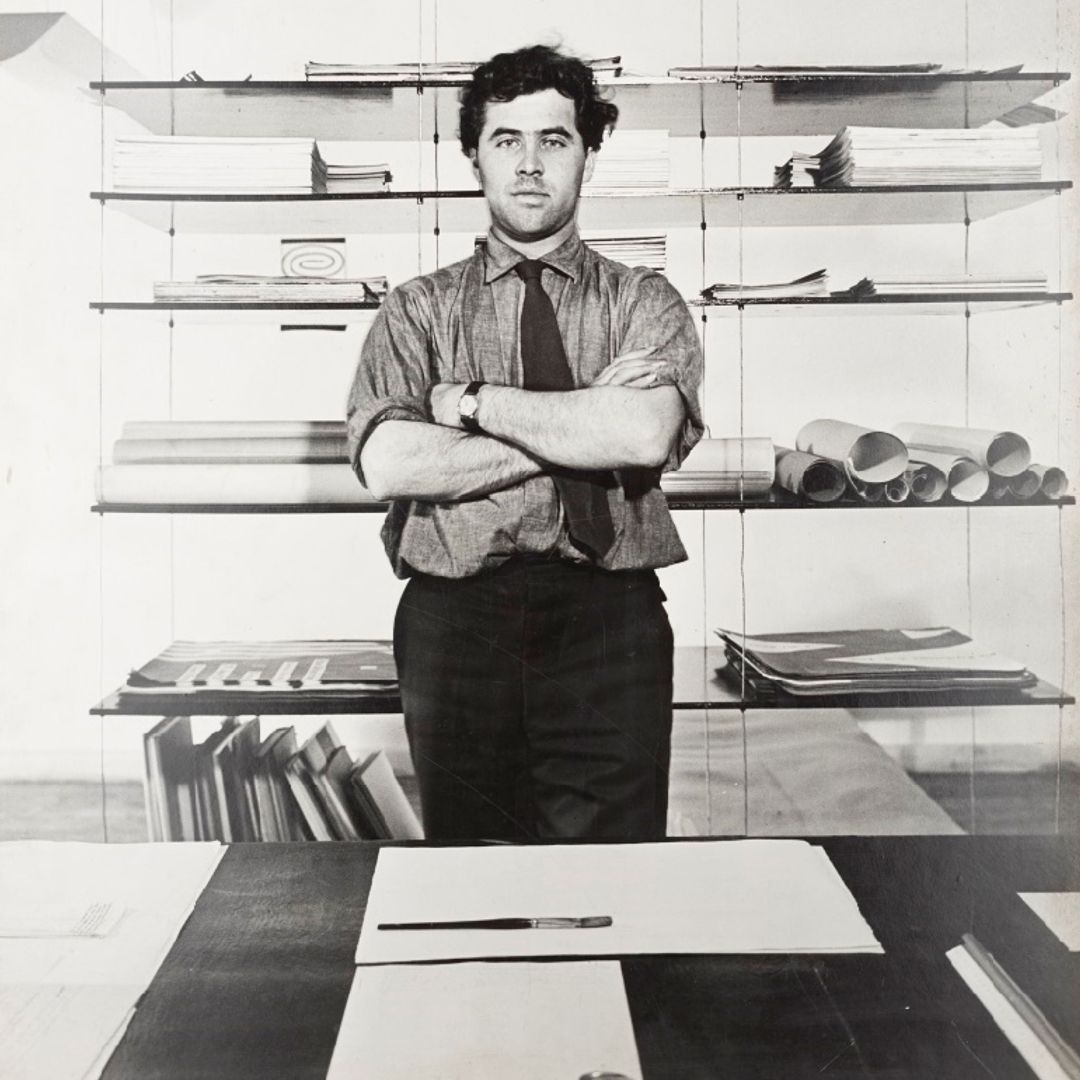 Designer, fighter, thinker: celebrating Otl Aicher's impressive legacy with 100 posters
An iconic designer, a man of resistance, and a highly politically thinking and acting individual who went against fascism and the Nazi regime, Otto "Otl" Aicher was one of the most formative 20th century German designers in the field of visual communication and arguably a pioneer and trailblazer of corporate design.
Significantly involved in developing numerous notable companies' corporate designs that are still relevant, his legacy reigns supreme. On the occasion of Aicher's 100th birthday, HfG-Archiv / Museum Ulm presents the exhibition "Otl Aicher 100 Jahre 100 Plakate" (Otl Aicher 100 Years 100 Posters).
"As a co-founder of the legendary Ulm School of Design (1953-1968), where he was for a time head of the Visual Communication department, he continued to have a lasting impact on design education. His works have been exhibited internationally and are still a model for generations of future designers" notes HfG Archiv Ulm on the mastermind behind the visual system for the 1972 Munich Olympics.
"Otl Aicher did not only design in the field of graphics. He wrote he taught, he philosophized. Above all, he was always a political thinking and acting person. He had already refused to join the Hitler Youth as a teenager. That is why he was not admitted to the written Abitur. In 1943, his friends Sophie and Hans Scholl were murdered by the Nazi regime of injustice. In the last weeks of the war, he deserted, risking summary execution."
"Otl Aicher's significance for the history of design in the 20th century is undisputed. With the designs for the XX Olympic Games in Munich in 1972 and for Deutsche Lufthansa, he presented groundbreaking designs. They have lost none of their fascinations to this day. Otl Aicher, as the official design commissioner for the XX Olympic Games 1972 in Munich, created a design concept together with his team that used the Berlin Olympics as a negative template. It deliberately avoided any pathos, gigantism, or ostentation. All the designs of the 11th Division of the Olympic Committee aimed to create a very specific atmosphere, free of prejudices or national rivalries, but full of openness, tolerance, and cheerfulness."
Born in Ulm-Söflingen on 13 May 1922, Otl Aicher studied sculpture at the Academy of Fine Arts in Munich from 1946 after the end of the war.
As early as 1948 he opened his own graphic design studio in Ulm and moved to Munich in 1967. In 1952 Otl Aicher married Inge Scholl.
Together with her and Max Bill they founded the "Hochschule für Gestaltung" in Ulm in 1953 with the aim of rethinking and reorganizing life in Germany after the end of fascism. In doing so, they "oriented themselves towards the ideas of modernism. Well-designed industrial products were to help everyone achieve prosperity and a good life in a democratically organized, free society."
A man with ethics who campaigned for political issues throughout his life, Aicher took part in Easter marches and demonstrated against rearmament and nuclear armament.
Among other things, he designed pictograms for individual sports, which are still used internationally today. Otl Aicher also developed the corporate design for companies such as Braun, FSB, ERCO, Lufthansa, ZDF, Westdeutsche Landesbank, Dresdner Bank, Sparkasse and Raiffeisenbank. He also designed corporate identities for towns such as Isny and Bad Gastein. In 1972 Otl Aicher moved to Rotis in the Allgäu. There he founded the Rotis Institute for Analogue Studies in 1984 and by 1988 a new typeface family aka Rotis was born.
Unfortunately, Aicher dies after a traffic accident on 1 September 1991 in Günzburg but his legacy reigns on.
Aicher's works have been exhibited internationally and continue to serve as models for generations of future designers.
His influential path in life and his lasting impact on design education can be discovered in the HfG Archive's exhibition with a selection of 100 posters from this rich treasure that is characteristic of his work and they impressively demonstrate the diversity of his graphic work.
As noted, during the exhibition's run, thematic showcases will focus on individual aspects on a monthly basis providing the visitors with the chance to "experience the photographer, the architect or the furniture designer Otl Aicher and much more."
The exhibition "Otl Aicher 100 Jahre 100 Plakate" (Otl Aicher 100 Years 100 Posters) is on until 8 January 2023.
Tags/ typeface, exhibition, visual identity, branding, anniversary, museum, otl aicher, olympics, designer, germany, nazi