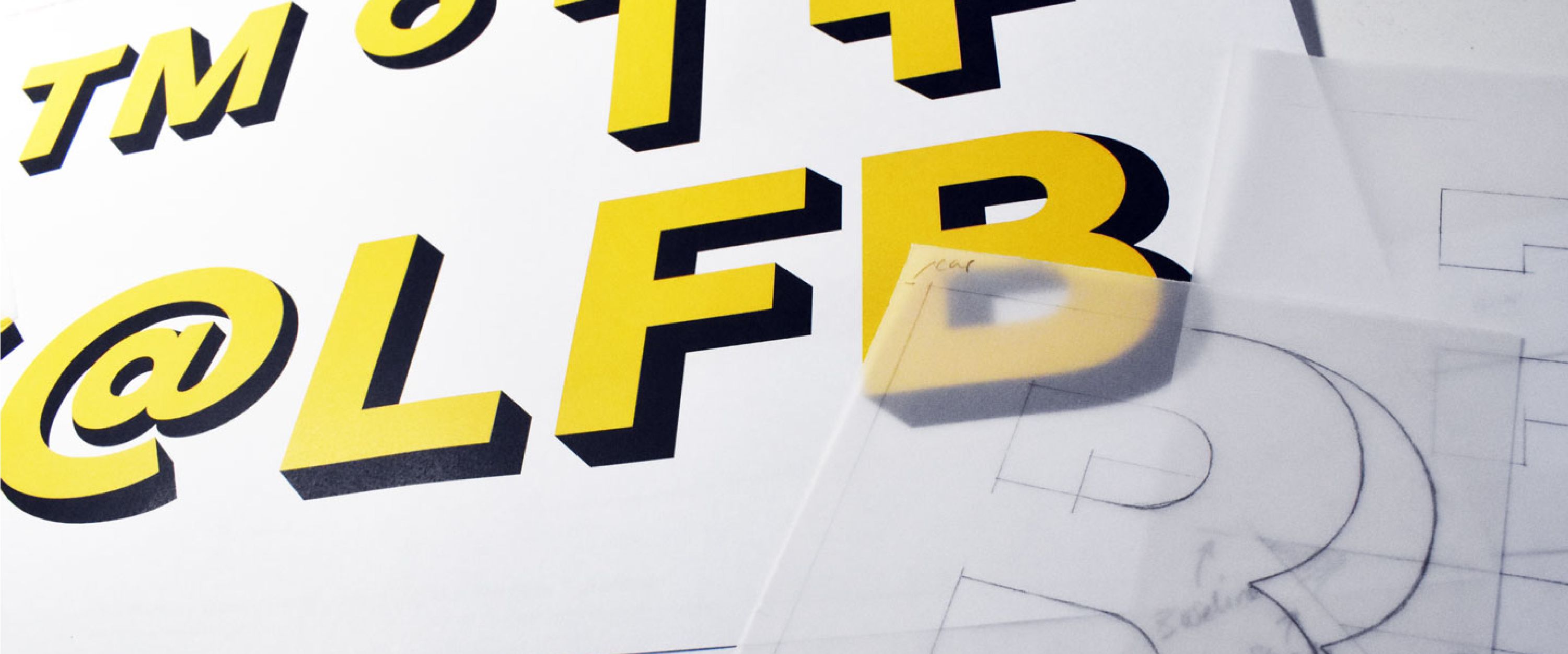 The Foundry Types X London Fire Brigade: this bold bespoke display typeface is rooted in the lettering of a bygone era
The Foundry Types, the independent type foundry by David Quay and Stuart de Rozario is on fire. After the practice's TDC awarded Fernhout typeface project here comes a brand new bespoke type design that honours the British typographic heritage with a fresh, modern approach.
Commissioned by the London Fire Brigade to create a typeface that is "historic, relatable, and dynamic" the studio's latest custom type design project, in collaboration with leading London design agency Studio Sutherl&, aka Fire Brigade Headline will sit alongside the current primary typeface, Fire Brigade Sans, which seamlessly integrates with the new LFB brand identity.
The new display typeface combines two fonts layered together to form a 3D drop shadow effect – a modern take on the vintage Fire Engine lettering of a bygone era.Inspired by the fire station architecture, façade signage, hand-painted lettering on the sides of horse-drawn Victorian water pumps, and London's bygone fire engines the typeface's grotesque style embodies "all the LFB's desired characteristics: uniquely modern but classic, human and approachable, robust, bold, and strong."
"The pure, simple, and humanistic forms of Fire Brigade Headline display are purposeful, and powerful yet with a warm tone of voice" notes the type foundry about the custom type with beauty hidden in its many small and distinctive design details.
"The indented middle E bar reminiscent of many 18th century sans serifs, low-legged 'K', 'Q' with a through bar, and distinctive figure '1' and '7' gives the font its character. The shadow of the font angle is set at 45˚ giving a sense of three-dimensional quality that is almost tangible."
"When combining the two fonts; Regular and Shadow together, to create a 3D drop shadow effect, many overlapping and misalignment technical problems had to be resolved. Each glyph had to be crafted accurately to align perfectly when layered, promoting the appearance of a single 3D font. For instance, the rounder letters, 'B, C, D, G, O, P, R, and S' needed fuller curved shapes that enhance the depth of the shadow in keeping visually with the other letters. Also, the Regular or Shadow font can be used independently or alongside its counterpart."
The Fire Brigade Headline character set contains "capitals, figures, a set of eight arrows, punctuation, and a range of alternative glyphs; an extra 'M', two lowercase 'i's', and punctuation with the LFB 'Insignia Star Badge' emblem. Also, not to forget that there's a quirky double hashtag, echoing a fireman's ladder – adding a sense of humor" explains The Foundry Types.
"Our aim was to design a typeface that captured the spirit and rich heritage of the London Fire Brigade – a caring, human, and incredibly brave institution that has spanned many centuries through wars, disasters, and technological advancements in firefighting" adds TFT Stuart de Rozario, director, and designer of The Foundry Types.
"Fire Brigade Headline is a modern but classic drop shadow geometric and grotesque font, that pays homage to the strong and robust lettering of vintage fire engines of bygone eras. A bold, unique, and dynamic type to align with the London Fire Brigade's ethos."
"London Fire Brigade approached The Foundry Types to create a bespoke font" notes Saskia Boersma, London Fire Brigade's head of brand and events. "The aim was to address accessibility issues within the current primary typeface, Foundry Sans which could be incorporated across LFB branding as a gentle upgrade over time, and to create a brand new London Fire Brigade-inspired headline typeface to deliver dramatic effects. We are delighted with the new Fire Brigade Sans typeface, in particular the drop shadow headline font, which celebrates the original lettering used on fire engines across the Brigade."
"We worked closely with The Foundry Types and the internal London Fire Brigade team to design the headline shadow font together" Studio Sutherl&'s Jim Sutherland explains. "Inspired by the beautiful lettering on old London engines - but also informed by the idea of being in the shadow of the flames and flashing sirens. We've introduced a whole series of alternate glyphs – using the unique LFB star badge symbol for titles, ellipsis, question, and exclamation marks – and a bespoke double hashtag as a ladder."
Developed exclusively for the London Fire Brigade the Fire Brigade Headline Regular and Shadow typeface will not be available for retail. The typeface is currently being rolled out across the entire London Fire Brigade community.
Originally formed over 30 years ago in 1989 by David Quay and Freda Sack (The Foundry and Foundry Types) the London-based type foundry specializes in the creation, production, and licensing of new retail, bespoke typefaces, and typographic brand assets for corporate use. The Foundry designers built up a library of well-known typefaces including Foundry Sans, Foundry Monoline, and Foundry Gridnik, which was one of the many collaborations with legendary Dutch designer Wim Crouwel.
Read more of this ongoing typographic affair here.
Tags/ type design, london, custom, bespoke, the foundry types, studio sutherland, london fire brigade, brand indentity