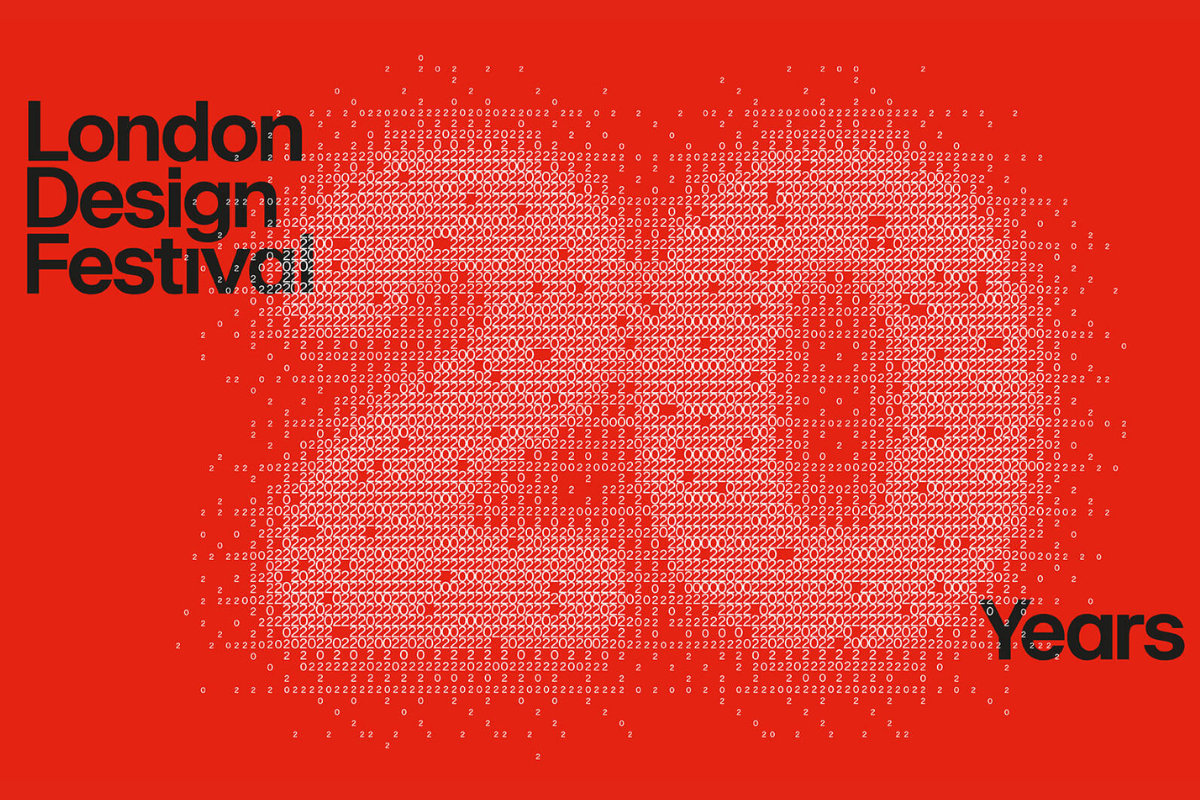 London Design Festival X Pentagram: the (many) visual identities, a seriously limited 20th-anniversary book & those modular typographic tiles
Launched by Sir John Sorrell CBE and Ben Evans CBE in 2003, London Design Festival aims to promote "the city's creativity, drawing in the country's greatest thinkers, practitioners, retailers and educators to deliver an unmissable celebration of design."
20 years later, this vision remains ever strong notes LDF. "In 2019, the Festival welcomed a record-breaking 600,000 individual visitors from over 75 countries. London Design Festival now moves into its 20th anniversary, celebrating how it has played a key role in the growth of the design industry, bolstering London's position as a global destination for business, culture, and tourism, and contributed to the UK's reputation as a creative powerhouse."
To celebrate its 20th-anniversary LDF unveiled a brand new visual identity, once again in partnership with Pentagram's Domenic Lippa for the 16th time in a row.
Set in the LDF's signature red colour palette the identity highlights LDF's 20th anniversary. On creating the concept, Lippa asked "Can we create a visual theme that shows the community?" The idea sees 100s of people coming together to create the 20 years brand and identity. This is where Pentagram started from to land at this theme which can be compared to "a flock of designers weaving through London."
To mark the milestone, LDF's legacy is celebrated in a limited-edition collector's book that "looks at the last two decades of storytelling through the lens of design" also designed by Pentagram. "LDF 20 Years will journey through a visual narrative of the architectural installations, interactive collaborations and innovative experiments that have been commissioned by team LDF and created by designers like Es Devlin, John Pawson, the late Zaha Hadid and Yinka Ilori" notes LDF about the publication that pays tribute to "a multifaceted power to the capital's design scene and its different disciplines."
This large-format book "celebrates how LDF has evolved over the years" through 60 LDF projects from the last 20 years. It comes in four different covers and is published in a limited numbered edition of 200 copies.
Also during this year's festival, Huguet is about to showcase its collaboration with seven Pentagram partners aka Jody Hudson-Powell, Sascha Lobe, Giorgia Lupi, Jon Marshall, Luke Powell, Yuri Suzuki and Matt Willey.
In this project that was originally conceived by Astrid Stavro, the seven creatives were invited to create "innovative and unexpected objects using Huguet's traditional production methods and materials."
"The Pentagram vs Huguet project allowed for a focus on materiality and craft, and a new methodology for approaching the process of design" notes the team. "The results of the collaboration are playful and surprising, with an intriguing collection of pieces that effortlessly blend thoughtful, modern design with traditional craftsmanship and local, sustainable materials…. The pieces stand out because of their natural finish, their sense of craftwork, the clever ageing, and the nobility and elegance of the materials used."
For the project Pentagram partner, Sascha Lobe developed a "flexible 18-unit tile system" inspired by "Le Corbusier's study of modules and his use of colour and material" aptly titled "Universally Le Corbusier."
"The concept is based on typographic elements that can be arranged into a myriad of mosaics or written words. Countless patterns and designs can be created by arrangement, providing complete decorative and creative liberty" explains Huguet.
"The typographic undercurrent pushes people – whether interior designers, typophiles, architects, homemakers or decor hobbyists – to see tiles from both an ornamental and systematic perspective. The patterns, letterforms and phrases from the modular tile system can be fully bespoke to the homemakers's needs. This system can also be easily utilised for signage on buildings both internally and externally."
Lobe's modular font was first introduced as a motion projection on the Corbusier building in Stuttgart, which is part of the UNESCO World Heritage Weissenhof Estate from 1927. The "Legacy of Modernism" typographic installation was the finale and highlight of the iba 2027 Architecture Symposium.
The 20th LDF runs from 17-25 September. Explore this year's diverse programme that celebrates design in all its glory here.
Tags/ visual identity, book, pentagram, matt willey, sascha lobe, london design festival, modular, astrid stavro, domenic lippa