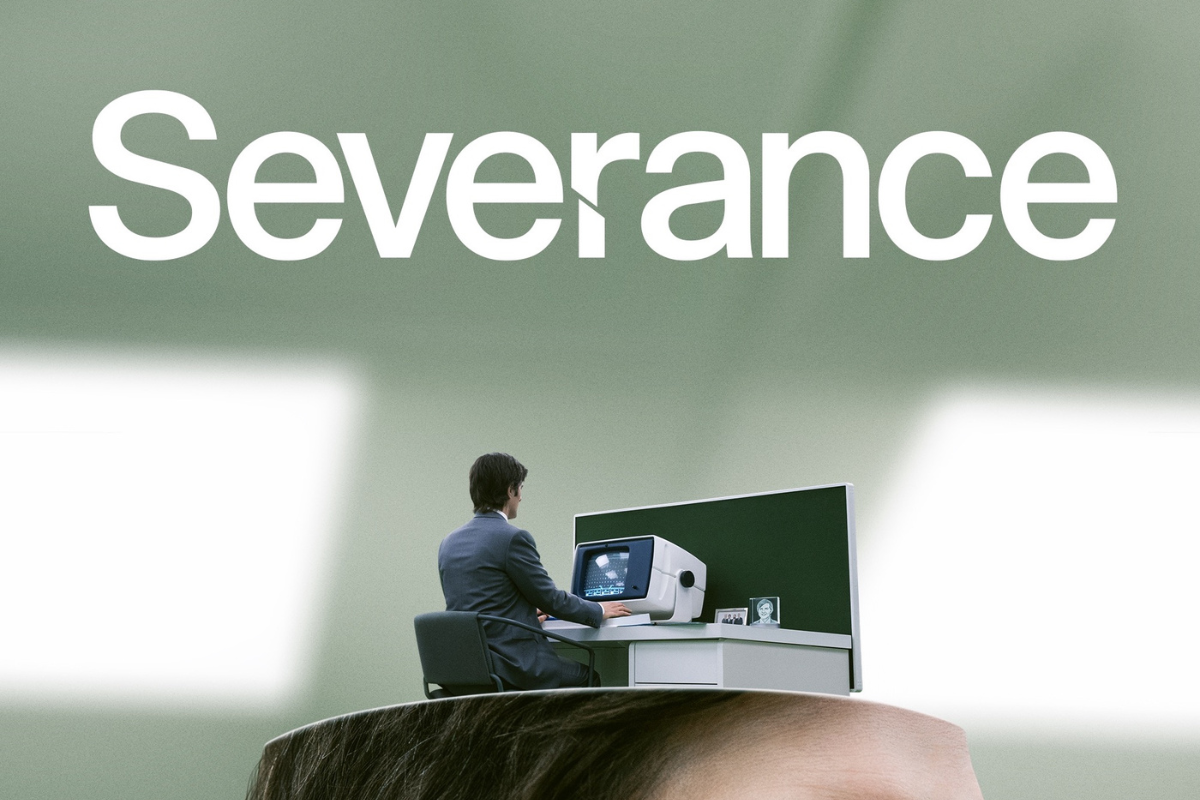 Creative Arts Emmys 2022: Severance wins this year's Main Title Design trophy
A year after Apple TV+ scored seven wins at the 2021 Creative Arts Emmys, the streaming service has nabbed a further five in this year's 2022 ceremony over the weekend of September 3 and September 4.
Ben Stiller's hit drama "Severance" was a big winner with two creative awards for Outstanding Main Title Design, and Outstanding Music Composition for a Series.
Created by Oliver Latta, the Berlin-based artist who goes by the moniker Extraweg, the title credits feature typography by Teddy Blanks.
Stiller, who directed six of Severance's nine episodes and also serves as an executive producer, reached out to Latta because he'd seen his work on social media.
Severance centers around Mark Scout (Adam Scott), a leader of a team of office workers whose memories have been surgically divided between their work and personal lives. The animated intro "illustrates the struggle of this main character navigating life split between professional and personal dilemmas" explains Extraweg.
"The visual work represents the mystical journey of these different identities memories of experiences, grief, loss, and control in one body through the use of surrealism and subtle ironic humor."
Overall the design treatment of the Apple TV+ dystopian sci-fi original series is pretty outstanding with various typographic elements gracing the screen.
Severance Wiki, an independent community-driven project "with the mission of thoroughly documenting all aspects of Severance and having fun along the way" features an extensive page dedicated to the fonts in use.
The page is "an overview of significant instances of typographic design and font use throughout Severance, with additional information about the typefaces and where to obtain them."
Manifold Extended CF is Lumon Industries' corporate typeface, the neo-grotesque Forma DJR is part of Lumon Industries' house style, the Compliance Handbook volumes in Lumon Industries' Macrodata Refinement department are set in the iconic sans-serif Optima designed by Hermann Zapf circa 1958, the text of the Lumon Industries' Compunction Statement is set in Input Sans and Scriptorama Tradeshow JF is used on Lumon Recycles bins.
Meanwhile, over at Reddit, the title's font identity has prompted a discussion. "I believe that would be Helvetica" a user replied in the Identify This Font Subreddit thread. Eventually, the responses varied from Suisse Int'l Medium by Swiss Typefaces through SF Pro, which is also the tvOS system fon, to Neue Haas Unica by Monotype.
As for this year's Creative Arts Emmys shortlisted projects, four out of the seven shows nominated were Apple TV+ originals – enter "Foundation," "Lisey's Story," "Pachinko" and "Severance." Also included in the 2022 lineup were Hulu's "Candy" and "Only Murders in the Building" and Netflix's "Cowboy Bebop."
Stranger Things: the inspiration, the alternatives, and the final homage to design's iconic legends in a single logo
FYI, Imaginary Forces aka the Los Angeles-based award-winning creative company specializing in design-based visual storytelling is the design practice behind four of the nominated title designs – "Foundation," "Lisey's Story," "Candy" and "Cowboy Bebop" – and that alone is rather impressive.
Here Typeroom presents you with this year's main title design nominees in all their artistic glory.
Happy viewing and congrats to all!
-
"Candy" — Creative Directors: Peter Frankfurt and Ronnie Koff
-
"Cowboy Bebop" — Creative Director: Karin Fong
-
"Foundation" — Creative Director: Ronnie Koff
-
"Lisey's Story" — Creative Directors: Karin Fong and Osbert Parker
-
"Only Murders in the Building" — Creative Director: Lisa Bolan
-
"Pachinko" — Creative Directors: Nadia Tzuo and Angus Wall
Tags/ typography, font, apple tv, tv series, title design, emmys, creative arts emmys