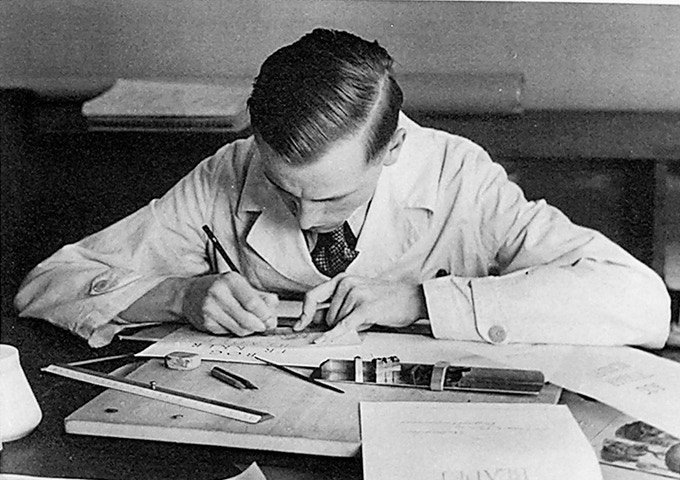 Remembering Hermann Zapf
Hermann Zapf (pronounced "tsáff"), the iconic calligrapher, type designer, and typographer whose Palatino, Optima, Zapfino, Melior, Aldus, and the quirky, yet very beloved, Zapf Dingbats fonts defined our culture, had a massive, prolific career.
"My story begins in Nuremberg, where I was born on the 8th November 1918. Those were turbulent days" he said.
"On the day I was born, a workers' and soldiers' council took political control of the city. Munich and Berlin were rocked by revolution. The war ended, and the Republic was declared in Berlin on the 9th November 1918. The next day Kaiser Wilhelm II fled to Holland. To add to the chaos, the Spanish flu took hold of Europe in 1918 and 1919. It is estimated to have killed some 20 million people, more than the total number of lives lost by Germany and the Allies put together during the First World War. Two of my siblings died in the flu epidemic of 1918."
Famine later struck Germany, and Zapf's mother was grateful to send him to school in 1925, where he received daily meals in a program organized by Herbert Hoover. In school, Zapf was mainly interested in technical subjects. One of his favorite books was the annual science journal Das neue Universum (The New Universe). He and his older brother experimented with electricity, building a crystal radio and an alarm system for his house. Even at this early age, Zapf was already getting involved with type, inventing cipher alphabets to exchange secret messages with his brother.
Zapf left school in 1933 with the ambition of pursuing a career in electrical engineering. However, his father had become unemployed and was in trouble with the newly established Third Reich, having been involved with trade unions, and was sent to the Dachau concentration camp for a short time.
Under the new political regime, Zapf was not able to attend the Ohm Technical Institute in Nuremberg, and therefore he needed to find an apprenticeship. His teachers, aware of the new political difficulties, noticed Zapf's skill in drawing and suggested that he become a lithographer. Each company that interviewed him for an apprenticeship would ask him political questions, and every time he was interviewed, he was complimented on his work but was rejected.
Ten months later, in 1934, he was interviewed by the last company in the telephone directory, and the company did not ask any political questions. They also complimented Zapf's work, but did not do lithography and did not need an apprentice lithographer. However, they allowed him to become a retoucher, and Zapf began his four-year apprenticeship in February 1934.
In 1935, Zapf attended an exhibition in Nuremberg in honor of the late typographer Rudolf Koch. This exhibition gave him his first interest in lettering. Zapf bought two books there, using them to teach himself calligraphy. He also studied examples of calligraphy in the Nuremberg city library. Soon, his master noticed his expertise in calligraphy, and Zapf's work shifted to retouching lettering and improving his colleagues' retouching.
In 1938, Zapf designed his first printed typeface for D. Stempel AG and Linotype GmbH of Frankfurt, a fraktur type called Gilgengart.
"I have witnessed and participated in all the stages of type production. From hot metal composition in the fifties, phototypesetting, and through to today's digital methods. It's been an exciting time with all the radical changes that the printing industry has seen."
Zapf served as a cartographer for the German army during WWII, drawing maps of Spain. At the end of the war, he was imprisoned by the French but said he was treated well. "They had a great deal of respect for me as an 'artiste'" he wrote. "I think the French still have this respect today."
The German typeface designer spent his lifetime in Darmstadt, Germany and was married to calligrapher and typeface designer Gudrun Zapf von Hesse.
Zapf's work includes Palatino (1948, named after 16th century Italian writing master Giambattista Palatino) and Optima (1952, a flared sans-serif, released by Stempel in 1958). As noted by TDC Zapf disliked its name, which was invented by Stempel's marketers. The font has been widely copied, often against his will with Monotype's Book Antiqua, shipped with Microsoft Office, widely considered a "knockoff" of Palatino.
In 1976, the Rochester Institute of Technology offered Zapf a professorship in typographic computer programming, the first of its kind in the world. He taught there from 1977 to 1987, flying between Darmstadt and Rochester. There he developed his ideas on digital typography further, with the help of his connections in companies such as IBM and Xerox, and his discussions with the computer specialists at RIT. Zapf used his experience to begin development of a typesetting program called the "hz-program", which Adobe Systems acquired and later incorporated in their InDesign program.
In 1993, Zapf resigned from ATypI (Association Typographique Internationale) over what he viewed as its hypocritical attitude toward unauthorized copying by prominent ATypI members.
The short film, The Art of Hermann Zapf, commissioned by Hallmark in 1967, offers a vivid glimpse of Zapf's remarkable talent and serves as an elegy to the dying art of hand lettering and penmanship that he practiced throughout his life. He was also featured in the 2007 documentary Helvetica, by Gary Hustwit.
In Hermann Zapf and the World He Designed, Jerry Kelly, Zapf's friend and colleague of almost 40 years, traces the artist's life from his youth in Nuremberg to his retirement in Darmstadt.
Scrupulously researched at the Hermann Zapf archive in the Herzog August Bibliothek in Wolfenbüttel and at the Cary Collection at the Rochester Institute of Technology, and enriched by decades of conversations with Zapf and his associates, the book details Zapf's experiences with type companies, printers, publishers and colleagues. It explores his modern design aesthetic and engagement with the staggering technological advances of typography during the twentieth century. Featuring rarities and never-before-seen works and photos, it also includes definitive lists of Zapf's type designs and major calligraphic works. However, Hermann Zapf and the World He Designed is more than an in-depth appreciation of Zapf's work, it is about his work in relation to his life, because, as Kelly notes, "...you can't separate the two."
Zapf died on 4 June 2015, at the age of 96 in Darmstadt, Germany
Font in use: Bague Sans
Tags/ typeface, hermann zapf, palatino, optima, wisdom