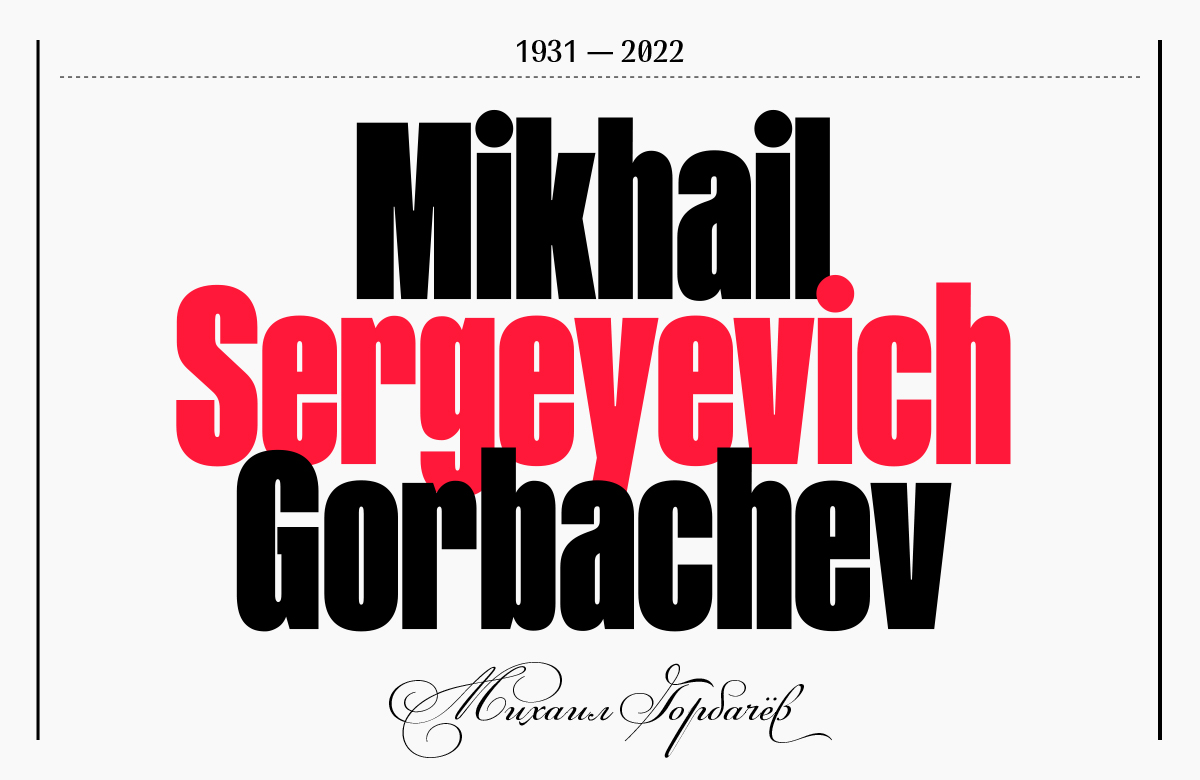 Peace is not unity in similarity but unity in diversity: Mikhail Gorbachev, in memoriam
Mikhail Gorbachev, the former Soviet leader who brought the Cold War to an end, has died aged 91. Although outside Russia Gorbachev's reforms were widely respected for many Russians he is to blame for the years of turmoil that ensued.
A figure who "changed the course of history" per UN Secretary General Antonio Guterres, a "rare leader" per US President Joe Biden and a man whose "legacy is one we will not forget" per European Commission President Ursula von der Leyen praised him as a "trusted and respected leader" who "opened the way for a free Europe" Gorbachev aimed to revitalize Russia's society through his perestroika policy and ended the bloody Soviet war in Afghanistan that had raged since 1979.
Striving for openness through his glasnost agenda Gorbachev dissolved the former Soviet Union in 1991 and left office.
An architect of reform or an agent of chaos - depends on the side of the world one resides - Gorbachev was awarded the Nobel Peace Prize in 1990 "for the leading role he played in the radical changes in East-West relations."
Mikhail Gorbachev was one of the most influential political figures of the 20th Century per BBC as he "presided over the dissolution of a Soviet Union that had existed for nearly 70 years."
Born on 2 March 1931 in the Stavropol region of rural southern Russia Gorbachev was regional secretary of the Young Communist League by 1961.
Admired by Britain's infamous Iron Lady aka Margaret Thatcher he was the youngest member of the Politburo when he became the country's general secretary - the first leader of his country to have been born after the 1917 revolution.
Gorbachev put an end to the Cold War era when he successfully negotiated with US President Ronald Reagan the Intermediate Nuclear Forces treaty.
Opting for a better economy and an open society and political system in Russia, Gorbachev believed in socialism.
"Some of you look at the market as a lifesaver for your economies. But, comrades, you should not think about lifesavers but about the ship, and the ship is socialism" he once said.
A figure whose rhetoric earned him numerous honors in the West, Gorbachev remained a strong critic of President Vladimir Putin, who he accused of running an increasingly repressive regime although he defended the referendum that led to Russia's annexation of Crimea circa 2014.
"Although a pragmatic and rational politician, Mikhail Gorbachev failed to realize that it was impossible to bring in his reforms without destroying a centralized communist system that millions in the USSR and beyond no longer wanted" notes BBC.
Here we present you with Mikhail Sergeyevich Gorbachev's famous quotes all set in Parachute Typefoundry's PF Mellon VAR, PF Marlet Text and PF Champion Script Pro type designs.
-
"What we need is Star Peace and not Star Wars."
"Peace is not unity in similarity but unity in diversity, in the comparison and conciliation of differences."
"I believe in the cosmos. All of us are linked to the cosmos. So nature is my god. To me, nature is sacred."
"Being resolute today means to act within the framework of political and social pluralism and the rule of law to provide conditions for continued reform and prevent a breakdown of the state and economic collapse, prevent the elements of chaos from becoming catastrophic."
"The time has come to choose a new direction of global development, to opt for a new civilization."
"History is a capricious creature. It depends on who writes it."
"Democracy must learn to defend itself."
"For a new type of progress throughout the world to become a reality, everyone must change. Tolerance is the alpha and omega of a new world order."
Tags/ typography, typeface, russia, politics, parachute typefoundry, in memoriam, wisdom