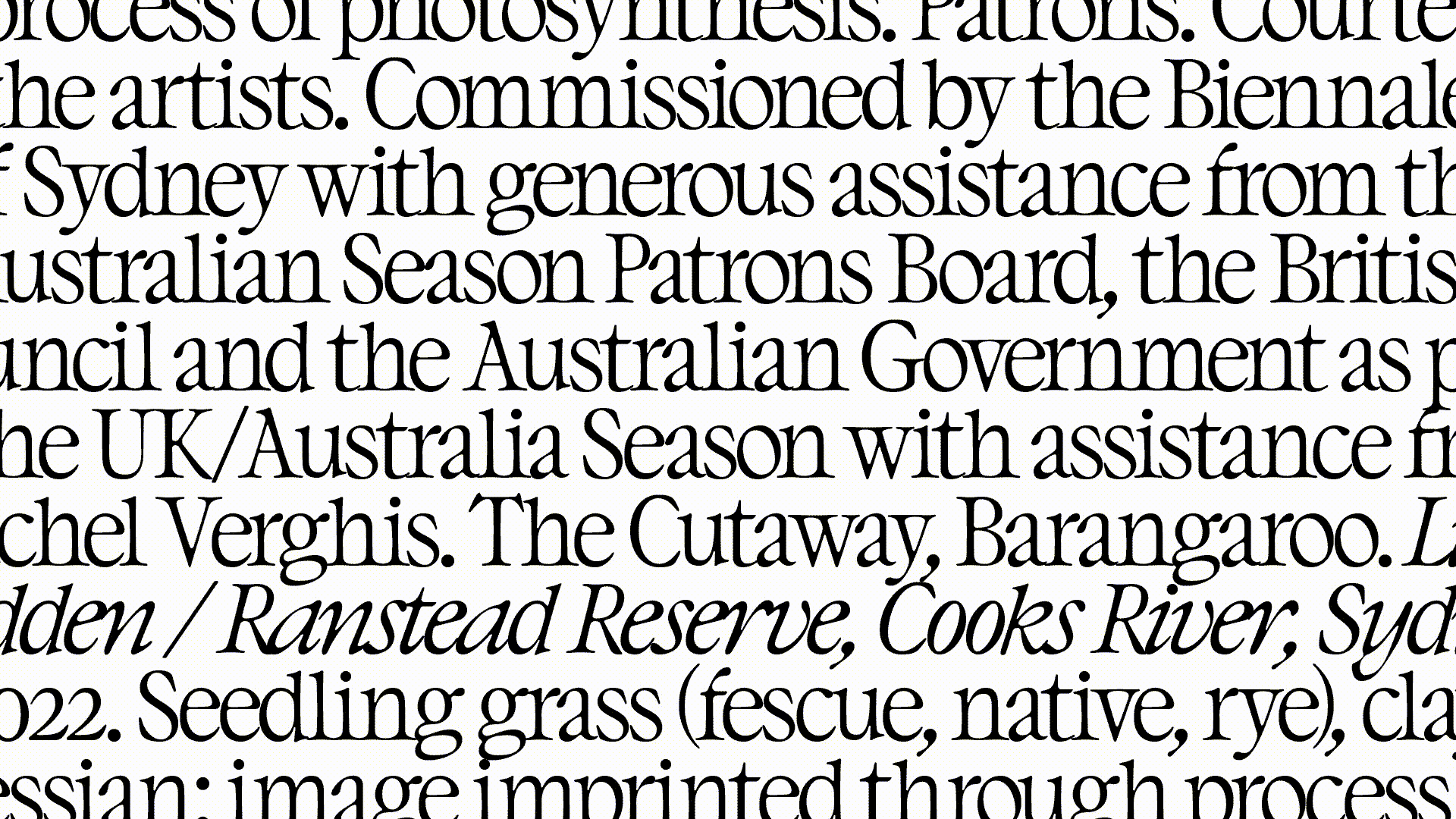 Zolo Studio & Base Design X The Biennale of Sydney: liquid bespoke type for a fluid visual identity that speaks volumes
Amid the climate crisis, an event that asks questions. Since its inception in 1973, the Biennale of Sydney has provided a platform for art and ideas, showcasing the work of nearly 1,900 artists from more than 100 countries. Today it is considered one of the leading international contemporary art events, recognized for commissioning and presenting innovative, thought-provoking art from Australia and around the globe.
Running from 12/03/2022 to 13/06/2022 under the artistic direction of José Roca, this year's 23rd edition of the Biennale of Sydney was deeply poignant. "Rivers, wetlands, and other salt and freshwater ecosystems feature in the 23rd Biennale of Sydney (2022), titled rīvus, as dynamic living systems with varying degrees of political agency. Indigenous knowledge have long understood non-human entities as living ancestral beings with a right to life that must be protected. But only recently have animals, plants, mountains, and bodies of water been granted legal personhood. If we can recognise them as individual beings, what might they say?"
"Rivers are the sediment of culture. They are givers of life, routes of communication, places of ritual, sewers, and mass graves. They are witnesses and archives, our memory. As such, they have also been co-opted as natural avenues for the colonial enterprise, becoming sites of violent conflict driven by greed, exploitation, and the thirst to possess. Indeed, the Latin root rīvus, meaning a brook or stream, is also at the origin of the word rivalry" explains the curatorial team of the event's urgent theme that greatly influenced the creatives in charge of its visual language.
The Biennale's aqueous theme inspired Zolo Studio's Arno Baudin and Base Design's Daniel Peterson and Owen Cramp who worked on creative direction and design delivering a unique "fluid visual identity, campaign, communications, signage, and a massive 572-page companion publication" explains Base Design Melbourne.
To achieve that the creative team partnered with the creative consultant, type designer, and Biennale contributor Virgil Flores for a bespoke type treatment that elevates the branding. "Based on a printed garalde typeface, a surplus of ink fluidly connects characters, words, and ideas" reads the case study.
"Arriving two long years since the last edition was cut short as Covid took hold of the country. This current edition opened at a time when floods ravaged Northern NSW and Queensland. Poignant timing that further served to emphasize how ecological crisis, and the effect of colonization on First Peoples' custodianship of ecosystems, are far more than themes; they are a reflection of our reality" elaborates the practice.
'A Glossary of Water', a publication that exists as a companion to the event, expands the Biennale's urgent topics "far beyond its duration and location – the book highlights the deep connections that Australia has to its waterways and bodies of water."
"Following the logic of a glossary, it includes approximately 80 terms as headings and 'definitions' such as creek, dam, estuary, flood, weave, and weft. Printed sustainably on excess paper stock of different types and weights from previous book projects, rather than recycled paper, the profile of the publication takes on the look and feel river sediment" notes Base Design Melbourne.
Articulated around a series of conceptual wetlands situated along waterways of the Gadigal and Barramatagal peoples, the 23rd Biennale of Sydney acknowledges that "sustainability should be an action, not a theme. rīvus will reflect on its own conditions of possibility, becoming the catalyst for works already in progress; encouraging the use of non-polluting materials and production processes; advocating for locality, collectivity, collaboration, and reduced waste; acknowledging its own impact on the environment while aiming to lower it through a systemic and creative approach."
Tags/ typography, visual identity, branding, poster, base design, signage, australia, bespoke type, typedesign, environment, climate crisis, zolo studio, biennale of sydney, virgile flores