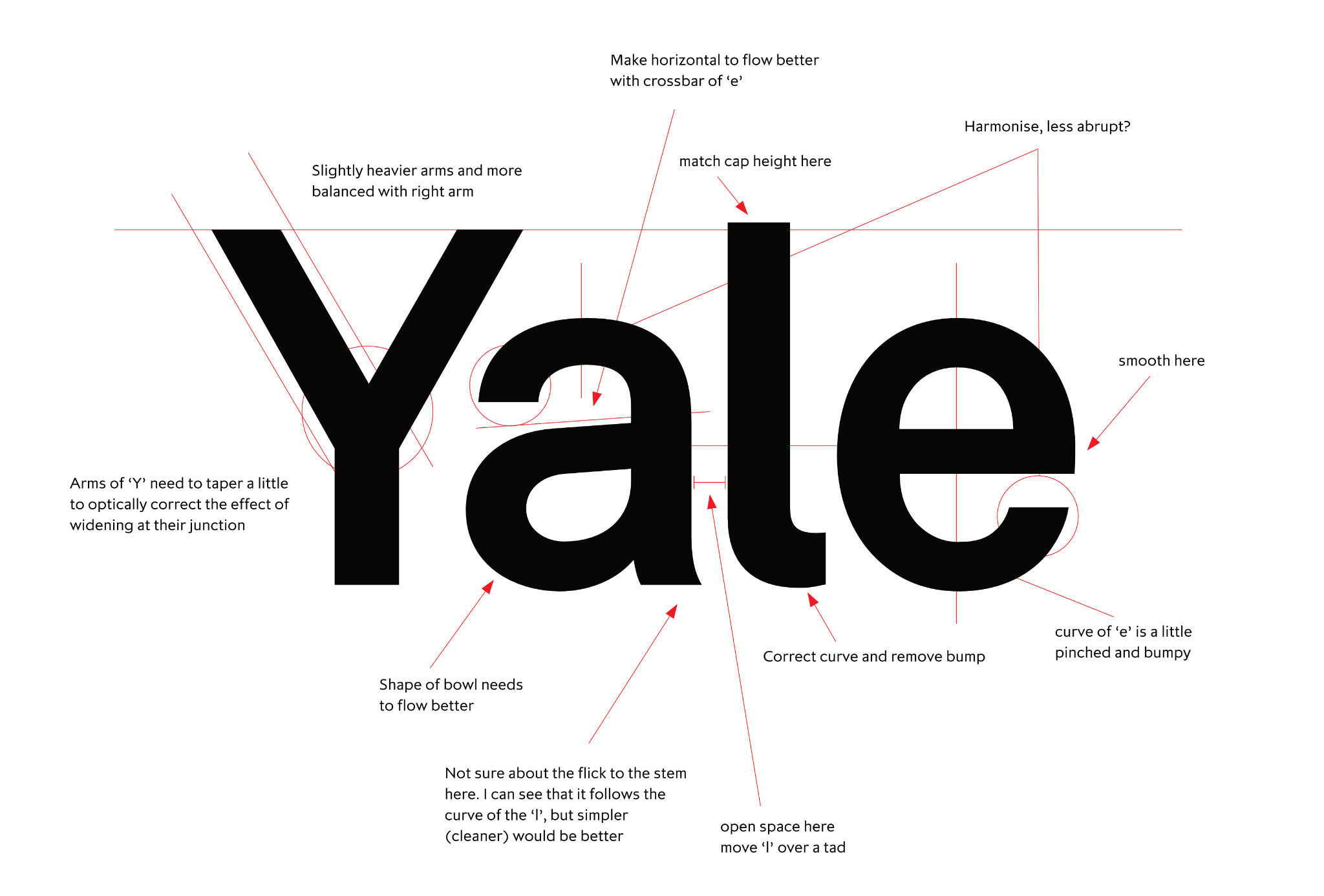 Unlocking the font: Jeremy Tankard οn his latest bespoke typeface aka Yale Solis
Commissioned by creative consultancy GW+Co, who worked on the rebrand, aligning culture, strategy and brand for Yale's digital future as the home security market transforms, Jeremy Tankard provided a bespoke typeface aptly named Yale Solis.
Founded in 1840, Yale has a proud mechanical heritage and history of innovation and just like Linus Yale Jr "who looked to the past to shape the future – using the pin-tumbler mechanism of the ancient Egyptians to invent the revolutionary cylinder lock," Tankard delved into the past to create a custom font inspired by the engineered typefaces of the early 20th century and provide a visual signature for the brand's future.
His final product aka Yale Solis will be integrated across all areas of communication including website, marketing, products, packaging, mobile app and it comprises of Yale Solis Light, Regular and Bold.
Typeroom caught up with the type designer on the inspiration, the challenges and the multifaceted qualities of a font that is "functional, engaging and timeless." "The brief from GW+Co wanted a typeface that would achieve consistency across the Yale's regions" says Tankard. "The idea of a bespoke type was attractive to Yale as counterfeiting is a large problem for them and a bespoke type would go some way to alleviate this problem."
Typeroom: How long have you been working on the project?
Jeremy Tankard: Initial conversations began in September 2019 which lead to questions, costings and scoping out a programme of development. Final project kick off was around the second week of December -though I'd already made a start as timing was tight.
My research and sketching began in November allowing me to have a good range of work to show at the initial client meeting. Early January was pretty much the core development of A–Z, a–z, 0–9 across the weight range. As January rolled on the glyph sets were expanded. February saw the glyph sets finalised as the fonts went into production; fit, kerning, hinting etc. The typeface was completed at the start of March and supplied for Desktop and Web use with support information as PDF documents..
TR: Which was the most challenging aspect of it?
JT: Same as all types; the most difficult bit is also the hardest and most enjoyable and is getting the route concept right.
I talk about 'macro' and 'micro' – the macro is the 'broad stroke' idea, the initial emotive expression aimed for. The 'macro' is the detailing that makes the whole thing 'sing'. Very difficult to balance and get right. Takes time and clarity.
TR: You were inspired by the engineered typefaces of the last century. Which ones and why?
JT: The obvious ones are the DIN types. There are a couple of excellent articles by Albert-Jan Pool on DIN which I referenced here.
The approach to a standard type design through an engineered method is attractive especially in the context of Yale as the client. The static and mechanical impression of these types had the 'coolness' I was after, but not the 'designer coolness'. The types are a product of their era and suffer from the limitations of the technology used – they often look old fashioned and clunky.
Today we can achieve greater levels of tolerance through the tools we use and the method that a font is rendered and applied. It seemed obvious to look at what was troubling me with the older types and address that. Much of this was about proportion, spacing and rhythm.
TR: "Engineering made human" was your main principle whilst designing the font. Please elaborate.
JT: The ethos and product design work that I saw from Yale's designers took core shapes and concepts of geometry in order to build Yale's product styling. They related everything back to its interaction with the customer through the senses.
Systematic design has always been intriguing and it has always been contentious. Think of the infamous exchange between Richard Southall and Donald Knuth over Metafont and the need for a degree of humanity.
The guiding principle of 'engineering made human' was my way of saying that I wanted the systematic 'macro' look but I wanted to tweak it at the 'micro' level to add humanity. To break the rigidity and soften it a touch. This is in response to GW+Co's brand direction – the concept of the sun and warmth without resulting in an overly soft and syrupy type design. It needed stature and control as well.
TR: How important do you consider the creation of a bespoke font for a branding identity?
JT: Depends on the client. I don't see many bespoke designs that offer anything fresh. They are often existing designs merely 'tweaked' with the intention to offer the idea of ownership. The fonts are then applied to a design.
A bespoke typeface works best when it is designed from the ground up with specific attention paid to the client's requirements. It succeeds when it is developed from the start and alongside other parts of the design process. It needs to be equally core to the whole design programme and everyone needs to understands how to use it.
TR: Which was your first bespoke font ever and for which client?
This would be the typeface I later released as 'Alchemy'. It was originally commissioned by Publicis for use on inflight advertising for Ballantines whisky. The concept was about turning water into gold, which is a kind of alchemy on its own.
This was created way before the power of OpenType, so a set of fonts were made to allow access to all the variant glyphs, combining half glyphs and joining devices. It was never used that well and had to wait several years before it found its 15 minutes of fame on the Sword of Gryffindor.
TR: Which is your all time favourite bespoke font that you wished you had designed?
JT: I have a warm spot for Edward Johnston's Underground letter. Principally because it was key to my getting into type design. It has issues, it has personality, it has influence, it is classic, it does its job.
TR: What are you working on now?
JT: I'm bound by an NDA on the current project, but am also developing a type for release in 2021 and and there's always work to be done on the website.
Jeremy Tankard started designing typefaces full time in 1998 and since then his fonts have gained a reputation for their originality and quality. In addition to those created for his own foundry, Tankard has produced typefaces for Microsoft and Adobe as well as bespoke designs commissioned for specific uses.
Explore more here.
Tags/ typeface, font, adrian frutiger, din, bespoke, jeremy tankard typography, jeremy tankard