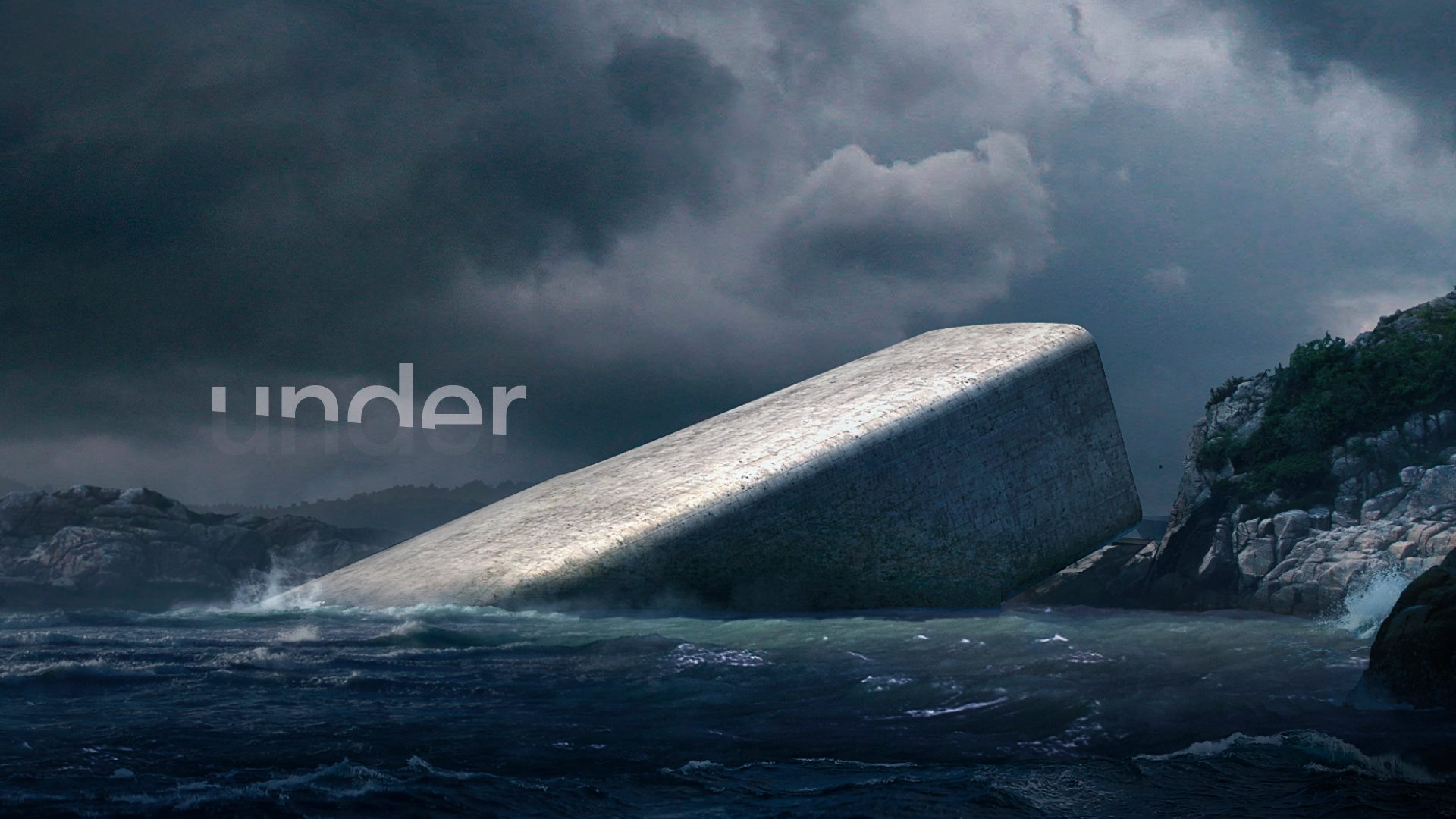 Snøhetta X Under: the abstract visual identity of Europe's first best new underwater restaurant ever
Designed by Snøhetta -the integrated design practice of architecture, landscape, interiors, furniture, graphic and brand design, with offices in Oslo, Norway, and New York- Under aka Europe's first underwater restaurant has won the coveted Wallpaper* Design Awards 2020 for Best New Restaurant.
"Designed by Oslo-based architects Snøhetta, Europe's first underwater restaurant, submerged 5.5m below sea level at the southernmost tip of Norway and resembling a periscope, features a reinforced, convex concrete shell and thick acrylic windows to ensure you won't get so much as your hair wet" notes Wallpaper.
"Located at the southernmost point of the Norwegian coastline, where the sea storms from the north and south meet, the project is situated at a unique confluence. Marine species flourish here in the both briny and brackish waters to produce a natural abundance in biodiversity at the site. The Snøhetta-designed restaurant also functions as a research center for marine life, providing a tribute to the wild fauna of the sea and to the rocky coastline of Norway's southern tip" writes the design practice.
In Norwegian, "under" has the dual meaning of "below" and "wonder" therefore the creators designed a half-sunken into the sea 34-meter long monolithic building.
"Under is a natural progression of our experimentation with boundaries," says Snøhetta Founder and Architect, Kjetil Trædal Thorsen.
"As a new landmark for Southern Norway, Under proposes unexpected combinations of pronouns and prepositions, and challenges what determines a person's physical placement in their environment. In this building, you may find yourself underwater, over the seabed, between land and sea. This will offer you new perspectives and ways of seeing the world, both beyond and beneath the waterline."
Snøhetta has designed Under's visual identity and website to transport the visitor to the experience of being at Under, presenting the elements that characterize the project.
"The unique landscape, the handpicked ingredients, the philosophy of the chef and the thinking behind the architecture" are integrated into the visual language of Europe's first underwater best new restaurant.
"The logo is an abstraction of the building's form and its tilt into the sea. The typographic choice, Portrait from Commercial Type, is a reference to the refined roughness and materiality of the exterior, while the color palette is a subdued interpretation of the interior textiles" writes Snøhetta.
"All the elements are tied together on the website, inviting the visitor into the Under experience. With a dynamic layout system, the website provides possibilities to change its appearance with the shifting seasons of Lindesnes. Divided into three sections, you can immerse yourself into the different aspects of the project and book your journey to Under."
Tags/ typeface, visual identity, logo, architecture, award, wallpaper magazine