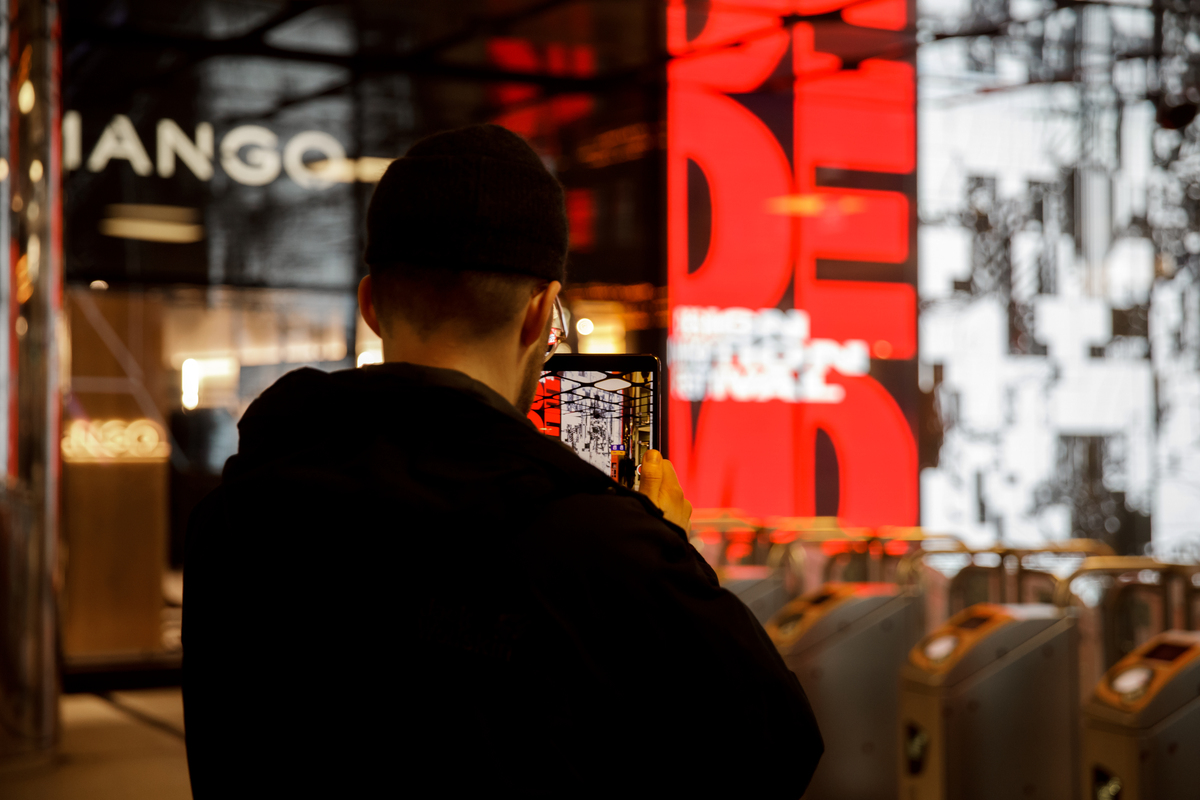 DEMO: Liza Enebeis on the Design in Motion Festival's phenomenal success
Our world's largest motion festival aka DEMO returns in full frame, across a whole nation!
Set to launch on October the 6th, DEMO 2022 -a brilliant digital initiative by Studio Dumbar/DEPT® in partnership with Digital Out of Home specialist Global- returns in full force across The Netherlands.
Inspired by Liza Enebeis, creative director at Studio Dumbar/DEPT® aka the international branding agency specialized in visual identities and motion design for corporate entities, cultural institutions, governments and nonprofits that is active internationally for clients such as Apple, Google, Spotify, Facebook and Adidas, DEMO aims to bring the best motion design from across the globe for 24 hours on more than 5000 digital screens in the public spaces of Netherlands.
Your design! DEMO 2022 is calling on designers to send in their best motion design work for this second edition of the festival that took Amsterdam by storm during its first edition.
On the 7th of November 2019, pre-pandemic times, DEMO Festival's public experiment was launched as it swapped advertising for the work of talented motion designers for a full 24 hours bringing short clips from the finest studios, designers and emerging creatives from around the world on DOOH (Digital Out of Home) screens throughout Amsterdam Central Station, the city's largest railway station in Amsterdam.
"There were literally hordes of people clustered around screens, just mesmerized by what they were seeing. It was hypnotic, everybody was just glued in place. Some participants had traveled from as far away as Brazil, Canada, Japan, Austria, Germany, France, and the UK to see their work. Some participants came with their families. It was really an honour" said Liza Enebeis, creative director of Studio Dumbar/DEPT® and initiator of the Design in Motion Festival.
Eventually, DEMO's success evolved to the festival's second edition and this time, the selected works are about to take over not 80 but more than 5000 digital screens across the Netherlands.
From the Dutch Railway Network and gas stations, in malls, on streets, at airports and next to the Dutch highways, the best design in motion clips will premiere for a one-of-its-kind visual feast.

"From pure typographical motion designs to 3D worlds, every kind of motion design is welcome, as long as it's non-commercial work and of high creative quality. Sending in work is possible for all designers; from established names to young and unknown talents from all over the world" notes the team.

The selected works by DEMO's international team of six prominent professionals led by Enebeis herself aka motion designer Connor Campbell, art director and designer Koos Breen, creative coder and designer Tim Rodenbröker, and Niels van der Donk and Vikki Young of 3D animation studio YONK are to announced by the end of August.
We caught up with Enebeis and talked about how this extraordinary event came to be, what's in for the future and more.
Typeroom: How did the idea of the DEMO Festival come about? What inspired you to launch it?
Liza Enebeis: The idea for DEMO Festival was driven by wanting to share the beautiful work we were seeing with a wider audience and create an exhibition that was accessible to the larger public because a lot of the work that inspires us on a daily basis is usually shared on Instagram and is limited to the eyes of designers. We specifically wanted to organize DEMO in the public space.
Outdoor screens and displays stand like modern digital statues in places where there is a lot of public movement. However, the character of the creative products on display is always commercial. By using the screens in an alternative way we hope to inspire designers, the public, and brands to use the screens in an even more creative way.
TR: Do you think designers can influence, perhaps even reset, the visual fabric of a city or even a nation?
LZ: Yes! The DOOH screens have become an integral part of our public space in a lot of cities. By changing the messages/images you have a direct effect on your surroundings whether it's consciously or subconsciously. We have to be mindful and respectful of our surroundings and the viewer. Just imagine in the dark winter months you filled the screens with beautiful bright images what a positive feeling that would give.
TR: You received many entrants during the inaugural DEMO Festival open call. How difficult was the selection process and which were the requirements you opted for when making the final selection of the project on display?
LZ: Extremely difficult - it was like being in a candy store! Unbelievably amazing work from all over the world. The criteria we set were as follows - Does the work push the limits of the screen, the message and the level of craftsmanship. Once we had an overview of the selection - we then looked at how one piece worked with another piece side by side or one after the other, the time of day it was shown and the location. So in effect creating a living exhibition.
TR: What is the one single piece of advice you would like to share with designers who consider submitting their projects in the upcoming DEMO 2022?
LZ: 1. Just submit your work - because a chance for us to show our work in a public space doesn't happen so often. 2. Don't be intimidated by the tools - a very simple and small gesture can be just as powerful.
TR: Has DEMO created a motion-design community?
LZ: There is a strong motion community and we hope DEMO is there to strengthen and support it.
TR: What are your ambitions for the future? Any plans to launch DEMO in global format?
LZ: First DEMO 2022 in the Netherlands and then hopefully connect the whole world.
TR: Do you plan to address any specific theme in the future -eg. climate crisis?
LZ: No, we want to provide the participants all freedom, to let them come up with their own personal expressions and messages through motion design.
DEMO's brief is clear and made of digits. Design in Motion Festival 2022 aims to celebrate creativity from all over the world, push the limits of Digital Out of Home screens, inspire brands and makers to use screens more responsibly and creatively and show how better-designed motion can have a positive effect on our environment.
"From abstract to typographic, everything and everyone is welcome to participate" notes DEMO so submit your non-commercial work that intrigues, inspires, explores all aspects of motion and pushes the limits of the digital assets the creative community has on its hands for all to see.
DEMO's Open Call is on until 30 June 2022. Enter the brand new era of design here.
Tags/ netherlands, koos breen, open call, demo, kinetic typography, studio dumbar, motion design, liza enebeis, connor campbell, tim rodenbrker, yonk