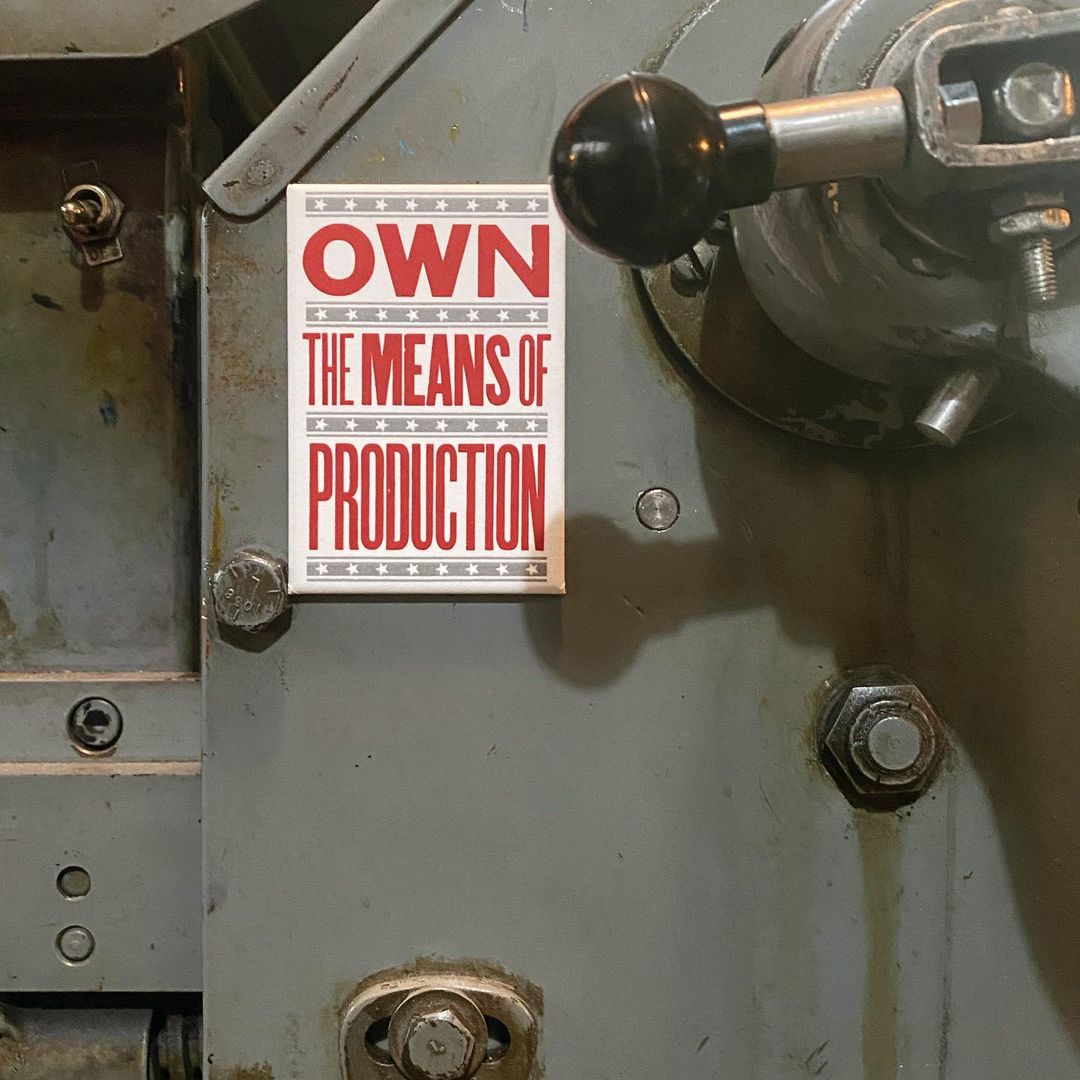 Print is power: St Bride's Foundation must-see online lecture is an ode to the ink & type that bonds us
A lead-up to the annual St Bride Foundation Wayzgoose happening on the 22nd of May, St Bride Foundation holds another insightful online lecture on the mighty potential of print and is an ode to the sincerity of letterpress printing. The normal form of printing text from its invention by Johannes Gutenberg in the mid-15th century to the 19th century and remained in wide use for books and other uses until the second half of the 20th century when offset printing was developed. Thankfully, recently letterpress printing has seen a revival in an artisanal form.
The Power of Print aims to explore how print can bring communities together, bring a sense of self, be a tool for political change, and more with lectures by Starshaped Press' Jen Farrell, The Letterpress Collective's Ellen Bills and Nick Hand, Prelo Prints' Jorge Lar & Kennedy Prints' Amos Paul Kennedy Jr. Sponsored by Google and the Wynkyn de Worde Society Charitable Trust, the event's ident is designed and printed by Frahaus' artist and printmaker Elizabeth Fraser.
Read more on the people who are ready to unveil the power of print and grab your online ticket here.
Who is Jennifer Farrell
Since 1999, Jennifer Farrell has operated Starshaped Press in Chicago, with a focus on designing & printing everything from business cards to posters, as well as custom commissions, wholesale ephemera and limited edition prints & books.
The studio's line of work is created with metal and wood type, making Starshaped one of the few presses in the country producing commercial work while preserving antique type and related print materials.
Farrell's work has been repeatedly recognized in books, magazines and design blogs, and has appeared in poster shows throughout the USA and Europe.
Who are Ellen Bills and Nick Hand
Ellen Bills completed a graphic design degree at the University of the West of England and fell in love with the letterpress department at the University. She joined the Letterpress Collective in 2015 and quickly became full-time.
Bills learned how to operate the Heidelberg windmill press by learning from some of the old printers in and around Bristol. A big fan of Bristol City she recently has been helping at the Whittington Press and has begun to learn how to operate the Monotype casting process.
Nick Hand trained as a typographer, learning from Peter Burnhill and Alan May at Stafford Art College in the 1970s. Since then he has worked as a graphic designer. Hand has recorded the work of hundreds of Crafts men and women since 2009, mostly by photographing and recording their work on bicycle journeys in Britain, Ireland, America and Italy.
This work encouraged Hand to set up the Letterpress Collective in 2013 in order to preserve presses and type in Bristol. Eventually, he developed the business as a not-for-profit company running workshops, designing and printing for artists and musicians.
Who is Jorge Lar
Jorge Lar is Portuguese and has been living in Denmark since 2013. A graphic designer by education, he is working currently as a PR/marketing manager for an Open Air Museum in Nykøbing Falster, which focuses on the daily life and crafts of an early 15th-century Danish town.
In his spare time, Lar works on a project born out of love for letterpress and all forms of early print, its techniques, and history aka Prelo Prints.
In late 2019, Lar planned the building of a late 15th-century reconstruction of a wooden printing press, and during the first 6 months of 2020, the Press was built by a friend with skills in joinery and blacksmithing. Prelo Prints was launched in January 2020, and since then he's been using the printing press for printing books, and a series of diverse woodcuts, all based on originals from the 1400s. "I make the woodcuts, the letterpress work, and, naturally, printing" he notes.
Who is Amos P Kennedy Jr
Amos Paul Kennedy Jr. is an American printer, book artist and papermaker best known for social and political commentary, particularly in printed posters. One critic noted that Kennedy was "...unafraid of asking uncomfortable questions about race and artistic pretension."
Interested in letters and books from an early age, Kennedy studied calligraphy for several years. At the age of 40, Kennedy visited Colonial Williamsburg, a Virginia living history museum, and was mesmerized by an 18th-century print shop and book bindery demonstration. The incident inspired him to study printing at a community-based letterpress shop in Chicago. Within a year quit his AT&T systems analyst job, which he had held for nearly two decades, to continue printmaking studies.
Kennedy articulated his fascination with letterpress printing in one interview: "... I believe it was the capability of making multiples. Multiples of text are important to me. They allow for distribution."
He attended the University of Wisconsin-Madison, studied under legendary book designer Walter Hamady, and earned an MFA in 1997 and he later taught graphic design at the Henry Radford Hope School of Fine Arts at Indiana University.
Kennedy creates prints, posters and postcards from handset wood and metal type, oil-based inks, and eco-friendly and affordable chipboard. Many of the posters are inspired by proverbs, sayings, and quotes Kennedy locates or potential clients provide. Using hand presses, he "produces large editions of wildly colourful, typographically-driven posters on inexpensive chipboard stock, posters which are often so riotously layered with vibrant colours of ink as to retain a wet iridescence and tackiness years after they were printed.
Kennedy Prints working method often involves overprinting multiple layers of text ...resulting in no two prints being truly identical.
In 2015, Kennedy was honored as a United States Artists Glasgow Fellow in Crafts.
This is Amos P Kennedy Jr. in his own words:
"I was born.
I am animal.
I am human.
I live.
I live negro.
I tell you this because you will mistake me for an africanamerican BUT i am negro, a descendant of the enslaved peoples of theseunitedstatesofamerica.
I live southern.
I was born colored in Louisiana. I was raised negro. I was educated Black at Grambling College, a historically integrated college.
I live in the moment.
In the moment is creation. Creation is within every human. We must celebrate our creativity. The moment fuels our creativity.
I live to put ink on paper.
This is the major outlet for my creativity. I put ink on paper for the glory of my peoples. The words of my peoples have largely been excluded from 'fine print.' I defy this condition and force my peoples' presence into this part of this civilization's culture.
I am a printer.
I am not an artist.
I am a stuff-maker.
I am not an artist.
I am a visitor.
I will die."
Celebrating all things letterpress St Bride Foundation Wayzgoose celebration is addressed to those of us who appreciate "print, graphic design, typography, books and the blissful smell of ink."
Aiming to bring together and thus network the wider letterpress community from London and beyond the visitors will be able to buy letterpress equipment, type and ornaments, printed items, books and lots more and if you're new to the world of letterpress then you will be able to try your hand at it in the Print Workshop.
An annual affair not to be missed St Bride Foundation Wayzgoose has a noble task, to raise money for one of London's best-kept secrets – tucked away just behind Fleet Street – The St Bride Library.
Home to one of the world's most significant collections of books, artefacts and related ephemera about printing, typography, paper-making and graphic design, St Bride Foundation is a cultural institution to respect, preserve and support.
Tags/ letterpress, print, lecture, st bride foundation, online, zoom