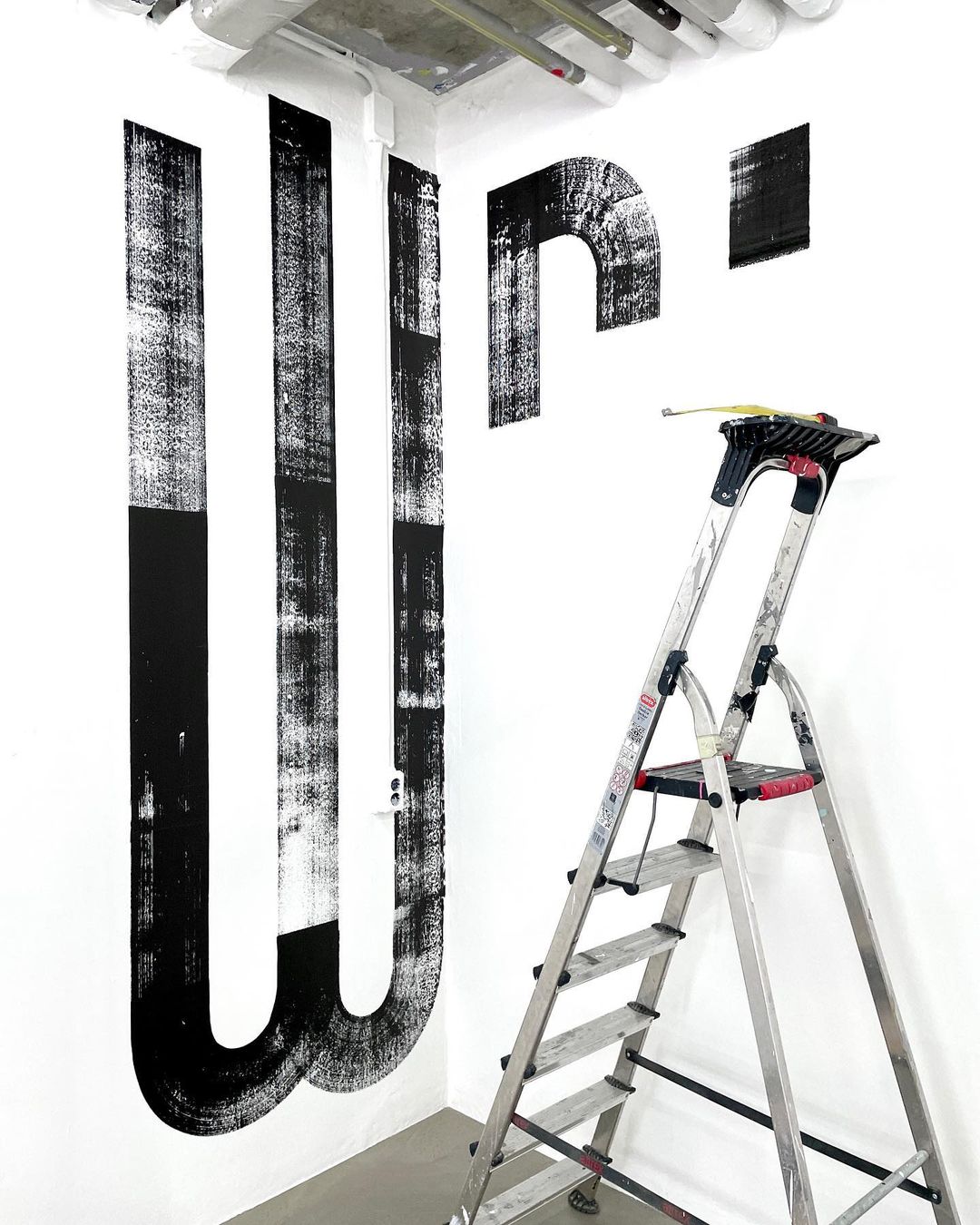 Power of Who! Guido de Boer's artwork against the brutal politics that surround us
Guido de Boer's bold and deeply intuitive calligraphic art becomes the people's voices as part of the highly political exhibition "Power of Who!" at MAMA Rotterdam Showroom.
"The subject of the exhibition is the housing protest in Rotterdam last year that went completely wrong due to police brutality" notes de Boer.
"I was asked by the initiator and curator Sebastiaan Hoogstraten to create a work for the exhibition. I decided to take the tipping point as a starting point. Before that moment there was just a peaceful protest going on, after that the whole situation turned into an explosion of unnecessary violence. The protesters had no idea what they had gotten themselves into, were pushed, kicked, and beaten for no reason by men who didn't look like cops. There were children, dogs, and the elderly among the victims."
"For my research into textual input for my work I have read all given citizen statements. Oddly enough, those same statements barely made it into the media and public debate that followed in the days and weeks that followed. The fifty-two different stories had one thing in common; fear, misunderstanding, and total confusion from the tipping point. I had a lot of different feelings while going through the statements several times, but what remained mainly afterwards was a very strong urge to tell this story. We need to reflect on the power that controls us" he adds.
"That is why I incorporate fragments of those stories into my mural and show them in the form of expression we have during a protest. Handwritten, spontaneous, expressive expressions of honest thoughts and feelings."
"Demonstrations are important for healthy democratic, economic, and social development. Therefore, the right to demonstrate is enshrined in human rights treaties and Dutch constitutional law" reports Amnesty International.
"Unfortunately, this isn't always the case. In recent years, we have seen an increase in violent police interventions. This raises important questions, such as: How sacred are our basic rights? Who safeguards these basic rights? And, most importantly: Who really has the power in the Netherlands?" reads the introduction to the exhibition curated by Hoogstraten.
"The number of protest movements worldwide has more than tripled in less than 15 years, and they are not always peaceful. For example, in 2012, Leonard Menchiari found himself caught between protesters and the police in Italy's Susa Valley. The demonstration was protesting the construction of a high-speed railway line that the local population also strongly opposed. The EU had issued the Italian government an injunction a year earlier to complete the work, leading to an increased police presence and more brutal measures to prevent protesters from reaching the site. To better understand the relationships between protesters and police, Menchiari has developed RIOT: Civil Unrest, a real-time strategy game that simulates demonstrations."
The exhibition "Power of Who!" (Macht van Wie!) explores how games can be a mirror image of society and a means to demonstrate. To this end, Hoogstraten initiated a dialogue with various parties involved and activists present at the Woonopstand (Residential Revolt) demonstration in Rotterdam on 17 October 2021 to gain insight into the event's proceedings and atmosphere.
Hoogstraten was particularly interested in understanding how the situation escalated despite its peaceful start. Together with artist Anna Sandri, Hoogstraten has created a new "Residential Revolt" level in RIOT: Civil Unrest that can be played in several parts of the showroom.
The work of Guido de Boer, artist, designer, calligrapher, and part of the High On Type collective, also in the showroom, reveals different perspectives on the demonstration.
"The right to demonstrate is one of the pillars of society. It is an opportunity for everyone to have a voice in the public debate. But how do we move on if this voice can be violently crushed by those who should protect it? Who makes the decision and takes responsibility for such actions?" asks the exhibition that features Boer's thought-provoking letterforms.
De Boer's handmade brilliance -one that focuses primarily on letters in high contrast, black and white style- is both abstract and concrete.
Looking, reading, and demonstrating for social change are more relevant than ever as de Boer's hands become the extension of people's thoughts in this must-see exhibition.
"Power of Who!" runs from 29 April – 26 June 2022 at MAMA Rotterdam Showroom. For more information check here.
Explore more of his work here.

Tags/ calligraphy, exhibition, mural, netherlands, activism, guido de boer