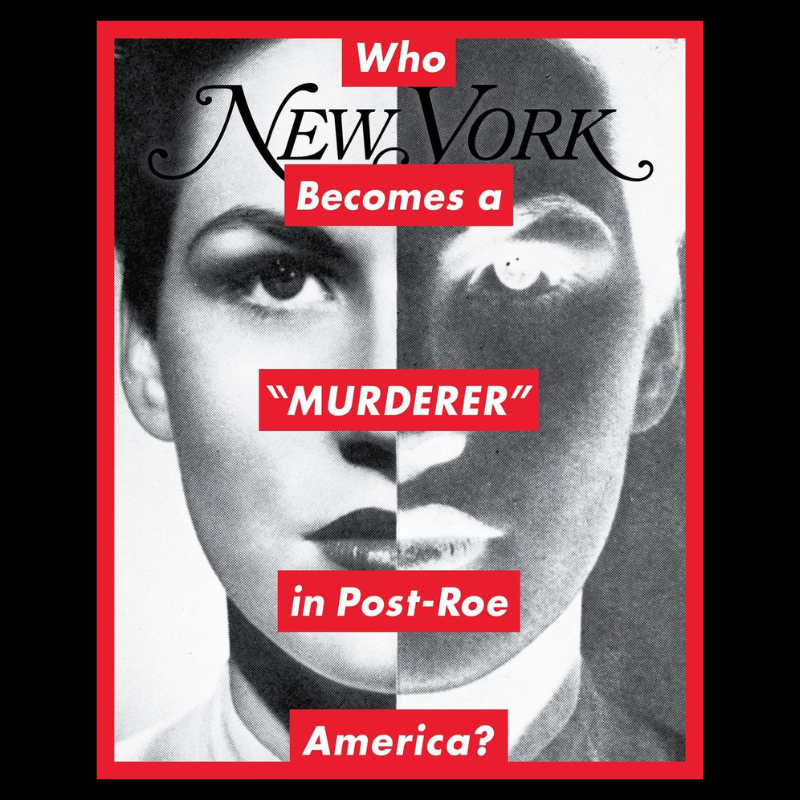 Cover of the week: Barbara Kruger X New York Magazine
"If the end of Roe has come as a shock to anyone, that means they haven't been paying attention" notes influential artist, activist, and feminist Barbara Kruger whose iconic 1989 silk-screen portrait 'Untitled (Your body is a battleground)' graces the cover of New York Magazine -aptly updated for what is happening in the USA right now. "The left and center are asleep at the wheel of a slow-moving car crash and have not addressed the issue with forthrightness" she adds.
On the occasion of the recent revelation that the Supreme Court of the United States is about to overturn Roe v. Wade, Kruger's iconic 1989 silk-screen portrait Untitled (Your body is a battleground) -a piece of art and a protest in support of abortion rights- is a powerful statement. Always addressing the current state we live in, Kruger's art speaks louder than words and that's exactly what she does now, exactly what she did 33 years ago.
Untitled (Your body is a battleground) was created by Kruger for the Women's March on Washington in support of reproductive freedom circa 1989.
"The woman's face, disembodied, split in positive and negative exposures and obscured by text, marks a stark divide. This image is simultaneously art and protest. Though its origin is tied to a specific moment, the power of the work lies in the timelessness of its declaration" writes The Broad.
Born in 1945 in Newark, New Jersey, Kruger briefly attended Syracuse University, then Parsons School of Design in New York City, where she studied with artists and photographers Marvin Israel and Diane Arbus. Kruger worked in graphic design for Condé Nast Publications at Mademoiselle magazine and was promoted to head designer within a year, at the age of twenty-two. Kruger has described her time in graphic design as "the biggest influence on my work…[it] became, with a few adjustments, my 'work' as an artist."
Kruger's signature style using large-scale black-and-white images overlaid with text was established as early as 1979.
Set in Futura Bold or Helvetica Extra Bold typeface, Kruger's work "addresses media and politics in their native tongue: sensational, authoritative, and direct."
"Direct address has motored my work from the very beginning," Kruger said. "I like it because it cuts through the grease."
Kruger's work wants us think and reconsider the world we build, she wants us "to question and change the systems that contain us."
In light of the recent events regarding Roe v. Wade it is fitting to revisit media artist Barbara Kruger's seminal 1989 silkscreen that evolved into a rallying cry for women ever since April of that year, when Kruger designed fliers for the pro-choice rally in Washington D.C. in response to numerous anti-abortion laws that were undermining Roe v. Wade -this ruling enabled the Constitution of the United States to protect a pregnant woman's liberty to have an abortion without excessive government restriction.
Three decades and more later, Kruger's art remains relevant, although it shouldn't.
Using a determiner "Your", Kruger connects the viewer and focuses the attention on the hot topic of reproductive rights. "I think I developed language skills to deal with the threat. It's the girl thing to do – you know, instead of pulling out a gun" Kruger said about her poster.
Untitled (Your Body Is a Battleground) is a powerful artwork made with the force of type.
Explore more works by Barbara Kruger here.
Read Kerry Howley's piece on Marjorie Dannenfelser, the woman who killed Roe, and her single-minded pursuit of an end to abortion in New York Magazine here.
Tags/ helvetica, magazine, poster, futura, barbara kruger, text art, activism, new york magazine, artivism, womens rights