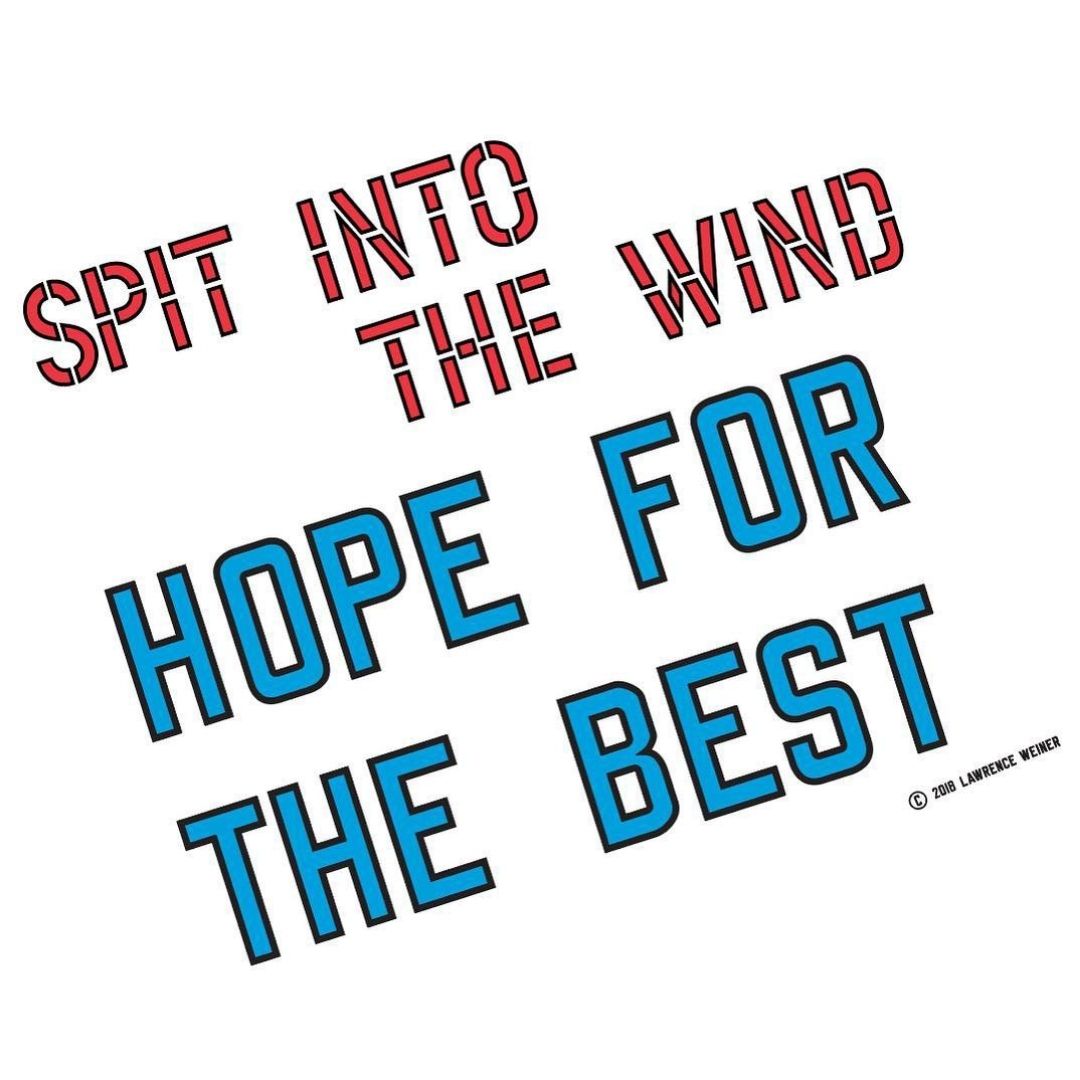 Type as poetry: Art Basel to honour Lawrence Weiner with Out Of Sight 
With a bold installation aka Out of Sight -one of over 70 large-scale projects Art Basel announced for their June fair- the Swiss edition of Art Basel (16 to 19 June 2022) pays its homage to Lawrence Weiner, the American conceptual artist, and trailblazer of word art.
"Out of Sight (2021), a participatory work envisioned by the late New York-based conceptual artist Lawrence Weiner, will sprawl across Basel's Messeplatz" notes OCULA's Michael Irwin.
Art Basel's floor installation aims to invite viewers to "physically engage with positive thinking by moving along a hopscotch grid that incorporates Weiner's hallmark typographic texts."
Paving his wisdom with letters and texts, with statements such as "one can only imagine the powers that be" or "spit into the wind and hope for the best" this is what Weiner, who passed away in December last year, said of the "participatory, interactive, social sculpture designed for all walks of life" aka Out of Sight:
"A person coming in with whatever situation they find themselves in, the minute they have any thoughts about themselves going from here to there, they will be able to stand in front of the marelle (French for hopscotch) and realize they first have to imagine themselves doing it, that is, assuming a position."
"Adaptable to the ground—indoor or outdoor—this two- dimensional, site-specific work offers participating museums, civic and public venues an opportunity to temporarily (or permanently) install a work of art that forges an engaging connection with audiences from all walks of life including adults, teenagers and children" notes the installation's dedicated site.
Loud & clear: from Venice to Berlin & Los Angeles, Barbara Kruger's typographic art is alarming as ever
"With the Out of Sight project, Weiner's signature text-based work has shifted off the wall and onto the floor, creating a pathway to be viewed and navigated, both physically and intellectually."
"Out of Sight is not only a work of art but also acts as a metaphorical framework for the journey of self-discovery and empowerment, enlivening the experience of each person who encounters it."
An artwork that celebrates "the potential within all of us to connect with ourselves and with each other in the process of shared exploration" Art Basel pays homage to Weiner along with other posthumous retrospectives of the artist currently on view at Lisson Gallery and Marian Goodman.
"The artist's trademark interventions, often consisting of graphic elements and enigmatic phrases, are among the most distinctive bodies of work in contemporary art," writes The Art Newpapers' Benjamin Sutton.
"Weiner rose to prominence in the late 1960s when conceptual art was gaining traction in the US. He was part of a generation of artists questioning conventional modes of making and displaying art. At the time Weiner was creating grid-based drawings, shaped canvases, and ephemeral interventions that sought to delineate public spaces."
"The response to one project from this era, for an exhibition organized by his gallerist Seth Siegelaub at Windham College in Vermont, led the artist to the breakthrough that would come to shape his practice for the next five decades."
"His works in galleries and museums tended to refer poetically to relations between people, materials, space, and the passage of time, like 1970's EARTH TO EARTH ASHES TO ASHES DUST TO DUST, which is in the Guggenheim's permanent collection. When executed in a non-English-speaking country, his works' texts would be rendered in both English and the local language, underlining the openness and accessibility of his practice."
"Lawrence gained international recognition for the use of language as his primary medium," Marian Goodman wrote in a statement. "He proposed a new relationship to art and redefined the position of the artist, and his works demonstrated the power of language worldwide."
Lawrence Charles Weiner was born on February 10, 1942, in Manhattan. After graduating from Stuyvesant High School at 16, he had a variety of jobs—he worked on an oil tanker, on docks, and unloading railroad cars. After studying at Hunter College for less than a year, he traveled throughout North America before returning to New York and by the 1970s he was showing regularly at institutions in the US and Europe.
Regarded as a founding figure of Postminimalism's Conceptual art, which includes artists like Douglas Huebler, Robert Barry, Joseph Kosuth, and Sol LeWitt he entered the art world at an early age during the height of Abstract Expressionism.
His debut public work/exhibition was at the age of 19, with what he called Cratering Piece and his first book Statements, a small 64-page paperback with texts describing projects published by The Louis Kellner Foundation and Seth Siegelaub in 1968 is considered one of the seminal conceptual artist's books of the era.
Almost exclusively language-based, he regarded his practice as sculpture, citing the elements described in the texts as his materials.
"The word is how you see the object," the artist whose thought-provoking texts graced our world for more than five decades told NOWNESS.
A pioneer motivated by the idea that art should be accessible to all and the recipient of numerous awards, Weiner used language as his primary medium wrapping our world with typography of poetic beauty.
Weiner, world-renowned for his larger-than-life, wise text interventions died on December 2021. He was 79 years old.
Tags/ typography, text art, lawrence weiner, sol lewitt, art basel, conceptual art