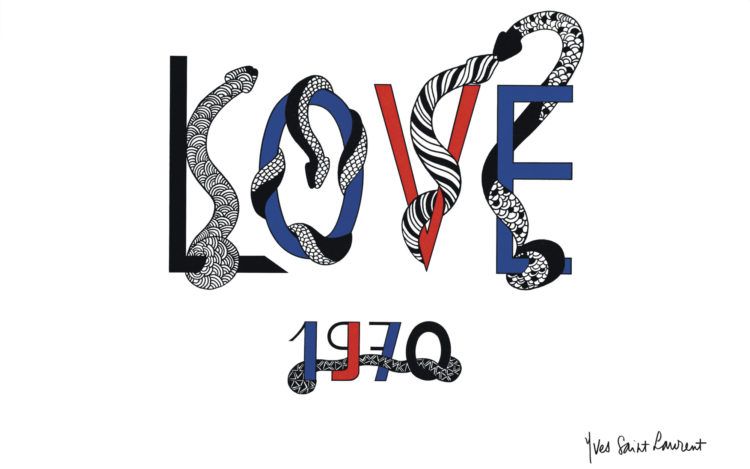 In LOVE with Dadaists: CR Fashion Book on Yves Saint Laurent's typographic cards
"For over 25 years, the French designer Yves Saint Laurent used his fashion illustration skills in expressing his gratitude to his friends, collaborators, and clients with LOVE cards" writes Eman Alami in CR Fashion Book, bringing into the limelight the typographic love postcards of France's iconic designer via Musée Yves Saint Laurent.
Per the report "Saint Laurent centered the slogan LOVE around new ornamentation, color palette, and graphics using the techniques in collage, colored pencils, gouaches, and markers. Showing the designer's appreciation of artists Henri Matisse, Jean Cocteau, Georges Braque, and Andy Warhol. Saint Laurent follows the mindset of an artist by changing his style of cards every decade."
Kicking off with a snake motif back in 1970, the French designer experimented with typography from the Dada movement (1915-1920's) a decade later.
"Saint Laurent looked to Dadaists who would drop random letters, experiment with punctuation, write words horizontally and vertically in a variety of semi-bold type lettering. Graphics from the Art Deco (1920's-1930's) movement with its appreciation of the decorative arts, rectilinear shapes and symmetry by the layering of shapes are qualities Saint Laurent found applicable qualities in his design process."
"The Dada influence on typography broke with most printing traditions. It had a radical attitude toward design and took typography seriously; it was a necessity, not a side effect. An anti-bourgeois outlook took form" notes Linotype.

"Distinguishing style elements are the close relationship between word and image and the use of a variety of type forms and line dimensions. New interpretations of the horizontal-vertical dimension were created and layouts included lines, surfaces, and techniques sometimes irrelevant to the purpose, like engravings. Syntactic elements like capital-lower case, condensed, light-semibold, etc., were used extensively. The legibility of texts suffered, but the content was revealed and emphasized."
Saint Laurent's card sending tradition lasted every year from 1970 to 2007, except for 1978 and 1993.
Explore more here.
Tags/ typography, fashion, illustration, france, dada, yves saint laurent, cr fashion book