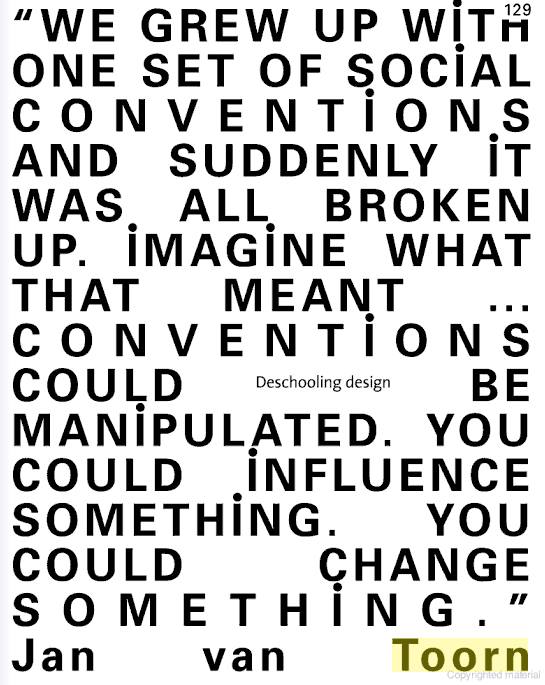 In memoriam: Jan van Toorn (1932-2020)
Highly regarded as one of the most influential and significant figures in Dutch design and beyond, Dutch graphic designer, design theoretician and exhibition designer Jan van Toorn passed away on the 13th of November.
Always arguing with visual means, this creative genius was born in Tiel, Netherlands in 1932. From early childhood, Van Toorn lived in Amsterdam, where he started working in a printing company as a teenager. In 1949 he attended Amsterdamse Grafische School (Amsterdam School of Printing) to study graphic design and he continued his studies at the Instituut voor Kunstnijverheidsonderwijs (Institute of Arts and Crafts) -now the Gerrit Rietveld Academie- until 1953.
"The emotional charge in Van Toorn's designs stems from his interest in investigating visual meaning and the social role of the profession. He focuses on substance rather than smooth stylistic expression and develops questioning alternatives to the usual design world conventions" writes PhDArts.
A scholar and theorist as well, Van Toorn taught graphic design and visual communication at various academies and universities in The Netherlands and abroad, including Gerrit Rietveld Academy, Amsterdam (1968-1985), the Institute of Art History at the University of Amsterdam (1981-1982) and the Department of Architecture of Technical University Eindhoven (1982-1983).
He was also the head of the Multi-media department of the Rijksacademie, Amsterdam (1987-1989) and from 1991 until 1998 he was director of the Jan van Eyck academy in Maastricht. During his tenure the academy was transformed into "an international postgraduate centre for fine art, design and theory."
His "Design beyond design, critical reflection and the practice of visual communication" conference that he launched in 1997 on the discrepancy between the socio-cultural and symbolic reality of the information-economy is one of the highlights of an impressive, unconventional creative path. An associate professor in the MA programme of graphic design, Rhode Island School of Design, Providence USA, from 1987 until 2008, Jan van Toorn was a member of the Alliance Graphique Internationale since 1972.
RIP Jan van Toorn, 1932-2020 https://t.co/wQBhhdwFXI pic.twitter.com/3tXlUZVOOY

— Michael Bierut (@michaelbierut) November 14, 2020
One of the first to coin the phrase 'Critical Practice' and 'Criticality' in the design field Van Toorn wrote numerous challenging texts that questioned the role a designers has within a society and the boundaries a creative needs to address.
Van Toorn wanted "the public to measure the motives of both the client and the designer who mediates the client's message against their own experiences of the world. He hoped in this way to stimulate a more active and skeptical view of art, communication, media ownership and society."
His posters and catalogues for the Van Abbemuseum in Eindhoven and his long-running series of calendars for the printing firm Mart.Spruijt are regarded as "powerful demonstrations of graphic design used as a means of commentary and as a tool of critique."
"Jan van Toorn's calendar for 1972/73, designed for the Dutch printer Mart.Spruijt, is one of the most extraordinary and provocative graphic artifacts of its era. The calendar proposed a new form of engagement for the graphic designer as a mediator and manipulator of photographic meaning" notes writer, critic, lecturer and curator Rick Poynor in his essay Jan van Toorn: The World in a Calendar for Design Observer.
Experimenting with the visual culture by any means (photomontage, experimental type design and image juxtapositioning), van Toorn and designer and critic Wim Crouwel challenged each other. Van Toorn's social and political concerns set him apart from other prominent figures of design such as Anthon Beeke, Gerard Unger, Swip Stolk and more.
"In a world in which channels of communication are as clogged with pollution as the environment, the Dutch designer Jan van Toorn is seeking to reverse some of the damage" writes Eye Magazine on Van Toorn's aim "to rescue the media from its role as a distribution network for dominant ideology, and to reassert what he sees as its legitimate function of communication."
"In my opinion designers are connected to the existing order" said Van Toorn. "That's the reality and you have to deal with it. But within that you can still make a choice about your position in the field, depending on your background and ideas, and then if you want you can be a hindrance. And I would like to see many more hindrances."
Engaging audience through design was a continuing task for Van Toorn and his rich output of experimental work leave a lasting legacy one should explore. Influenced by Bertolt Brecht and Jean-Luc Godard, Van Toorn himself once quoted Godard on a purely typographic page that reads, "Art is not the reflection of reality, it is the reality of that reflection."
Watch the video profile of Van Toorn below.
Tags/ graphic design, wim crouwel, jan van toorn, dutch design