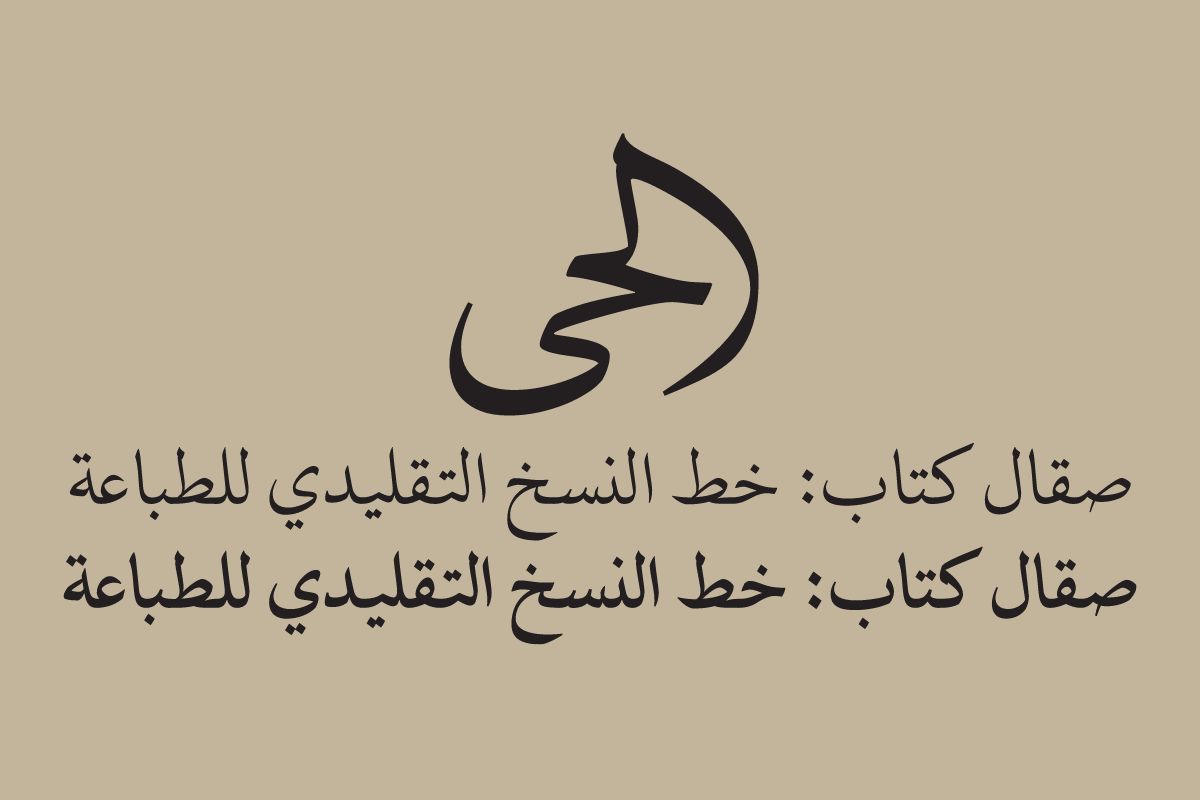 Granshan Grand Prize winner: Sakkal Kitab typeface blends the Arabic heritage with present-day aesthetics
Granshan Conference Signs of the times aka the two-day-hybrid-conference that explored the bog and small questions that concern the typographic community and type users alike has ended by handing over its trophies to this year's winners.
"We were very happy about the large number of submissions this year – more than ever! Many entries were at a high or highest level. This affirms us in our work in promoting outstanding non-Latin typefaces to strengthen cultural diversity and identity" commented the more than 50-member jury who evaluated all submissions in three rounds. "Without type, everything is nothing!" added Veronika Burian, Edik Ghabuzyan, and Boris Kochan.
Granshan's Grand Prize went unanimously to Mamoun Sakkal & Aida Sakkal for Sakkal Kitab, a font that received two awards.
Aida and I are delighted that our font 'Sakkal Kitab' received 2 awards from the 12th Granshan typeface design competition: First Place Award text typefaces and Grand Award. Thanks to competition and conference organizers and to the judges. Best wishes to all winning designers. pic.twitter.com/fxmOLQCKDb

— Mamoun Sakkal (@MamounSakkal) May 22, 2022
Typeroom presents you with this feature-rich, traditionally based text Naskh typeface with a strikingly modern flair, cursive connections, and streamlined ligatures, Sakkal Kitab, a typeface that "preserves the elegance and beauty of calligraphic Arabic" note type designers, Mamoun Sakkal & Aida Sakkal.
"Sakkal Kitab, 'kitab' meaning 'book', is drawn in a contemporary fashion while managing to seamlessly marry heritage with present-day aesthetics. The calligraphic mastery and skill of the exemplar letterforms have been beautifully carried into the digital fonts with remarkable grace and aplomb."
The first version of Sakkal Kitab designed between 2015 and 2017 by Dr. Mamoun Sakkal and Aida Sakkal, and licensed to Amazon for use in its Kindle Arabic books in two weights had 1,002 glyphs. After updating and expanding with numerous additions and improvements, the font now has 2,356 glyphs.
Available in five weights -rarely an option with such traditional designs- the typeface manages to retain its classic temper. "With elegant cursive tatweel/ kashida connections in five widths and swashes in three lengths, it provides a wealth of options for text justification and graceful compositions. It is ideal for setting long text passages in books and magazines."
Lara Captan on the beauty and the many challenges of Arabic type design
"Cursive tatweel is the most challenging to properly design in an Arabic font but is the most favored style for paragraph justification in long texts by users. Rather than provide tatweel throughout the font and between all letters as commonly done in similar fonts, Sakkal Kitab restricts tatweel to locations that produce pleasing text compositions based on traditional calligraphic rules while still allowing the user to extend manually as necessary."
Special attention was paid "to keep the vertical proportions as small as possible without sacrificing the beauty or distorting the proportions of letterforms."
"This attention was also extended to the judicious selection of what ligature forms to use in order to keep a pleasant rhythm and a calm, balanced energy in the composed text while incorporating a large number of fine calligraphic letter pairings."
To provide such a large number of different combinations Sakkal Kitab makes extensive use of OpenType's capability for dynamic composition "covering over 18,000 carefully considered ligature combinations that work harmoniously across all stylistic options."
Mamoun Sakkal, a native of Aleppo, Syria, who immigrated to the United States in 1978, is the founder and principal of Sakkal Design in Bothell, Washington. Sakkal's expertise combines deep respect and knowledge of traditional calligraphy with the latest in computer technology is a well-respected typographer and calligrapher who has received international awards in both calligraphy and typeface design including two TDC Awards of Excellence for Sakkal Seta and Arabic Typesetting typefaces.
Explore the rest of the winning entries at this year's Granshan type design competition here.
Tags/ type design, calligraphy, competition, granshan, arabic type, non-latin