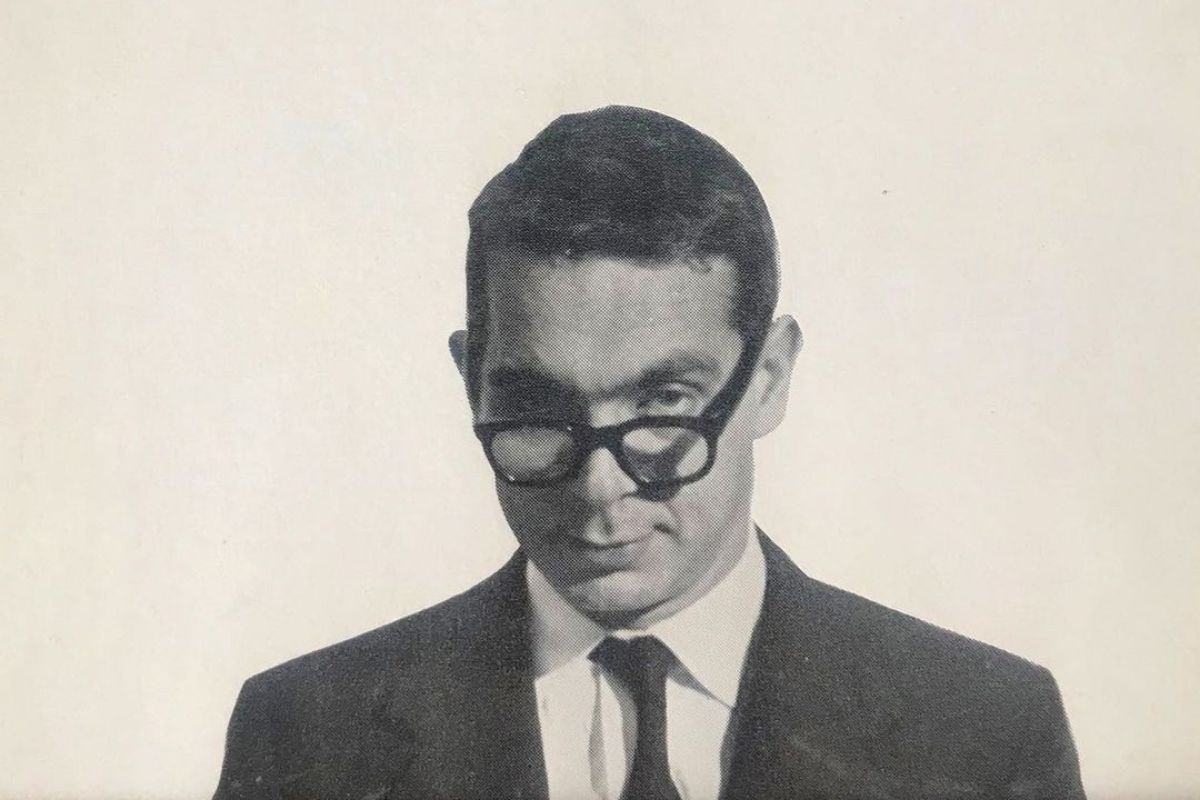 Colin Forbes: In Memoriam 1928–2022
Instrumental in structuring today's design industry and arguably a legend, Colin Forbes aka one of the five founders of creative powerhouse Pentagram, was born in London in 1928.
Forbes studied at the Central School of Arts and Crafts in London and worked briefly under typographer, graphic designer, teacher of graphic design, art director of the Lund Humphries publishing house and the founder and editor of acclaimed journal Typographica Herbert Spencer.
Herbert Spencer (1924-2002) was a typographer, graphic designer, teacher of graphic design, and art director of the Lund Humphries publishing house from 1969 to 1988. He was editor of the journal Typographia and the Penrose Annual and Professor of Graphic Arts at the Royal College of Art.
After graduating, Forbes returned to become Head of Graphic Design at the Central School, he was only 28 yo.
By 1960 Forbes had left teaching for private practice and in 1962 formed Fletcher/Forbes/Gill with Alan Fletcher and Bob Gill. A decade later Forbes and Fletcher along with designer Mervyn Kurlansky, architect Theo Crosby and product designer Kenneth Grange gave birth to Pentagram design studio, disrupting the system.
"The firm they created was organized to enable the five partners to work both independently and in collaboration, which is how Pentagram works to this very day," writes Pentagram. A thriving structure -"largely Colin's vision"- was explained in detail in his classic 1992 essay "Transition."
"As the first generation of the Pentagram partners, including myself, start to think about retiring, there are critical transitional issues facing our firm. In my opinion they are our constitution, personalities and critical mass, and of these, by far the most important are constitution and personalities. There are two quotes, one from a management consultant and the other from a venture capitalist, which at first glance are contradictory but in fact support my view. The first is: 'An above average person will fail in a poor structure where an average person can succeed in a good structure.' The second is: 'I would rather back an A man with a B idea than a B man with an A idea.'
….
It is an understatement to say that most designers are not naturally good managers and there is a necessary learning curve. Designers must learn to be managers and to take executive responsibility or their company policy will be set by administrators."
Then Forbes went on to explain the main four criteria in choosing a partner in design and business, a personalities index that goes as follows:
"1. A partner must be able to generate business. Other partners do not want to become salesmen. Help is available on a collaborative basis and the advantages include an expanded depth of work to draw from, the knowledge and expertise of other partners, and shared central support, but there should be no doubt as to where the ultimate responsibility lies.
2. A partner must have a national reputation as an outstanding professional in the chosen discipline. This is a subjective decision, but the partners have a sense of their standing in the field and the quality of work with which they wish to be associated. It is too easy to 'water the wine.'
3. A partner must be able to control projects and contribute to the profits of the firm. There is considerable generosity about difference of earning because of different contributions in other areas. However, one cannot share income with a person who does not have similar potential and, probably more important, a similar attitude towards desired income. Nor can one share with a person who cannot manage a project or a team.
4. The last, and certainly not the least, is that a partner must be a pro-active member of the group and care about Pentagram and the partners. We spend our working lives together; we should like each other."
Forbes moved to New York in 1978 and he quickly "expanded the company's reach in America with the opening of studios in San Francisco and Austin. Today, the firm has 23 partners with 200+ team members in four offices."
An author and a designer, Forbes created many iconic logos and visual identities for a wide range of clients and industries. From his "three-dimensionally, two-dimensional D&AD (Design and Art Direction) logo" still in use today to a variety of corporate identity programs or A Sign Systems Manual -designed by Forbes in 1970 and co-authored with Theo Crosby and Alan Fletcher when they were partners at Crosby/Fletcher/Forbes, a forerunner of Pentagram, the book is a foundational work in environmental graphic design, presenting a clear and methodical approach to wayfinding.
Opting for a "thinking designers" team of creatives, Forbes expanded Pentagram's force field with a "new, second generation of partners that included Woody Pirtle, Michael Bierut, Paula Scher, James Biber, and Michael Gericke."
By the mid-1990s, Forbes stepped back from Pentagram having received countless honors for his work.
The co-founder of the D&AD and recipient of its President's Award, and a member of the British Design Council and the Royal Society of Arts, Forbes was elected as a Royal Designer for Industry (RDI), served as the President of AGI (Alliance Graphique Internationale) and of the AIGA (American Institute of Graphic Arts) and he was the 1991 recipient of the AIGA Medal for "his lasting impact on design, culture, business, and society."
An avid believer in the importance of design education, in getting people aware of the importance of visual language, and the power of the type design Forbes respected highly the artistic science of type design.
"I don't think most graphic designers have any idea how to make 52 letters consistent. What Matthew Carter and Adrian Frutiger do is a specialised business; your average designer could not compete. Frutiger said 'I once gave a lecture on the letter /o/ and it took an hour and a half.' That is specialisation" he told Spark Magazine.
In the same interview, Forbes referred to those designers that defy the rules -eg. Neville Brody or David Carson-, the artistic movements that disrupted the old design etiquette and the always relevant modernism qualities.
"You always get exceptional people; innovators that are separate from the routine. There have been several important movements in graphic design in this century—the artists who were interested in commercial art – from Lautrec to the Beggarstaff Brothers. Then, I think the movements that made the difference were De Stijl and the Bauhaus – you began to get architects and artisans who were not only artists but who brought an intellectual rationalisation to their work. They were designers rather than artists."
"I think the third thing that's affected us all was the 50s and 60s in America. You get idea-generated design – from George Lois' Esquire covers to the Volkswagen Beetle ads. Rather than thinking small, they developed the 'concept' in advertising. Then I think we had a reaction to both of those with the new wave – another interest in decoration. But psychedelia for example, fell quickly by the wayside, whereas Modernism in my view is still relevant."
"When we started Pentagram, first we decided we should have an office. Then we joined together because collectively we could afford a Xerox machine (which was the best technology there was at the time). I think we then felt that we wanted to have two images – one was that we wanted to be respected amongst our peers and get into magazines and win awards," he said.
"On the other hand, we didn't want to see all the major jobs going to Walter Landor! We steered a course down the middle of those, thinking we could get large jobs that were more culturally oriented. Rather than consumer packaging or something, we would certainly win on identities for museums. that was successful for us. We wanted to be, not the largest, not the most profitable, but the most prestigious design firm in the world. that was where we wanted to go, and I think we got pretty close" said Forbes in 2000. Oh yes, they did.
"For those of us who had the opportunity to work with him, he offered a link to Pentagram's formative past and the roots of an ethos and culture that believes good design can only be found in a good idea. This mission was part of Colin's character, carried out with elegant precision, unwavering focus and a fine sense of humor, as he worked to design the way the world looked around him" writes Pentagram in a farewell note to its creator, the British designer and thinker whose legacy is to be carried on for ages to come.
Colin Forbes died in May 2022, at the age of 94.
Tags/ type design, matthew carter, modernism, pentagram, neville brody, alan fletcher, michael beirut, bauhaus, paula scher, bob gill, colin forbes