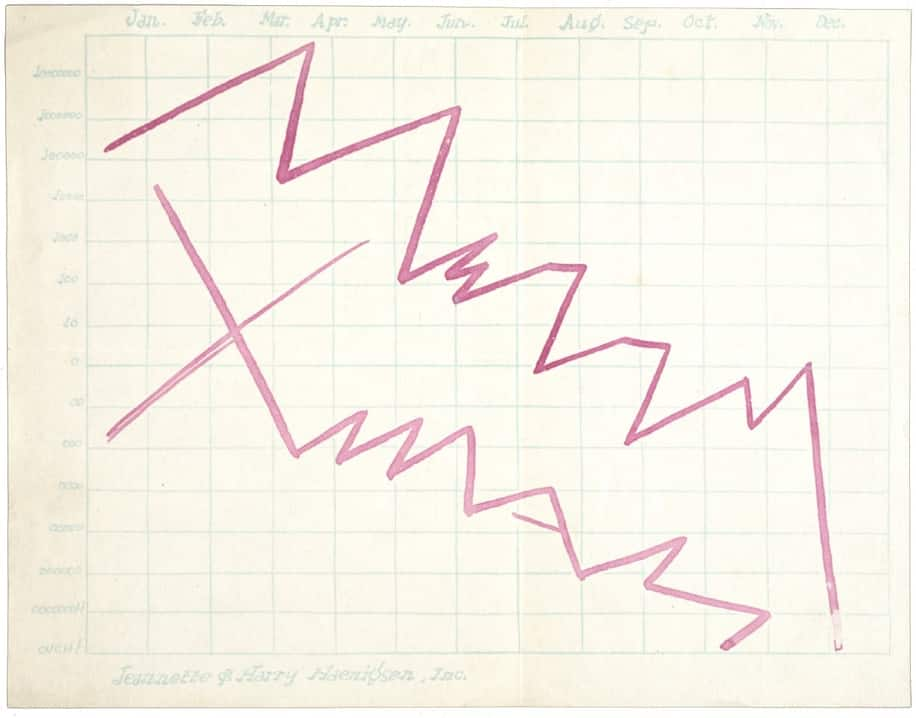 Christmas by design: the history & the many spectacular designs of holiday cards
In this festive Font Sunday call, Design Museum challenged Twitter to provide "something unusual, contemporary or creative" in modern Christmas cards format. As usual everybody responded bringing joy to the feed.
From Paul Rand through Experimental Jetset, Linda Powell and Tom Courtos, the designers prove the holiday spirit is an inspiration to all.
For the history geeks among us, the first recorded use of 'Merry Christmas' was in a Christmas letter sent in 1534.
"The first known item that looked a bit like a Christmas card was given to King James I of England (who was also King James VI of Scotland) in 1611. This was more like a large ornamental manuscript rather than a card as we think of them today. It was 84cm x 60cm (33" x 24") and was folded into panels (it might have been folded so it could be carried around). It had a picture of a rose in the centre and a Christmas and New Year message to the King and his son was written into and around the rose. Also on the manuscript were four poems and a song - so rather more than are on cards today!" reports Why Christmas.
"The custom of sending Christmas cards, as we know them today, was started in the UK in 1843 by Sir Henry Cole. He was a senior civil servant (Government worker) who had helped set-up the new 'Public Record Office' (now called the Post Office), where he was an Assistant Keeper, and wondered how it could be used more by ordinary people."
From 1860 and on, as printing methods improved, Christmas cards became extremely popular and were produced in large numbers. By the early 1900s, the custom had spread over Europe and had become especially popular in Germany.
In USA, Christmas Cards appeared in the late 1840s "but were very expensive and most people couldn't afford them. In 1875, Louis Prang, a printer who was originally from Germany but who had also worked on early cards in the UK, started mass producing cards so more people could afford to buy them. Mr Prang's first cards featured flowers, plants, and children. In 1915, John C. Hall and two of his brothers created Hallmark Cards, who are still one of the biggest card makers today."
As for the first known 'personalised' Christmas Card, it was sent in 1891 by famous sharpshooter and star of Buffalo Bill's Wild West show, Annie Oakley from Glasgow, Scotland at Christmas 1891 to US. Oakley reportedly designed the cards herself and they were printed by a local printer.
Eventually, many organizations produce special Christmas cards as a fundraising tool. The most famous of these enterprises is probably the UNICEF Christmas card program, launched in 1949, which selects artwork from internationally known artists for card reproduction. The UK-based Charities Advisory Trust used to give out an annual "Scrooge Award" to the cards that return the smallest percentage to the charities they claim to support although it is not universally well received by the Christmas card producers.
From the beginning, Christmas cards have been avidly collected. Queen Mary amassed a large collection that is now housed in the British Museum.
The University College London's Slade School of Fine Art houses a collection of handmade Christmas Cards from alumni such as Paula Rego and Richard Hamilton and are displayed at events over the Christmas season, when members of the public can make their own Christmas cards in the Strang Print Room. Specimens from the "golden age" of printing (1840s–1890s) are especially prized and bring in large sums at auctions.
In December 2005, one of Horsley's original cards sold for nearly £9,000. Collectors may focus on particular images like Santa Claus, poets, or printing techniques. The Christmas card that holds the world record as the most expensive ever sold was a card produced in 1843 by J. C. Horsley and commissioned by civil servant Sir Henry Cole. The card, one of the world's first, was sold in 2001 by UK auctioneers Henry Aldridge to an anonymous bidder for a record breaking £22,250.
2018 digital Christmas card from @tomorrowpr, designed by Alexander Wright of @InHouseIntl#FontSunday @DesignMuseum pic.twitter.com/rM3eOubULZ

— Russ | Digital Strategist (@TheWebChap) December 20, 2020
Tom Courtoshttps://t.co/qGM2HaWWjN#FontSunday #ChristmasCards #TomCourtos@DesignMuseum https://t.co/UhxxS2gXSZ pic.twitter.com/uJPNv3MnLP

— Typeroom (@typeroom_eu) December 20, 2020
Explore more in the gallery and enter Design Museum's feed here.
Tags/ twitter, design museum, cards, christmas, font sunday