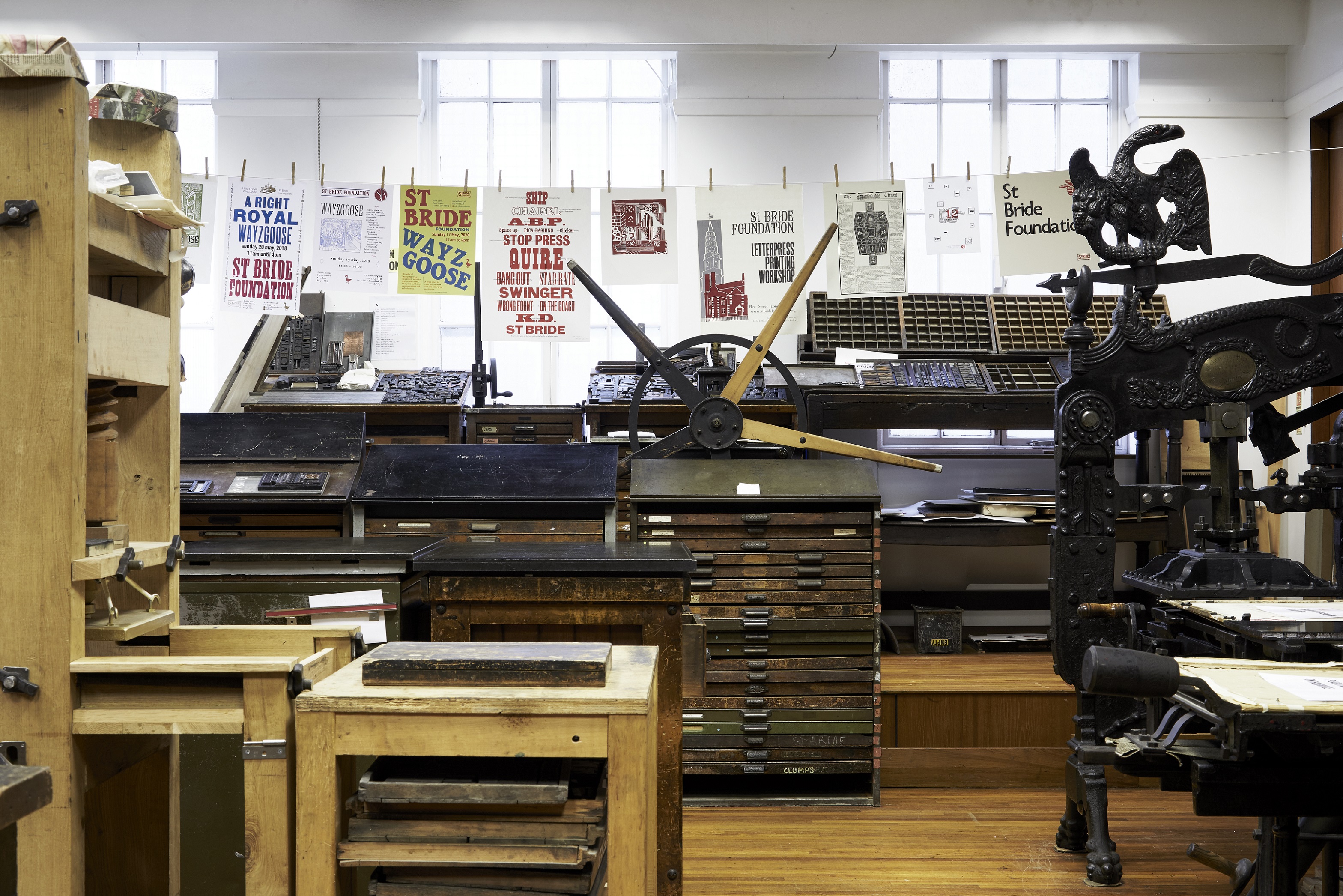 St Bride Library turns 125 with a crowdfunding campaign for the future
Established in 1891 with a clear social and cultural purpose, St Bride Foundation is undoubtedly one of London's hidden gems. Originally set up to serve the burgeoning print and publishing trade of nearby Fleet Street, St Bride Foundation is an independent cultural institute that cares for an internationally significant collection covering print, design, and typography whilst working with the creative industries locally, nationally, and internationally.
As St Bride Library celebrates its 125th anniversary on the 20th of November, the Foundation launched a crowdfunding campaign for reopening its building and more.
"Despite the wealth of cultural and creative talent in the UK and the huge economic benefit of the creative industries, we are suffering from a crippling undermining of arts and culture – libraries around the country are closing, arts are being eroded from the school curriculum and museums and theatres are under huge financial pressures" notes the St Bride Foundation team. "With the added hardships brought about by the pandemic we are facing the irreplaceable loss of valuable spaces for our creative communities to meet, learn, and thrive."
"We do not receive any core funding from the government – over 90% of our income comes from our venue hire and theatre with the rest generated through fundraising. More than ever, your generous support is vital to get us through these difficult times to ensure we can continue with our cultural offer and secure the future of our irreplaceable collections."
"To mark the occasion of our Library's 125th anniversary we wish to bring together our communities, wherever they may be, to celebrate our amazing print, design, and typographic collections and create an optimistic future together. St Bride Library is striving to become a center for research, inspiration, cultural connections, and creative networks – a place for education and skills development."
St Bride Library first opened its doors to readers in November 1895 and quickly established itself as one of the world's most significant collections of books about printing, typography, paper-making, and graphic design.
From the late 1950s, the collections expanded to include many of the physical objects of printing and type-founding, including presses, punches, matrices, and type-casting equipment. Original artwork for Edward Johnsons London Underground designs may now be found alongside scale models for Jock Kinneir and Margaret Calvert's UK road signs. Printed books include a substantial fragment of Caxton's Consolation of Philosophy and William Morris's Kelmscott Chaucer.
St Bride Library is also home to one of the world's largest and most significant collections of type specimens, numbering some 10,000 cataloged items and many thousands more promotional pamphlets issued by type-founders. Over 200 Special Collections are held, including material relating to the American designer W A Dwiggins, English type-founders Caslon and Figgins, metal types from the Oxford University press representing many of the world's languages and a substantial collection of broadsides published by James Catnach and William Fortey in the early part of the 19th century.
St Bride Foundation will use the campaign's donations "to strengthen and celebrate the future of our Library and Archive making our collections accessible to everyone." Any donations received will go towards funding St Bride Library's 125th celebrations, featuring "an array of talks, new print workshops, events and exhibitions, and most importantly the launch of our project to digitize our collections, bringing them to the global audience they deserve."
Check all the reasons why you should consider donating to St Bride Foundation's crowdfunding campaign here.
Tags/ books, printing, uk, crowdfunding, library, st bride foundation, st bride library, donate, covid