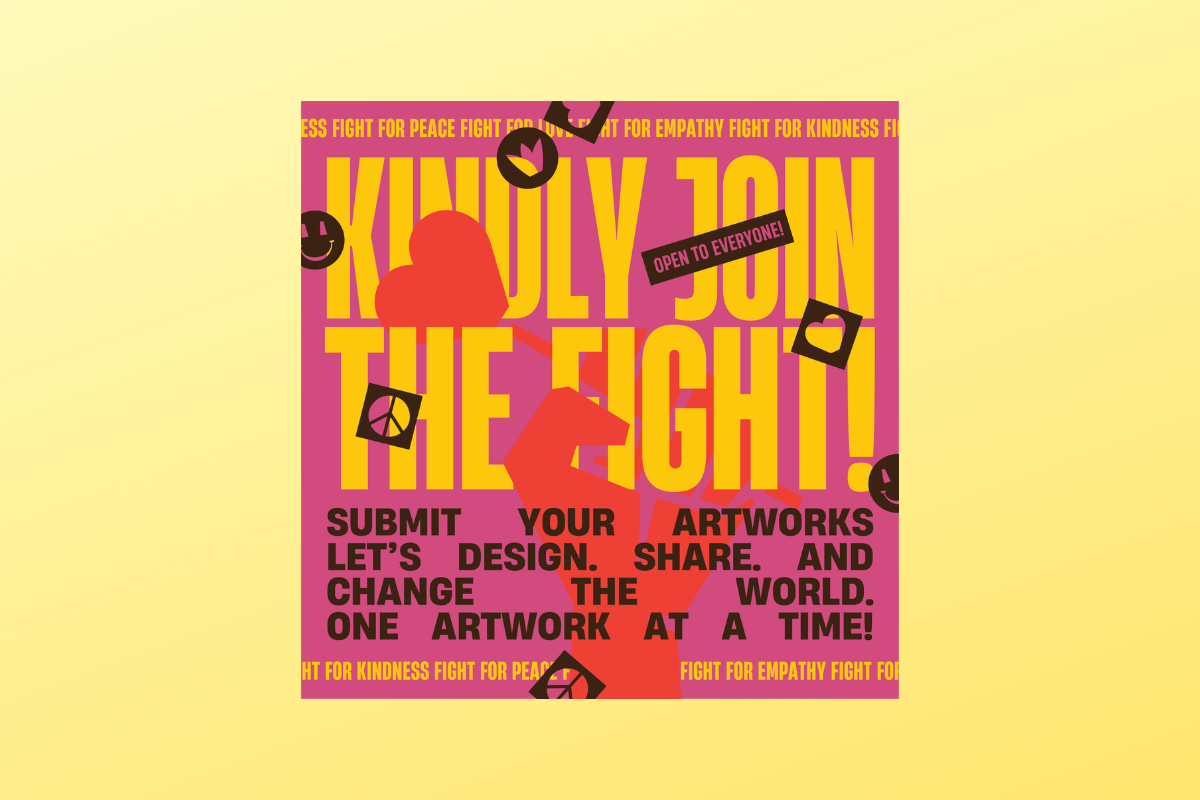 Call for entries: TypeCampus urges us to Fight for Kindness with type
Can visual designers inspire and nurture kindness in a meaningful, powerful way via means of typography and design? Typecampus along with Zetafonts do believe so therefore they partnered to launch the "Fight for Kindness" campaign urging creatives to celebrate with letterforms that speak volumes this upcoming World Kindness Day (November 13) with a dedicated submission for a noble task.
This call for typographic artworks to promote the importance of being kind to each other and to the world with "one artwork at a time" is a "unique opportunity to build awareness around this annual appointment, by unifying design communities and celebrating Kindness in a more inspiring way" notes the team.
"In an increasingly self-oriented society, exacerbated by the experiences of pandemic isolation, kindness has collapsed, risking becoming a legacy of times gone by. This is why this project is a unique chance to inspire a change of attitude, by involving the whole creative community" they add.
This brand new not-for-profit project that aims to promote kindness through the contributions of the creative community invests in the power of type to spread the highly-forgotten importance of gentleness and courtesy in an "unexpected and powerful way."
Bridging the gap in empathy with stunning typographic artworks that "communicate messages of courage, respect, inclusivity, care, environmental protection, integrity and responsibility" the campaign is the latest installment of TypeCampus' various typographic initiatives. Expanding its core legacy as a highly inclusive educational project about the typographic culture, TypeCampus launched "Fight for Kindness" as part of its ongoing conversation with the creative industry. An honest side-project open to all tribes of the community, design students, and established professionals alike.
Download for free: 2022 Type Trends Lookbook, The New Normal predicts the future
Powered and "proudly developed" by an all-female team, part of Ligature Srl, consisting of Shrishti Vajpai, Isabella Ahmadzadeh, Sofia Bandini, Veronica Iodice led by Debora Manetti for the design strategy, the "Fight for Kindness" campaign utilizes words and their meaning for good.
"As a long-time frequenter of meditation and personal growth paths, I have developed a special bond with the theme of kindness" explains Manetti, co-founder of Ligature Srl. "I strongly believe it is a profound tool to give value to what we do, as human beings and to improve ourselves, both as individuals and as a community. And dealing with the value of typography on a daily basis, Fight for Kindness was the natural consequence" she adds.
Obviously, the team aims for "the more relevant messages to the objective of the project, with the most effective visual system."
Open call: Design in Motion Festival 2022 desires your attention
"A textual message is required so designers that want to participate can consider the use of quotes, with credits on author or source, original headlines, keywords that lead back to the theme, and of course other types of messages, as long as they contain a textual part" explains the team. "The artworks can use mediums such as typography, lettering, 3D processing, illustrations, or other techniques, and author credits are needed if the artwork features imagery, illustrations, patterns, or messages that belong to another person other than the one submitting the artwork."
The selected artworks will be featured in the dedicated "Fight for Kindness" gallery and published on social media with several promotional activities about to premiere on the occasion of the upcoming 2022 World Kindness Day "such as a booklet of the selected entries, small exhibitions around the world in design schools and public spaces, a project showcase in design school partners of TypeCampus and as the main promotional images for the launch of the initiative's 2023 edition."
Only digital submissions are allowed and image files must use the template of the project (available here) in all different proportions required. As noted the files to be uploaded cannot exceed 10 MB in total and "in case of more than one submission you will need to fill in the form for each subject/artwork."
With 31, July 2022 as its final deadline, Typeroom endorses this initiative so let your creativity run wild and free as it enters this typographic "Fight for Kindness" here.
Tags/ typography, call for entries, typecampus, zetafonts