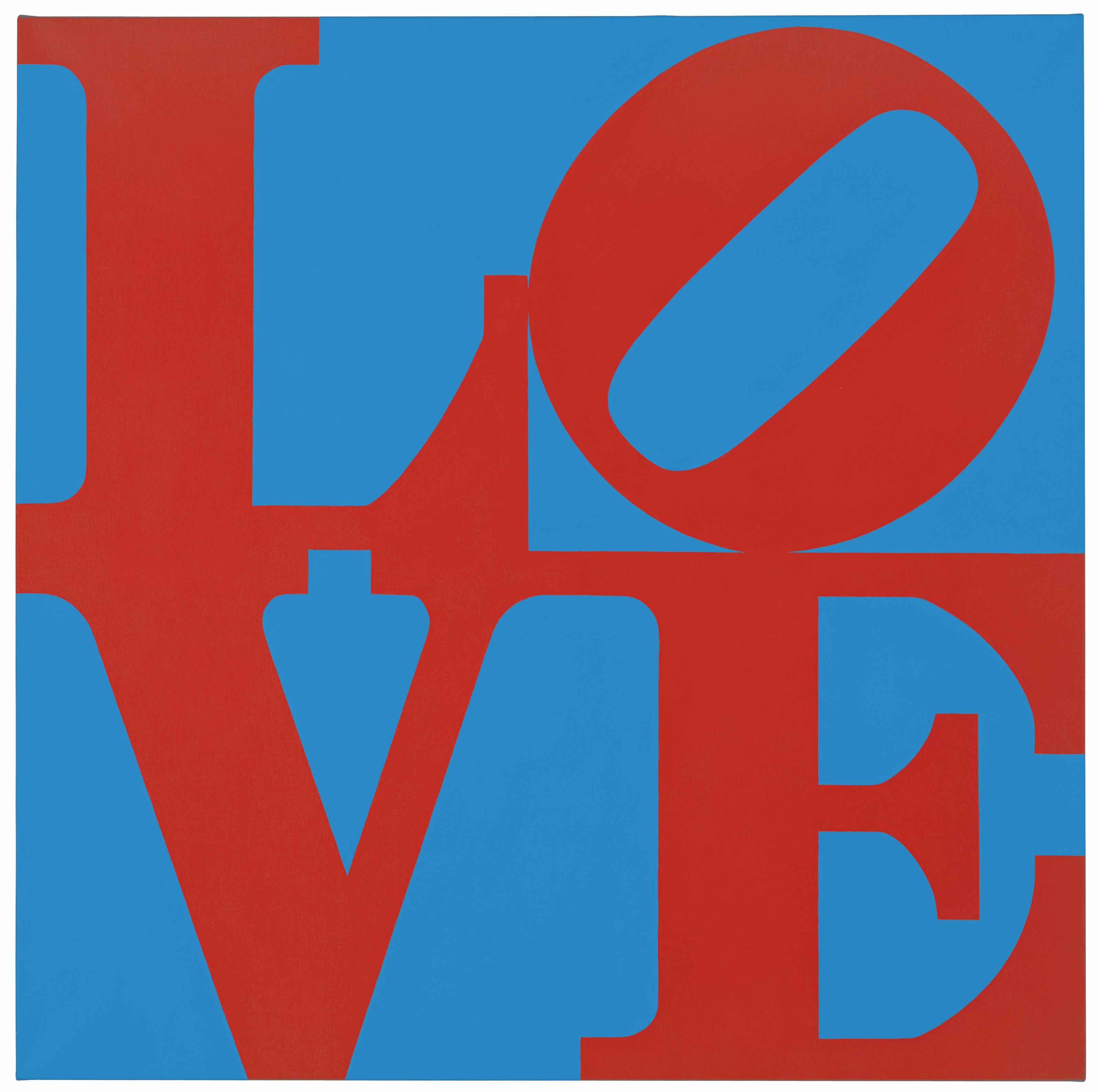 Robert Indiana X LOVE: Christie's best selling lot is four letters worth of $1.3M
Christie's latest auction was a love affair -literally. The auction which took place on the 5th of March totaled $21,956,750, selling 87% by value and 84% by lot.
The top lot of the sale was Robert Indiana's iconic "LOVE."
"Love bit me. It was a marvelous idea, but it was also a terrible mistake it became too popular; it became too popular" once noted Robert Indiana of Christie's Post-War to Present auction best-selling lot.

"Composed with vivid color and hard-edged contours, these two iconic paintings stand out as superlative and striking examples from the artist's personal collection. For decades, these paintings hung over the artist's bed following him from his years on Coenties Slip to Vinalhaven, a small, isolated island off the coast of Maine where he found shelter after years of city living. His intimate connection to 'LOVE' as both the predominant subject of his typeface and a concept, as well as its everlasting impact, is clearly evidenced in the artist's choice to keep these near and dear for decades" writes Christie's.
"Robert Indiana's ubiquitous LOVE motif, first conceived in 1958 after decades of intrigue with the theme, has become a timeless symbol of beauty and benevolence. The artist began to experiment with painting words, specifically with the word 'LOVE', around the same time he began a tumultuous and passionate affair with fellow artist, Ellsworth Kelly. At first glance, his graphic and vibrant portrayal is an optimistic statement, but further investigation hints at deep feelings of anxiety.
#HappyValentinesDay! Composed with vivid color and hard-edged contours, these 2 iconic paintings by #RobertIndiana stand out as superlative examples from the artist's personal collection. They will be offered in our Post-War to Present auction this March https://t.co/4kj220lb4T pic.twitter.com/cJlNXZ3TIH

— Christie's (@ChristiesInc) February 14, 2020
Curator of his 2013 retrospective at the Whitney Museum of American Art, Barbara Haskell remarked, 'He saw it as a precarious image that came out of his disappointments in love—that tilted O suggests the instability of relationships' .
While the emotion of love is a universal concept associated with harmony and fulfillment, when considering it in the context of post-war New York, the prevailing Abstract Expressionist aesthetic plus the climate for homosexuals in the 1960s, it can be viewed as a statement of subversion and controversy....Emerging from the hippie culture where 'peace and love' was a common mantra, Indiana's LOVE pervades as an eternal symbol of a universal idea that continues to move and inspire its viewers today."
Did you know #RobertIndiana lived in 21 different homes before he was 17 years old? He credits his penchant for numbers and their inherent symbolisms to this experience. Browse our #Domberger online sale and bid until 6 March: https://t.co/WlxirSyLul pic.twitter.com/Ob9OscxovA

— Christie's (@ChristiesInc) March 2, 2020
"Robert Indiana, one of the preeminent figures in American art since the 1960s, played a central role in the development of assemblage art, hard-edge painting, and Pop art" reads the artists bio.
"A self proclaimed American painter of signs, Indiana created a highly original body of work that explores American identity, personal history, and the power of abstraction and language, establishing an important legacy that resonates in the work of many contemporary artists who make the written word a central element of their oeuvre.
@_artplease Andy Warhol with a pop artist who gave us ""LOVE"". There are very few photos capturing Robert Indiana and Andy Warhol together, this one is from the studio in New York in 1964. ???? Bruce Davidson⠀
---⠀#robertindiana #andywarhol #popartist… https://t.co/jWVQC8VPXu pic.twitter.com/Nb9sOvVFqh

— AndyWarhol+ VelvetUnderground =EPI (@AndyWarholsEPI) February 9, 2020
Although acknowledged as a leader of Pop, Indiana distinguished himself from his Pop peers by addressing important social and political issues and incorporating profound historical and literary references into his works.
In 1964 Indiana accepted Philip Johnson's invitation to design a new work for the New York State Pavilion at the New York World's Fair, creating a 20-foot EAT sign composed of flashing lights, and collaborated with Andy Warhol on the film Eat, a silent portrait of Indiana eating a mushroom in his Coenties Slip studio.
Robert Indiana with a Cat on His Shoulder in His Coenties Slip Studio, 1963. Photo by William John Kennedy. pic.twitter.com/6JzIQFwBRc

— Libby Morse (@MorseLibby) February 21, 2020
His first European solo exhibition took place in 1966 at Galerie Schmela in Düsseldorf, Germany, and featured his Numbers (1965), a series of paintings on a theme that he has explored in various formats throughout his career.
1966 marked a turning point in Indiana's career with the success of his LOVE image, which had been featured in a solo exhibition at the Stable Gallery.
The word love, a theme central to Indiana's work, first appeared in the painting 4-Star Love (1961).
Love was a subject of great spiritual significance for the artist, illustrated by the painting Love Is God (1964), which was inspired by an inscription in the Christian Science churches he attended in his youth.
Initially experimenting with a composition of stacked letters in a series of 1964 rubbings, Indiana subsequently turned this inventive design, a formal departure from his previous works, into different hard-edged color variations on canvas.
Happy Valentine's Day.
"Love" (1971) by Robert Indiana#UNL #LNK pic.twitter.com/HTXhmCfpTJ

— SheldonMuseum of Art (@SheldonMuseum) February 14, 2020
Indiana's LOVE, selected by the Museum of Modern Art in 1965 for its Christmas card, quickly permeated wider popular culture, and was adopted as an emblem of the 'Love Generation.'
Appearing on a best-selling United States Postal Service stamp (1973) and reproduced on countless unauthorized products, the proliferation of the image led, on one hand, to negative criticism and incorrect assumptions of the artist as a sell-out.
"Ahava" means "love" in Hebrew ❤️ From the Jewish Museum collection, this print by the late artist #RobertIndiana was adapted from his now iconic LOVE sculpture: https://t.co/SUElsQw1BE pic.twitter.com/vDccxSxu6m

— The Jewish Museum (@TheJewishMuseum) February 14, 2020
However, the image's popularity more importantly emphasizes its great resonance with large and diverse audiences, and has become an icon of modern art.
The universality of the subject, to which Indiana continued to return, is further evidenced by his translation of LOVE into AHAVA (Hebrew) and AMOR (Spanish)."
O of LOVE sculpture by Robert Indiana - New York 1971 pic.twitter.com/bXEotC5GnP

— History Lovers Club (@historylvrsclub) February 15, 2020
In 2008, Indiana created an image similar to his iconic LOVE, but this time showcasing the word "HOPE", and donated all proceeds from the sale of reproductions of his image to Democrat Barack Obama's presidential campaign, raising in excess of $1,000,000.
"I've been writing all my life" Robert Indiana said. "When I was in high school I was a journalism major, I had my own newspaper - the largest newspaper in Alaska - I've always been involved with words, a perfectly natural flow for that to happen."
"I think everybody reads into 'eat die' - the most common reading. That is that we are a consumer society and everybody knows that we're going to consume ourselves to death with our carbon monoxide and food poisoning and everything else and all those good things."
Ready or not, explore Indiana's multilayered artistry through type and beyond here.
Tags/ art, love, signage, typographic art, andy warhol, auction, pop art, robert indiana, christies