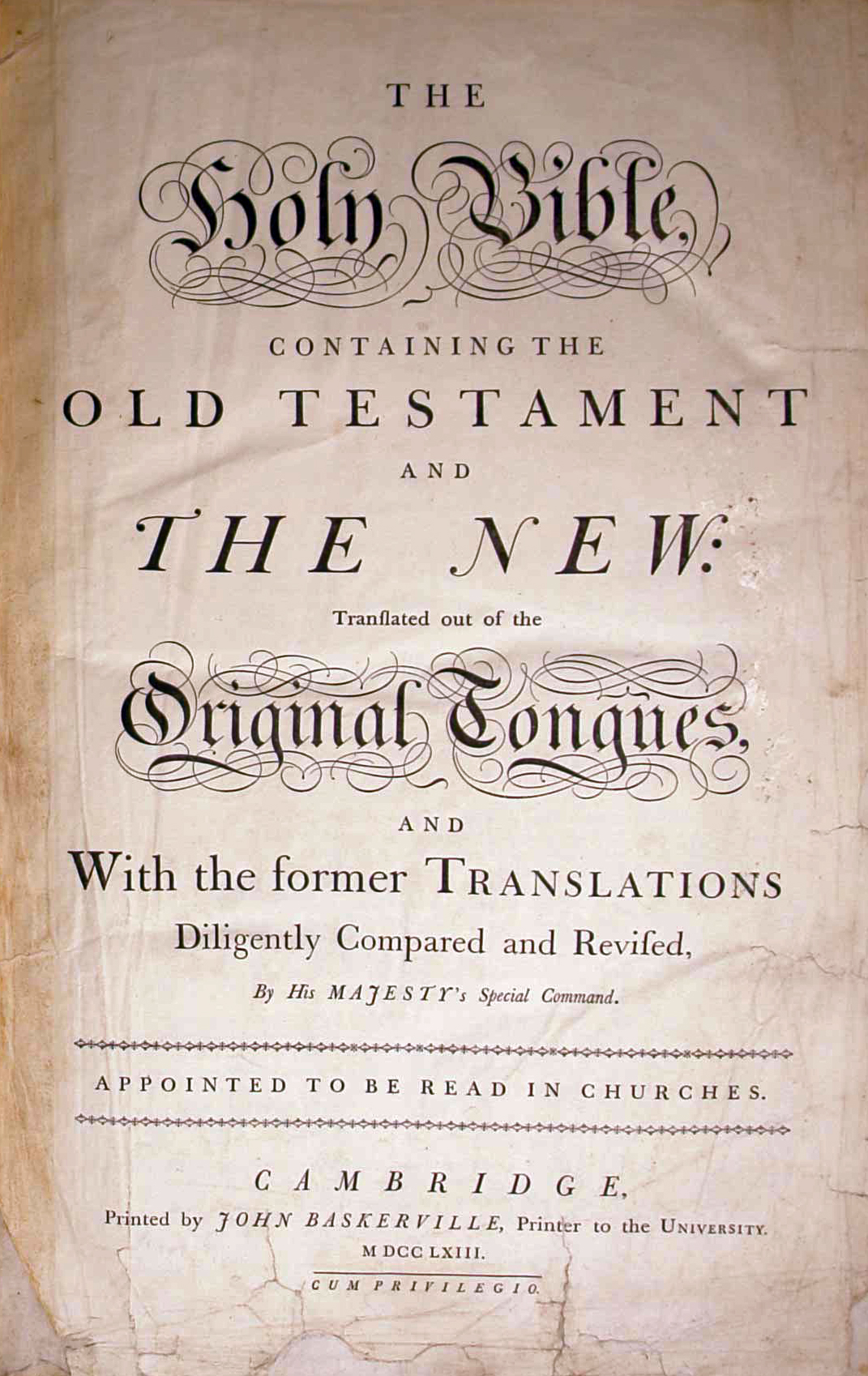 Call for pledges: Matthew Boulton's Baskerville family bible
"On 26 March 2020, Boulton's Baskerville family bible will be auctioned in London. This particular bible is arguably one of Baskerville's most important volumes due to the quality of its bindings and the use of his endpapers" notes the Centre for Printing History and Culture of its latest campaign to save one of Birmingham's most precious printed matter aka Matthew Boulton's Baskerville family bible.
Birmingham Assay Office announced plans to sell part of its archive collection, including the family bible of one of its founders on February.
Its CEO and Assay Master Doug Henry said the office was "unable to store and preserve such a volume of books" reports BBC while Rupert Powell, from Forum Auctions, acknowledged "some will regret the sale of these books. It is also sad to see collections simply kept in storage and rarely, if ever, consulted," he added.
Matthew Boulton's Baskerville family bible was printed by another celebrated Birmingham businessman, John Baskerville, in 1763 and is expected to fetch up to £6,000.
"Annotated by a contemporary hand with details of the Boulton family, it is also of great significance to Birmingham as it represents the relationship between the printer John Baskerville and the industrialist Matthew Boulton, two of the most influential figures in the city's history. We feel very strongly that the bible should remain in its ancestral home and made publicly available.
A consortium of city heritage organisations, including the Baskerville Society, Birmingham Museums Trust, Cadbury Research Library, Civic Society, and the Lunar Society, has been formed in order to bid for the bible at auction and ensure the volume remains in Birmingham. If successful in our bid, the bible will be housed at the Cadbury Research Library at the University of Birmingham which has the resources to provide appropriate care for the book, together with its other Baskerville holdings, and make it available to the public in perpetuity.
As the bible is to be sold at auction it is impossible to predict exactly how much it will fetch; but it may sell for a considerable sum. Because of this uncertainty, rather than fundraising to help with the purchase, we are inviting individuals and organisations to make financial pledges which we can call in if needed. Unfortunately, time is against us and we would require pledges to be made by Friday 21 March 2020 at the latest.
If you agree to become a pledgor, you are promising to make a contributory gift towards the purchase of Boulton's Baskerville family bible. Your gift may be called on in full should we have to pay a high price for the bible, or in part if the bible sells for less than expected. We would not call in funds until after the auction" adds the campaign.
An appeal to save Matthew Boulton's family Baskerville bible. pic.twitter.com/WCNkprNoaE

— Dr Caroline Archer (@TypeTweets) March 9, 2020
Baskerville was born in the village of Wolverley, near Kidderminster in Worcestershire and baptised on 28 January 1707 at Wolverley church.
He practised as a printer in Birmingham. A member of the Royal Society of Arts, and an associate of some of the members of the Lunar Society Baskerville himself directed his punchcutter, John Handy, in the design of many typefaces of broadly similar appearance.
In 1757, Baskerville published a remarkable quarto edition of Virgilon wove paper, using his own type. It took three years to complete, but it made such an impact that he was appointed printer to the University of Cambridge the following year.
John Baskerville printed works for the University of Cambridge in 1758 and, although an atheist, printed a splendid folio Bible in 1763.
His typefaces were greatly admired by Benjamin Franklin, a fellow printer.
Baskerville's work was criticised by jealous competitors and soon fell out of favour, but since the 1920s many new fonts have been released by Linotype, Monotype, and other type foundries – revivals of his work and mostly called 'Baskerville'.
Emigre released a popular revival of this typeface in 1996 called Mrs Eaves, named for Baskerville's wife, Sarah Eaves.
Baskerville's most notable typeface Baskerville represents the peak of transitional type face and bridges the gap between Old Style and Modern type design.
Baskerville also was responsible for significant innovations in printing, paper and ink production. He worked with paper maker James Whatman to produce a smoother whiter paper which showcased his strong black type while pioneering a completely new style of typography adding wide margins and leading between each line.
So if you would like to make a pledge and help CPHC secure this rare piece of typographic heritage get involved here.
More than 450 items from its library will be auctioned in London on 26 March.
Other lots include a 1896 edition of the works of Chaucer, featuring illustrations designed by Pre-Raphaelite artist Edward Burne-Jones, which is expected to fetch up to £30,000. Also being sold are three books by John Harrison, who played a pivotal role in calculating longitude.
Tags/ history, bible, printing, bbc, baskerville, auction, birmingham, call for pledges, john baskerville