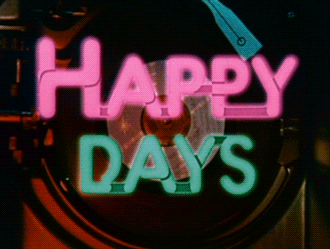 Fond memories of children fonts in the latest Font Sunday to love
With over 2.36K mentions on the day from participants around the globe, Design Museum's latest Font Sunday extravaganza on Twitter filled our timeline with beloved memories from when we were children.
"To mark the final weekend of half term, yesterday's Font Sunday was dedicated to children's TV shows" writes Design Museum of the many fond memories shared by many.
We present you with some highlights but get ready to explore more here.
To mark the final day of #halfterm, tomorrow's #fontsunday is dedicated to children's TV shows. Send in your fondest memories from noon. pic.twitter.com/XheGzmmgkl

— Design Museum (@DesignMuseum) February 23, 2020
Appreciation post for #fontsunday (as we're doing children's TV) about Batman The Animated Series, which had the greatest title cards for anything ever. pic.twitter.com/YVYhQo601x

— Leo Cookman (@leocookman) February 23, 2020
1983 Inspector Gadget @DesignMuseum #FontSunday pic.twitter.com/D5OOdt7U5d

— kiko84 (@kikocasa844) February 23, 2020
I loved these shows as a kid and the stylized typography of each represent the show perfectly!! #fontsunday @DesignMuseum pic.twitter.com/2p2FIDBkeG

— Regan Fisher (@chris_rfisher) February 24, 2020
This anime definitely left an impact on me as a child (in a good way). But for #FontSunday I'd like to appreciate the graphic nature of how the Japanese typeface fills the composition of the title card, while the English typeface allows for the eyes to have a place to rest! pic.twitter.com/kvUOBoFPUP

— Laura Knock Out (@Laurako_o) February 24, 2020
Let's bend the #FontSunday rules with some 60s cartoon design along with animated sitcom intros. Beautiful stuff. pic.twitter.com/UPF6aidaYr

— Kim Belding (@picpak) February 24, 2020
There's only want cartoon font that matters on #FontSunday pic.twitter.com/TZIKj848GY

— groundhog from groundhogs day (@stylesclash69) February 23, 2020
Two of my favourites for @DesignMuseum #FontSunday Battle of the Planets & Ulysses 31 ???? pic.twitter.com/xBr8nFDx1G

— swavesey2anywhere (@swav2anywhere) February 23, 2020
LOONEY TUNES (and MERRIE MELODIES) title cards from the late 1940s/early 1950s. Source @WeirdlandTales @DesignMuseum #FontSunday pic.twitter.com/b9HwyzbG6Z

— kiko84 (@kikocasa844) February 23, 2020
Original Saved By The Bell logo on @nbc. Fondest children's TV memories @DesignMuseum #FontSunday pic.twitter.com/MwQZ9BAmTz

— JMM (@juliamordaunt) February 23, 2020
#Typography #FontSunday #LooneyTunes #WB ???? pic.twitter.com/6VzLizYiNO

— PYITE???????? (@jlf_420) February 23, 2020
Tags/ typefaces, twitter, fonts, design museum, font sunday, children shows