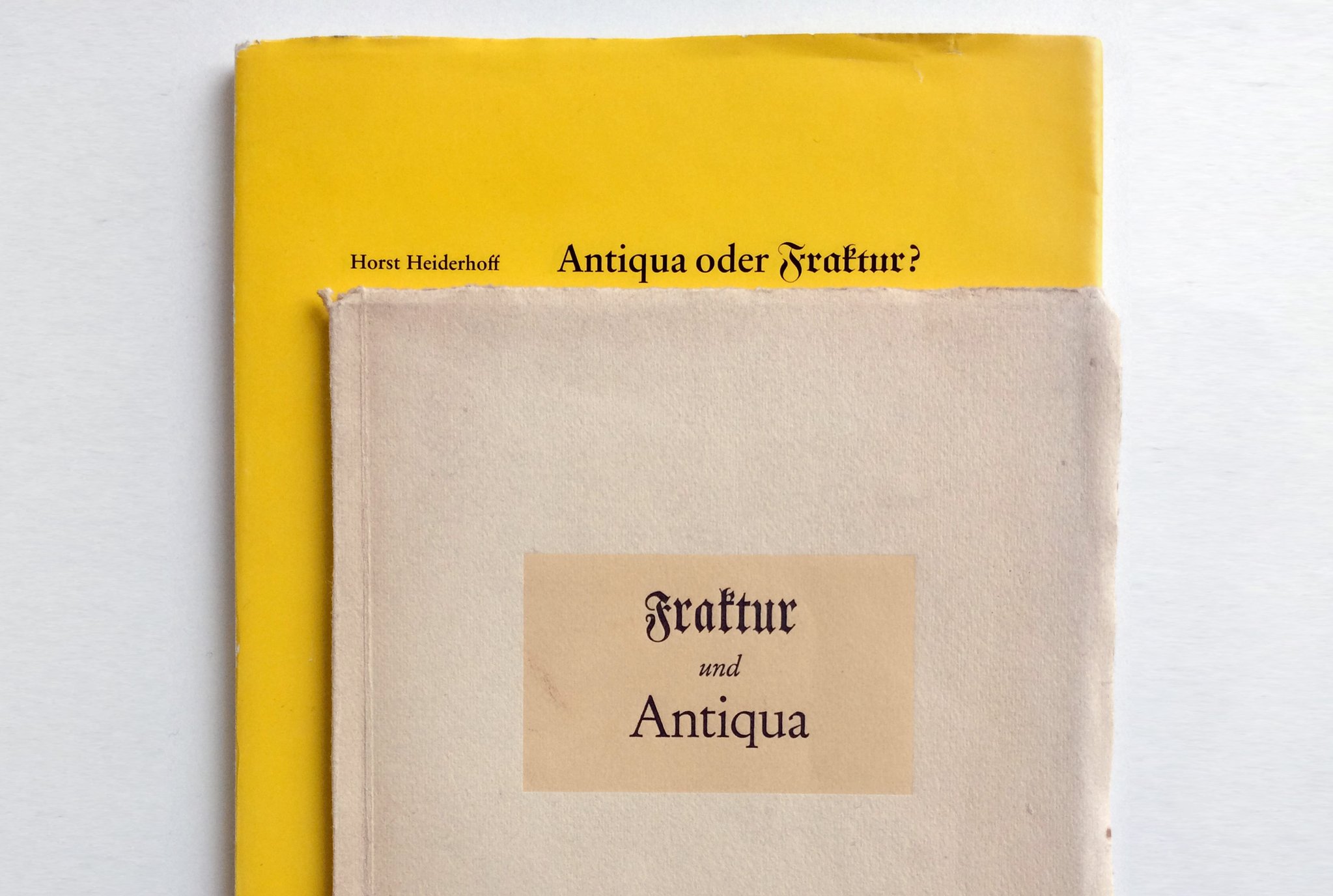 A Nazi font banned by Nazis? Fraktur and its legacy in the must-listen design podcast
"Fraktur is often associated with being the official Nazi font and is still being used by Neo-Nazi groups in Germany today. The fact that it was, ironically, banned by the Nazi Party is just a part of its long and strange history" writes 99 Percent Invisible.
"Typography can silently influence: It can signify dangerous ideas, normalize dictatorships, and sever broken nations. In some cases, it may be a matter of life and death. And it can do this as powerfully as the words it depicts" notes Wired's Ben Hersh in the insightful feature How Fonts Are Fueling the Culture Wars.
"You probably know blackletter as the script of choice for bad guys, prison tattoos, and black metal album art—and you wouldn't be wrong. Blackletter looks esoteric and illegible now, but it started off as a normal pattern that people across Europe used every day for hundreds of years. It stayed that way until pretty recently. It reigned as the dominant typeface in the English-speaking world for several generations and remains popular in parts of the Spanish-speaking world today. One particularly ominous use of Blackletter type in Nazi Germany."
But this story is more complicated than it seems. "Nazi leadership used Fraktur, an archetypal variety of blackletter, as their official typeface. They positioned it as a symbol of German national identity and denounced papers that printed with anything else.... In just a few years, blackletter went from ordinary to a widespread taboo—the same way the name 'Adolf' and the toothbrush mustache have been all but eradicated."
"The Nazis played a part in this. In 1941, the regime re-characterized Fraktur as *Judenletter, aka Jewish letters, and systematically banned it from use. The long history of Jewish writers and printers had tainted the letterforms themselves, they argued, and it was time for Germany to move on. Historians speculate that the reversal had more to do with the logistics of occupying countries reliant on Latin typefaces, but the result was the same. No printed matter of any kind could use Fraktur, for German audiences or abroad. Even blackletter handwriting was banned from being taught in school. Think about that: The government of one of the world's great powers banned a typeface. That is the power of a symbol."
More history lessons follow: the first Fraktur typeface arose in the early 16th century when Emperor Maximilian I commissioned the design of the Triumphal Arch woodcut by Albrecht Dürer and had a new typeface created specifically for this purpose, designed by Hieronymus Andreae.
Fraktur quickly overtook the earlier Schwabacher and Textualis typefaces in popularity, and a wide variety of Fraktur fonts were carved and became common in the German-speaking world and areas under German influence (Scandinavia, the Baltic states, Central Europe).
In the 18th century, the German TheuerdankFraktur was further developed by the Leipzig typographer Johann Gottlob Immanuel Breitkopf to create the typeset Breitkopf Fraktur. While over the succeeding centuries, most Central Europeans switched to Antiqua, German speakers remained a notable holdout.
From the late 18th century to the late 19th century, Fraktur was progressively replaced by Antiqua as a symbol of the classicist age and emerging cosmopolitanism in most of the countries in Europe that had previously used Fraktur.
This move was hotly debated in Germany, where it was known as the Antiqua – Fraktur dispute.
The Fraktur typefaces remained in use in Nazi Germany, when they were initially represented as true German script; official Nazi documents and letterheads employed the font, and the cover of Hitler's Mein Kampf used a hand-drawn version of it.
However, more modernized fonts of the Gebrochene Grotesk type such as Tannenberg were in fact the most popular typefaces in Nazi Germany, especially for running text as opposed to decorative uses such as in titles. These fonts were designed in the early 20th century, mainly the 1930s, as grotesque versions of blackletter typefaces.
The Nazis heavily used these fonts themselves, though the shift remained controversial and the press was at times scolded for its frequent use of "Roman characters" under "Jewish influence" and German émigrés were urged to use only "German script."
On January 3, 1941, the Nazi Party ended this controversy in favor of modern scripts including Antiqua. Martin Bormann issued a circular to all public offices which declared Fraktur (and its corollary, the Sütterlin-based handwriting) to be Judenlettern (Jewish letters) and prohibited their further use.
The Fraktur legacy is explained in 99 Percent Invisible's design podcast, produced by Kevin Caners & Joe Rosenberg with many contributors -Susan Reed, head of Germanic Studies at the British Library, Florian Hardwig, graphic designer and the editor of Fonts in Use and more- sharing their insights of what is perhaps one of the most interesting stories on typefaces and the psychology of type.
Tags/ typography, typeface, font, typedesign, podcast, nazi, psychology, blackletter, hitler, fraktur, nationalism