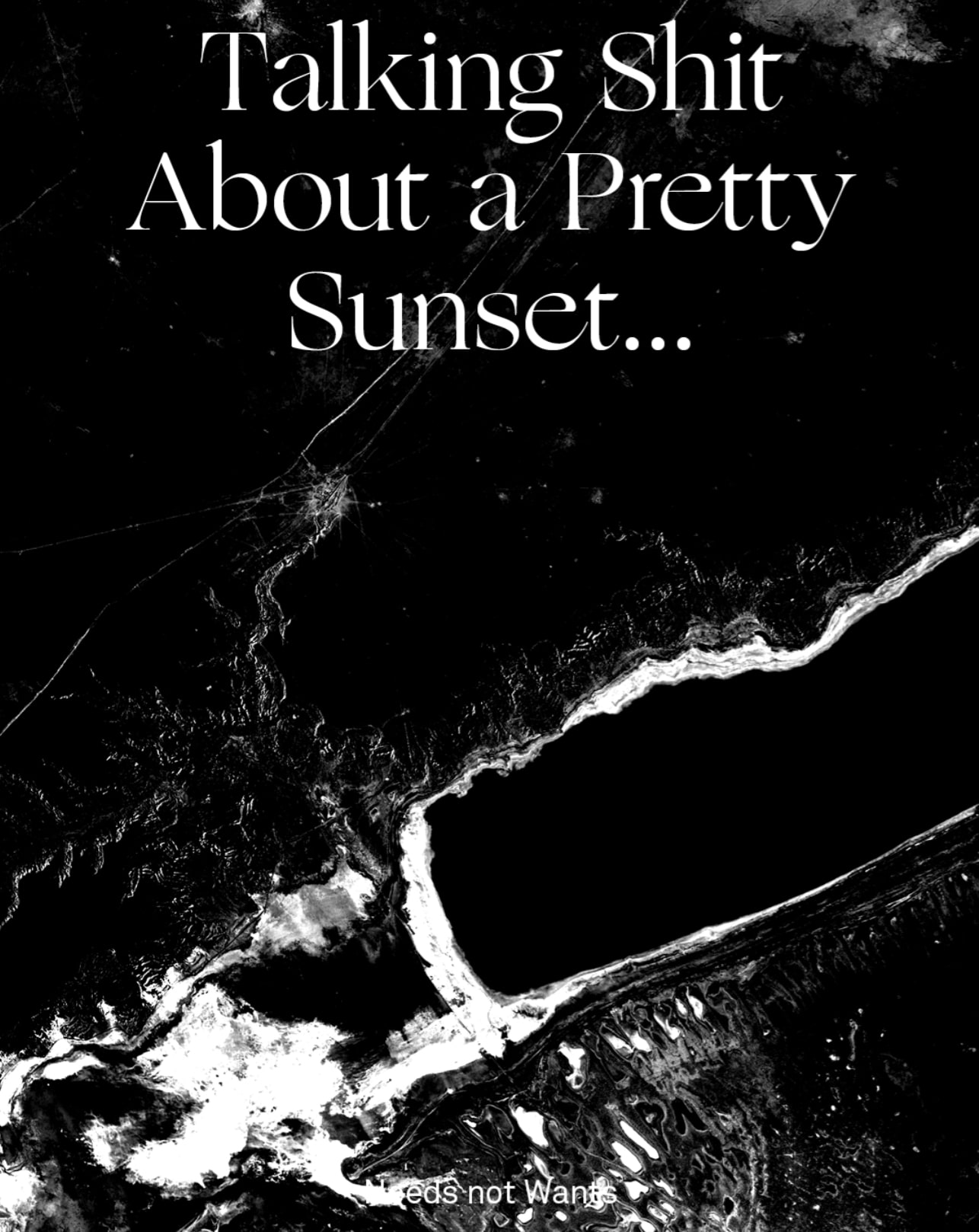 Needs not wants! Trevor Embury on how design as common practice sustains unsustainability 
"Talking Shit About a Pretty Sunset..., is a manifesto of sorts for design and our collective future. TSPS is far from revolutionary or exhaustive—if anything, it serves to instigate a conversation to help build capacity or imagination to think within and beyond our present moment" explains Trevor Embury.
The Euro-Canadian settler graphic designer, researcher, educator, and learner based in Vancouver whose practice — situated at the intersection of graphic design and art — focuses "on the political project of design and its entanglement within a techno-social system" aims to disrupt the current status quo of the creative industry as "he explores alternative lines of inquiry located in neighbouring systems of knowledge to incorporate otherness and plurality to extend imaginaries beyond current forms of practice."

Currently Assistant Professor in the Graphic and Digital Design department at the University of the Fraser Valley, director of visual communication at DesignTO Festival, and former partner at aftermodern.lab inc, here we present you with one of his projects aka TSPS.
"TSPS is part of a larger body of work that includes a talk and essay (coming soon) which examines the role of the common practice of design and traditional design curriculum under conditions of unsustainability.
Design must encompass a new circulation of thinking and acting.
Design must look beyond capitalist/modernist agendas.
Design is more than a tool for the commercial sector.
Design is inherently exclusionary—the grand narrative of design history tell us this.
Design is ALWAYS political, never innocent.
Design must understand its ontological dimension.
Design as a common practice sustains unsustainability.
Design is entirely social.
Design must consider the potential of undesign.
Design is fundamentally part of the problem—it offers few solutions.
Design is a form of critical and philosophical inquiry."
Trevor Embury's research and body of work facilitate investigations into the political project of design and its entanglement within a techno-social system. Specifically, how design, as a mode of organization, constructs forms of power and control through tactical mechanisms of visual representation, language, and participation in the broader context of how the political is entangled with the material and how digital technology, as a mode of production, instrumentalizes, circulates and sustains these transactions.
His work aims to problematize, speculate, and visualize notions of agency, mediation, instrumentalism, participation, and knowledge in an effort to reflect on and evaluate how these relationships condition and affect our social structures and actions. His work includes printed matter, photography, writing, video, and site-specific installations and should be regarded as a means rather than an end providing no solutions or answers but new perspectives and whereby design may be recognized as a form of critical inquiry.

Embury's practice is situated within the domain of research-creation—connecting artistic and academic research practices through scholarly examination, visual experimentation, and critical reflection. His methods and perspectives engage critical discourse in fields ranging from cultural studies to information science rendered through the lens of graphic design.
Tags/ design, politics, sustainability, trevor embury