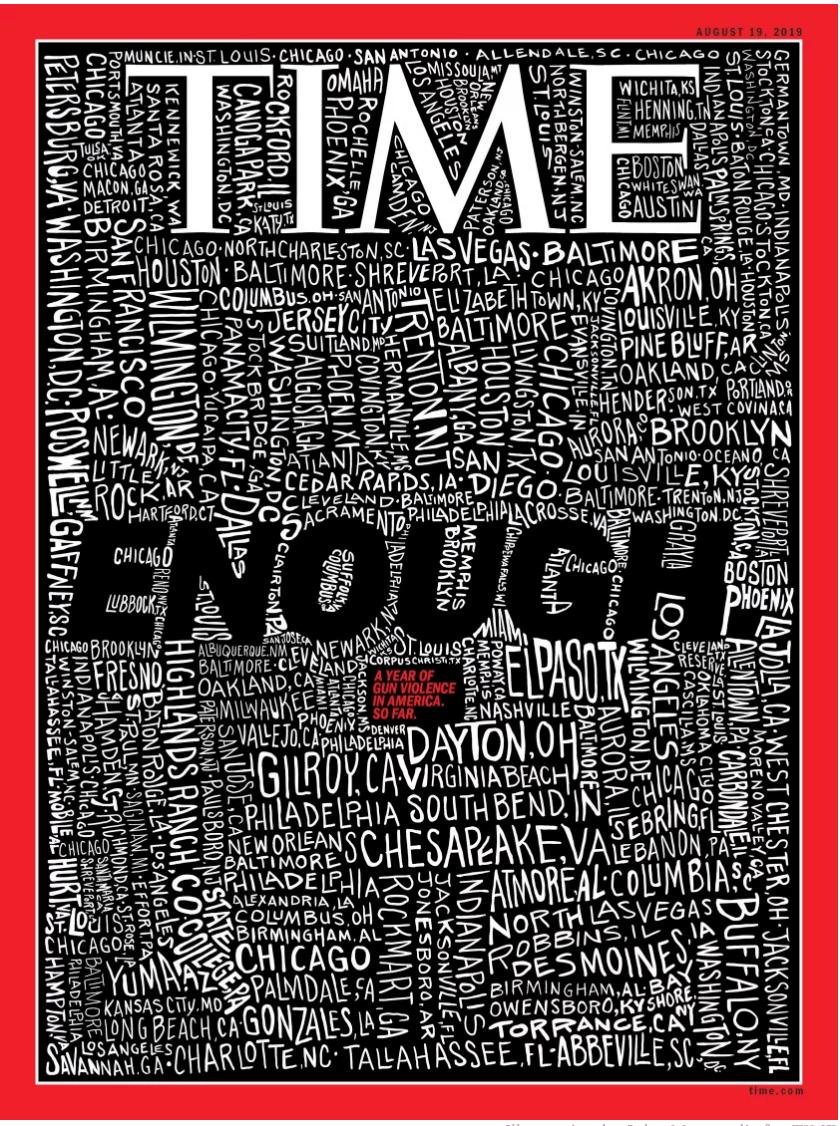 Artivist at large: John Mavroudis and his multi-awarded typographic portraiture explodes
John Mavroudis is one of the most influential and talked about contemporary illustrators of our times. Blending his drawings with type, Mavroudis is an artist and activist known for his breathtaking and multi-awarded covers for TIME Magazine, New Yorker and more.
Here Typeroom's Loukas Karnis talks with John Mavroudis about his heritage, his creative paths, and his highly political, typographic art.
Typeroom: On your site, you mention that you might have been born in Athens or Ireland or California. So what's your story?

John Mavroudis: I have a bit of fun on my website describing my origins. I'm an American. Born in the San Francisco Bay Area, California and extremely proud of being the son of a Greek father and an Irish-American mother.

My father was a Greek citizen who was born and raised in Alexandria, Egypt. His family originally came from Lemnos and Syros and when he emigrated to America in his early 20s he settled in California. I've only been to Greece once, but it's a trip I'll never forget. Athens, Delphi, Volos, Kefalonia Poros... I'm thrilled to be able to travel back and see Thessaloniki.

TR: Has your Greek heritage played any part in your art or your creative process overall?

JM: Definitely, I grew up learning about Greek mythology and it certainly stirred my imagination. I remember reading D'Aulaires' Book of Greek Myths and being completely absorbed by the stories and the amazing artwork. Then there were the trips to the Greek Orthodox church and seeing the iconic paintings of the saints. All of these things play a part in my style and my attempts to say something with my art.

I love being able to communicate ideas through my artwork. I always found the most powerful artists hit you a couple of different levels.

One could admire the skill and style of the artist but for me, the artists that are seared into my memory are those who also sparked my imagination via a powerful message and/or unique approach. Goya, Magritte, Bosch, Thomas Nast, Alphonse Mucha, Stenberg Brothers, Frida Kahlo, Diego Rivera, George Tooker, Ron Cobb, Paul Conrad, Ralph Steadman, Jim Starlin, Ted McKeever, Odd Nerdrum, Banksy to name a few are some of the artists who inspire me.
TR: You are an illustrator, a graphic designer, and an activist. What is your creative process?
JM: I usually spend a lot of time working on concepts. Once I am interested in a certain topic or inspired or outraged by something I've read or seen on the news, I start playing with ideas. Sometimes the ideas come in waves and sometimes you're simply trying to find one piece that will lodge its way into my brain.

Once I have something that works, it's tough for me to let go of it, until I've created what I imagine. Then comes the tricky part aka to find the right vehicle for that artwork. As an example, I was so outraged by the rise of Donald Trump and so tired of explaining to people why I hated him so much, that I tried to create a single piece that would satisfy my need to fully explain my opposition to him. After a series of attempts, I landed on the idea of creating his portrait made up of every word I could think of that applied to him. It took about a month to create the piece.
Thanks to my connections to the band Moonalice, Roger McNamee saw the piece and wanted to print them into posters. I then submitted the artwork to various publications. The Nation magazine eventually offered to use the art on its cover for the 2016 Election preview issue. The art had found a home -or in this case, two.

TR: You are pretty outspoken against sexism and your TIME Magazine cover with Dr. Christine Blasey Ford and your signature lettering has been a viral and artistic hit. How did that come up?

JM: This particular style of mine, which I call typographic portraiture, seemed to catch on. I created additional portraits (much more flattering versions) of Hillary Clinton and Harvey Milk. I had submitted some pieces to TIME magazine (including those portraits) and they later got in touch with me during the Senate confirmation hearings for the controversial judge, Brett Kavanaugh.
They wanted a portrait of Dr. Christine Blasey Ford in that style, made up of her quotes during her powerful testimony. She had held America's attention with her accusation of sexual assault against the Supreme Court nominee. She came across powerfully as a credible victim and witness. That cover got a ton of attention. I was inundated by interview requests from all over. Eventually, that cover was later named Cover of the Year.
TR: You have been hailed as one of the most prominent artivists in the magazine industry with your TIME cover for mass shootings taking the world by storm earlier this year. How did you come up with this heavily typographic cover aka statement against White Nationalist Terrorism?

JM: Working with TIME magazine was pretty amazing, and I guess they had a positive experience working with me as well because they commissioned me with another cover seven months later. I was working on some ideas after the horrific gun deaths in Gilroy, California which is very close to my hometown. I had attended the Garlic Festival in previous years, and now we had another mass shooting to join the rest of the very long list. Just a week after that shooting, there were two more in rapid succession. I was so sad, and angry about the continued bloodshed and I sent some ideas I developed over to TIME.

They got back to me on Monday and thought a different direction might work. They suggested making a list of all the cities where there had been 4 or more injured or dead in the course of a mass shooting. The list I worked with eventually (and sadly) numbered 153 events in cities -including repeat offenders. I turned that cover around in a few days and, again, it seemed to have made an impact on social media, as well.
TR: Would you consider art and typography a weapon of resistance?

JM: This style, this combination of art and typography, works perfectly as a weapon of resistance. On the successful pieces, there's an immediate impact, but also some deeper layers to explore and think about. The fact that someone can go back to the artwork and see something they may have missed at first is gratifying.

TR: You are obviously against fascism, populism and all those -isms that make this world a harsh place to live. How do you deal with the trolls and haters on social media out there?

JM: With success comes social media haters and though I used to be a very sensitive person, I've developed a thicker skin for criticism. I have a few friends that I completely disagree with on politics, but I feel it's important to have a debate. Those that simply want to troll or attack, I have no use for, so I've learned to block and move on, as opposed to carrying on a long, long debate with people who refuse to acknowledge basic truths.

We can all have our own opinions, but we can't have our own facts. So, while I'll still debate every once in a while on social media or amongst my friends, life's too short to simply bang my head against a wall debating the Trump Cult.

TR: Would you consider your art political?

JM: A lot of my artwork is definitely political, but I also love creating decidedly non-political art, as well. I love creating music or film posters. I'd love to do a children's book -I'm working on a few- or create book covers.

TR: You have worked for the printing industry in the past. Which is your all-time favorite newspaper and magazine both in terms of editorial and design?

JM: New York Times, Washington Post, The Guardian, TIME magazine, The New Yorker, Q music magazine, The Big Takeover (music), The Nation (politics), Harper's, Juxtapose, and Communication Arts are some of my all-time favorite publications.
My favorite covers would probably feature many from The New Yorker, TIME, and Fortune magazine -their early covers were spectacular. I'm also very influenced by the design and illustration of comic book covers, mostly Marvel, book covers, album covers, posters, and baseball cards.

TR: You mention many interesting things on your site. So "along life's path, you have encountered many amazing things (with the unfortunate exception of Alien Abduction)." Were you really mocked by Bono of U2 fame?

JM: I was a big fan of U2 in the early days and I saw them open for a band in Los Angeles. They were not very famous, but a friend and I waited near the backstage area and saw their manager walk by. He noticed us and asked us if we wanted to meet the band. We were thrilled at the prospect, so he brought the boys out, you see the main act, J Geils Band had taken the stage, so it wasn't crowded where we were. U2 were very kind and signed autographs. I told Bono that I paid $40 -a lot of money for me in 1982- from a scalper to see the band. Then Bono turned to his guitarist and said: "Hey Edge, this idiot paid $40 to see us!" He immediately turned around and apologized, but I was laughing.

TR: You sold four covers to The New Yorker including one that was named Magazine Cover of the Year by the American Society Of Magazine Editors and had a cartoon of the Week, as well. Which covers and when?

JM: I've been submitting ideas to The New Yorker for a while now. They've used my ideas (but not artwork) on four covers. The subjects were on illegal music downloads, Cristo wrapping Central Park, the 5th Anniversary of 9/11 (which was named the Cover of The Year), and a blackout in New York City.
I also did a cartoon for The New Yorker aka "Trump's fake TIME magazine fixation" that was selected as their cartoon of the day. They were considering a cover, but they had a 2-week printing break, so they just published online. You can check my process on the 9/11 cover here.

TR: I read that your 9 years old daughter Athena is your Art Director. How come? Does she have a word on your work?

JM: My daughter, Athena, is very precocious. She's in 4th grade but reads at an 8th-grade level and I'm very proud of her. I was mostly kidding, but she, like most Greeks in my family, is not shy about sharing her opinions. So I joke that she's my Art Director.

TR: You have mentioned in your interview with Nikos Fotakis that you create your own art when an idea strikes you and either you submit it to a magazine or you post it on your social media and someone picks it up it goes public. Will you share two examples of the above?

JM: For my process to print I usually go about creating pieces that spark me and then try to find the best place for that piece to go, the Trump illustration was a prime example of that. It eventually made the cover of The Nation magazine but I had to do it, in any case. When I have an idea that I think can work, I try to get it out of my system by drawing it out.

Another example would be a piece I'm working on now on Bob Dylan. I don't have any particular destination, I'm not a huge fan either but I really respect his body of work and consider him one of the truly great songwriters of this or any era. With that in mind, I had to start creating his portrait based on the titles of his amazing catalog of songs. If it finds a home or not that's an entirely different matter.

If I'm pleased with it, I'll start sending it out to different publications to see if there's any interest. The same applies to my desire to do a comic book cover. I'm such a fan of the comics, I basically learned to draw by tracing comic books when I was a kid, that I sent in some samples to Marvel comics and now I'm working on a cover project with them.

TR: Which is your favorite typeface of them all?

JM: I don't have any particular favorite typeface but I can list a few that I love. The constructivist font which looks like the glory days of Russian poster making in the 1920s and 1930s is a favorite and I've used it on a couple of pieces. I find its design and usage of it so compelling. Also, I love the Art Nouveau fonts, but maybe that's because I love the poster artwork of Alphonse Mucha so much. I also use DIN and Futura a lot so I guess I slightly veer towards the sans serif fonts.

TR: If you were a symbol or a letterform which one would you be and why?

JM: If I was a letterform, I'd probably opt towards "A," "M," or "X" aka my daughter's first initial, my last name's initial, and my favorite band's first initial.

TR: Your portfolio is impactful and heavy yet when one sees your body of work, you seem like an artist with optimism. What are your hopes for the future?

JM: Thanks for the kind words about being "impactful and heavy" but "optimistic." That's exactly how I'd love to be described. My personality is such that I feel so strongly about certain issues. I'm outraged by what's happening to my country under Trump, but I've always maintained my sense that we'll get through this. Reading history helps. This planet has survived more horrific times at great cost but the courage of those who resist that path shouldn't be underestimated.

Getting into the fetal position and rocking ourselves to sleep will not fix what ails us. My greatest example is the American Civil Rights Movement. Faced with the most brutal opposition and so many defeats, they plowed ahead and changed my country for the better.

We're not there, yet. But we've come far and we shouldn't let setbacks deter us from progress. The fight for a better world is never over. We need to accept that and find victories wherever we can and continue to move forward.

TR: What are you working on now?

JM: I'm currently working on a few different projects. I have just finished a limited-edition screenprint piece on gay rights leader Harvey Milk and Natasha Trethewey, a wonderful poet. My illustration of the writer Joan Didion, a typographic portrait made up of great California writers, was just published and I'm doing the Bob Dylan piece I referenced already.
I also work on one of Paul McCartney's. I have the Marvel cover project and a portrait of pro-basketball player Steph Curry. I'd love to do a portrait of Arsenal's historic manager Arsene Wenger, but I haven't contacted the club, yet but I'm always looking for more projects that excite me.

TR: You mention that you have worked also as a DJ on the #1-rated Rock N' Roll station in the San Francisco Bay Area. What is your all-time favorite artists to accompany this interview of yours?

JM: These are my all-time favorite musicians. XTC, The Chills, Guided By Voices, Radiohead, Peter Gabriel-era Genesis, The Pernice Brothers, The Jam, Beach House, Grizzly Bear, The Delgados, and Menomena, among others.
TR: Congratulations on the 60th Thessaloniki Film Festival poster you designed for the milestone of Greece's movie fest. Can you walk us through how it came together — the concept and art direction and everything in between?

JM: The 60th Thessaloniki International Film Festival poster was a wonderful project to work on. I was so honored to be asked to create it. I was contacted by the good people at the Festival and given some general parameters about the project but I was given wide latitude to create something I felt worked.

I studied the history of the city and came up with a series of sketches, which I submitted. I heard back from them that they were more interested in looking forward rather than back. On reflection, I missed that part of the brief… but it made complete sense. It's one of the reasons that the Festival has lasted this long. They constantly look forward. With that in mind, I submitted a few more ideas and they loved the typographic portrait of the angel. The idea that this would be the festival viewer was quite appealing to us.

We agreed on this sketch and they submitted a list of words and terms that would be used to create the piece. I ended up making two versions in a couple of different color variations. The fact that it could be deconstructed and used in a few different ways ensured that it had some utility to it. That's important for a Festival that has all sorts of requirements on the variety of ways it was to be used.

I ended up putting a stamped frame around it for a couple of reasons: I've used this motif before and I love the idea of a universally recognized symbol for communication to frame the artwork for a Festival that includes so many voices from all over the world. Although the brief was to look forward, I'm still drawn to Greek history. The connection to the arts is self-evident so there was some styling towards the iconic paintings I'm drawn to. A lot more time was spent trying to get the type on the face to match well with the facial features. All in all, I'm quite proud of how they turned out. I hope people find them worthy of such a great film festival.

Explore more John Mavroudis' stunning typographic portraiture and universe here.
Tags/ typography, inspiration, illustrator, magazine, poster, futura, din, fortune, thessaloniki international film festival, cover, the new yorker, tiff, john mavroudis, greek american, the nation, american civil rights movement