Nature: with a bespoke typeface & a new logo the journal's evolution is on
Nature aka the British multidisciplinary scientific journal, first published on 4 November 1869 and one of the most recognizable scientific journals in the world sure looks different. Nature has evolved and it is being redesigned aiming at "clearer research communication in the digital age." From today, Nature unveiled its brand new visual language in order to "fulfil its mission to serve researchers and disseminate scientific knowledge worldwide."
"This design has been in development for well over a year, and is a much-needed update that helps us — in our 150th year — to communicate science with fresh clarity and style" note the editors of the journal's latest design transformation over its long historytn in printing. Yet this time is different because... digital.
Nature's previous designs were all based on one assumption: that the journal's content would be accessed through the medium of static ink printed on a physical page. As noted the redesign "is suited to digital platforms — where the vast majority of readers now find us — while at the same time producing a clear and engaging printed edition."
"In surveys and interviews, readers told us that our text can be hard to read; and that research articles increasingly need to do justice to complex data sets. We knew that it would be challenging to come up with a compelling design that meets these needs and also works across formats, but working with renowned editorial designer b, we listened, we experimented and we have now acted" writes the editorial of a brand new Nature which has evolved from print to digital with many tricks.
Nature logo has changed for the 11th time -"a fresh take on the nature-with-a-small-n that we've used for the past half-century" and text is now in a custom typeface called Harding.
The font, crafted in collaboration with designers and typographers at Commercial Type is inspired by the mid-century Swiss modernist school of rational design. "This design school — sometimes called the internationalist school — emerged in response to nationalist design trends before and during the Second World War. It promoted the idea that graphic design should be based on a mathematical grid, allowing designers to arrange type and images with a semblance of order, as Nature's creative director Kelly Krause explains in the journal's latest issue.
"Harding is designed to cope across the disciplines. It boasts an unusually large range of special characters, from triple prime and nabla to a full set of astronomical symbols and the 'click' phonemes found in some African languages" adds Krause.
"A key consideration in Harding's overall design is performance on small digital screens. To boost readability in a limited space, it helps to enlarge the main portion of the lower-case letters, while making the ascenders and descenders (as in 'h' and 'g', respectively) smaller. Ultimately, this renders long, complex strings of words easier to parse, and allows for neat stacking of lengthy technical research-article titles over a number of lines. The 'flavour' of the typeface — the feelings it evokes, its personality — evolved over several months. We initially looked at six fledgling concepts, each with distinct letterforms such as rounded serifs (the small strokes at the end of letters). After we winnowed these down to two, Harding emerged as the clear winner. We aimed for an overall impression of calm, rational intelligence with perhaps a dash of British formality and wit. The myriad design considerations behind Nature's new typeface serve one goal: to improve the reading experience for researchers and policymakers globally, and enhance comprehension and insight."
A key consideration in the bespoke typeface's design is performance on small digital screens. To boost readability in a limited space, the font helps to enlarge the main portion of the lower-case letters, while making the ascenders and descenders smaller
The font is named in memory of Anita Harding, an inspirational professor at London's Institute of Neurology who made important contributions to neurogenetics before her death at the age of just 42.
"The redesign process is not over, and you can expect to see more digital changes over the coming year, along with new print and digital design principles for all Nature-branded journal. Nothing is more important to Nature than communicating science with authenticity, accuracy and clarity. We hope the new design does this with a dash of style and with imagination, too. Please tell us what you think" adds one of the world's most respected journals.
Nature was ranked the world's most cited scientific journal by the Science Edition of the 2010 Journal Citation Reports and is ascribed an impact factor of 43.070, making it one of the world's top academic journals and one of the few remaining academic journals that publishes original research across a wide range of scientific fields.
Research scientists are the primary audience for the journal, but summaries and accompanying articles are intended to make many of the most important papers understandable to scientists in other fields and the educated public. Towards the front of each issue are editorials, news and feature articles on issues of general interest to scientists, including current affairs, science funding, business, scientific ethics and research breakthroughs. There are also sections on books, arts, and short science fiction stories. The remainder of the journal consists mostly of research papers (articles or letters), which are often dense and highly technical. Because of strict limits on the length of papers, often the printed text is actually a summary of the work in question with many details relegated to accompanying supplementary material on the journal's website.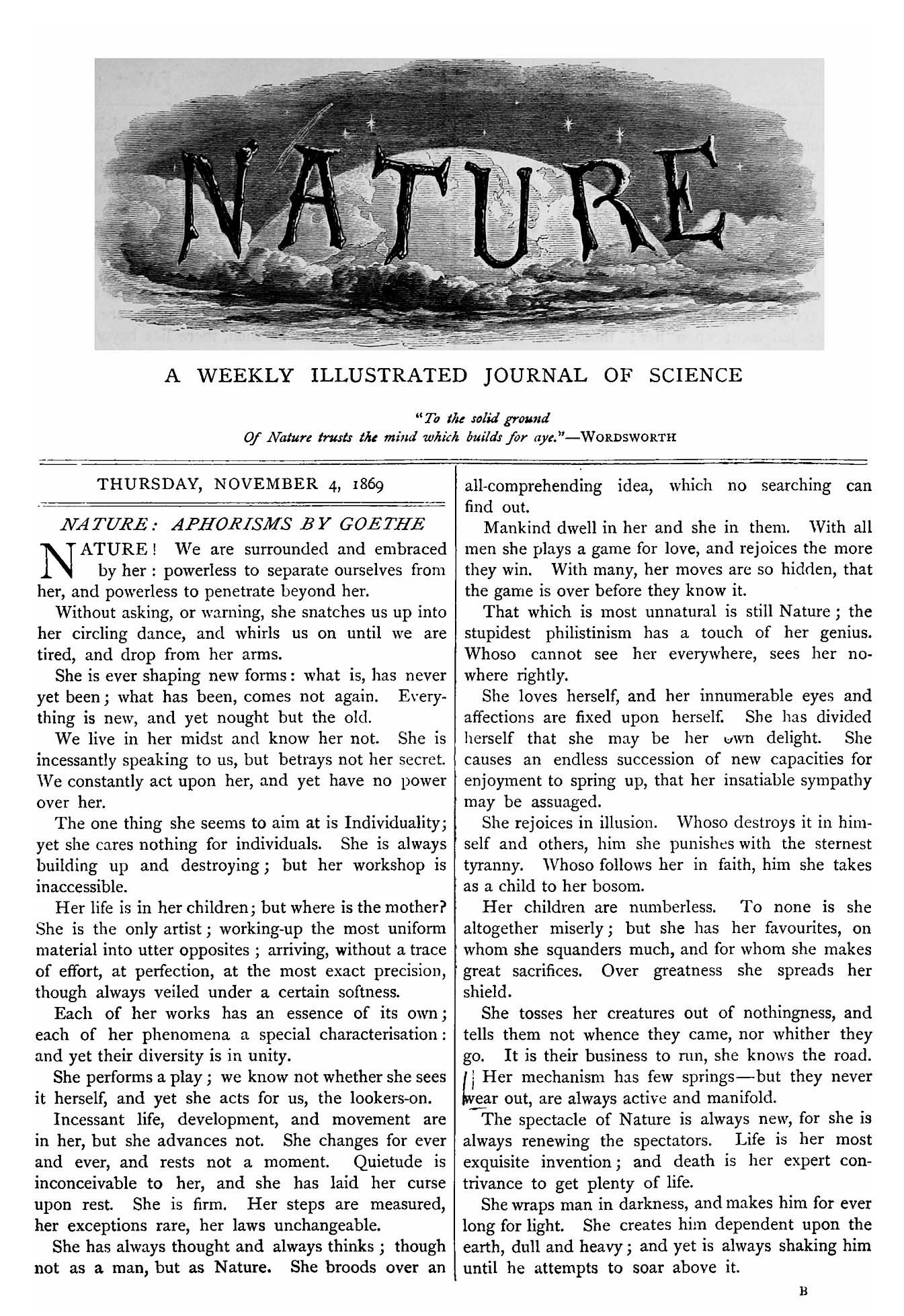 Nature's first title page circa 4 November 1869. Image via Wikipedia
There are many fields of research in which important new advances and original research are published as either articles or letters in Nature. The papers that have been published in this journal are internationally acclaimed for maintaining high research standards. Fewer than 8% of submitted papers are accepted for publication.
In 2007 Nature (together with Science) received the Prince of Asturias Award for Communications and Humanity.
All images via Nature
Tags/ inspiration, typeface, font, rebranding, redesign, journal, britain, bespoke, commercial type, academic