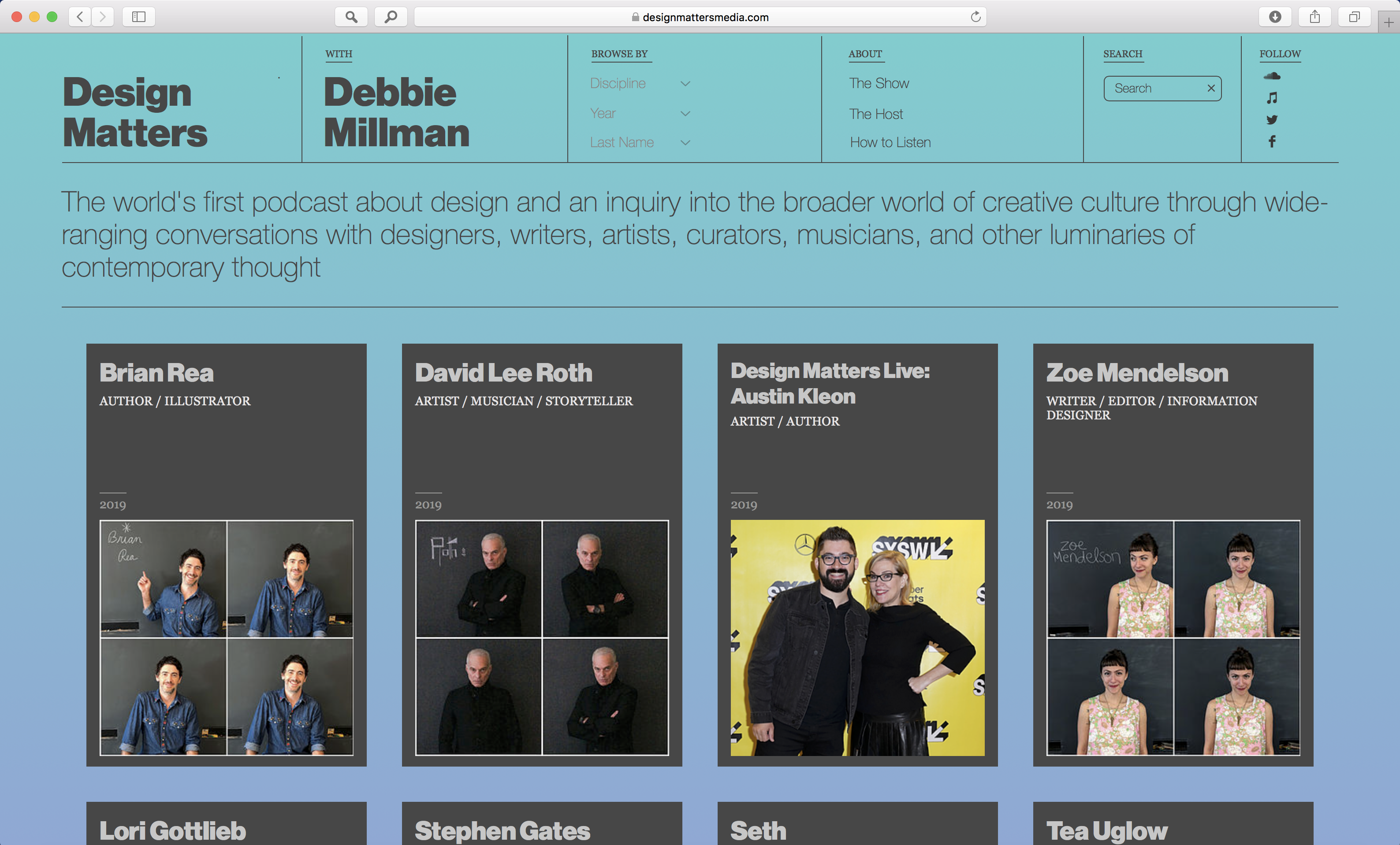 Design Matters & five more podcasts to feed your creative soul
Named "one of the most influential designers working today" by Graphic Design USA, and "one of the most creative people working in the business" by Fast Company, Debbie Millman is an author, educator, brand strategist and host of the podcast Design Matters, arguably the first and longest-running podcast about design.
"In 2005, I started a little radio show called Design Matters. I often say that Design Matters began with an idea and a telephone line. After an offer from the Voice America Business Network to create an online radio show in exchange for a fee — yes, I had to pay them — I decided that interviewing designers who I revered would be an inventive way to ask my heroes everything I wanted to know about them. I started broadcasting Design Matters live from a telephone modem in my office at Sterling Brands in the Empire State Building. After the first dozen episodes, I began to distribute the episodes free on iTunes, making it the first-ever design podcast to be distributed in this manner."
"I realized the opportunity to share the brilliance of my guests with an audience I never expected was the gift of a lifetime, but as the show grew in popularity, I recognized that I needed to upgrade both the sound quality and the distribution. After 100 episodes on Voice America, I was invited to publish Design Matters on Design Observer by co-founder Bill Drenttel. Design Matters is now the anchor show on Design Observer's media channel, and the show is produced at the specially built podcast studio located at my Masters in Branding program at the School of Visual Arts in New York City. In 2011, the show was awarded the People's Choice Cooper Hewitt National Design Award. In 2012, at a celebratory luncheon at the White House, I was congratulated by the one and only First Lady of the United States, Michelle Obama" notes Millman.
Millman has interviewed more than 300 design luminaries and cultural commentators, including Massimo Vignelli, Milton Glaser, Malcolm Gladwell, Dan Pink, Barbara Kruger, Seth Godin and more and in the many years since its inception, the show has garnered over 5 million downloads per year, a Cooper Hewitt National Design Award and iTunes designated it one of the best podcasts of 2015. The show has been nominated for two Webby's and has been featured on over 100 "best-of" lists including Architectural Digest, Goop, The Chicago Tribune and more.
Recently Millman has partnered with Patreon to "give listeners an opportunity to be more involved in the show via access to transcripts of the shows, additional live interview recordings that aren't released to the public, various opportunities to sit in on live Design Matters recordings, intimate Q&A sessions with her guests, and an annual publication featuring additional interviews, artwork, cultural commentary from legendary writers and editors and more."
Support Millman to bring this additional material and access to listeners in a "meaningful, exceptionally well-designed way" here.
Debbie Millman is the inventor of the design podcast format so do follow her adventures here.
5 more design podcasts to love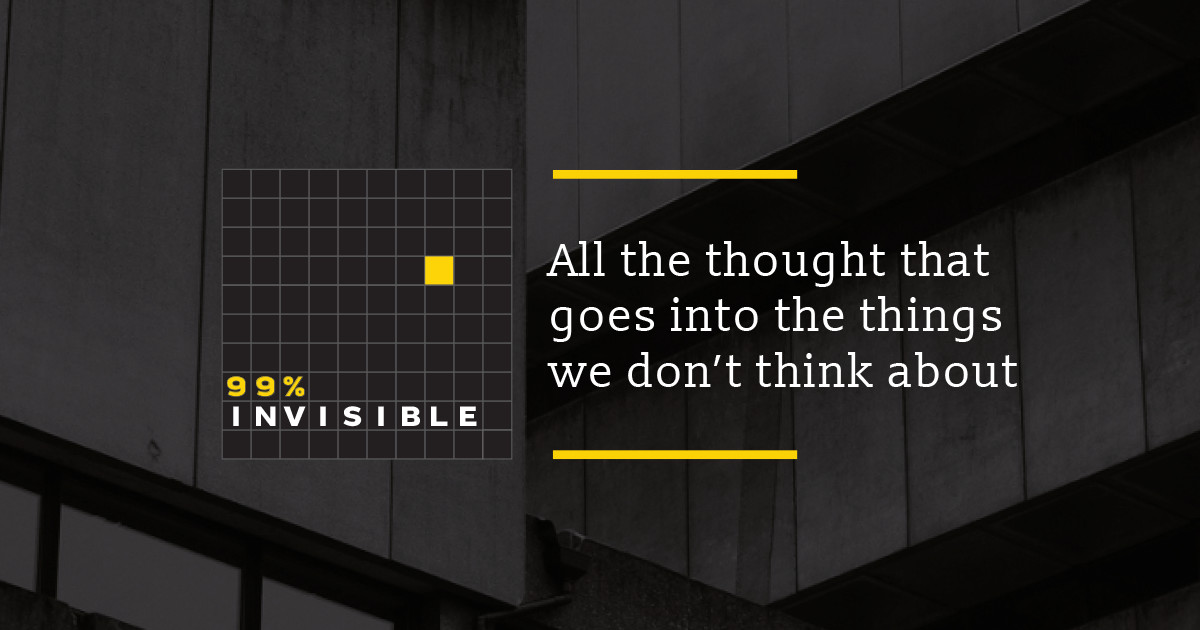 99% Invisible
Design is everywhere in our lives, perhaps most importantly in the places where we've just stopped noticing. 99% Invisible is a weekly exploration of the process and power of design and architecture from award-winning producer Roman Mars.
The Observatory by Design Observer
Pentagram's Michael Bierut and Jessica Helfand discuss, design, current events, and current enthusiasms.
Typeradio
A Micro FM broadcast, an MP3 internet radio stream and a podcast station if type is speech on paper, Typeradio is speech on type.
Co-founded by Liza Enebeis, creative director at Studio Dumbar (part of Dept), Donald Beekman and the type foundry Underware back in 2004 Typeradio has an archive of more than 500 interviews for download.
Scratching the Surface
Hosted by designer, writer, educator, and podcaster Jarrett Fuller Scratching the Surface is all about the intersection of design criticism and practice.
Each week, Fuller interviews designers, writers, critics, educators and those that operate between these fields about how writing, criticism, and theory informs individual practice and the graphic design profession at large.
Fuller has interviewed the top designers, critics, and thinkers working today including Rudy Vanderlans, Peter Mendelsund, Alexandra Lange, Paul Goldberger, Steven Heller, Jessica Helfand, and Ellen Lupton.
Tune in Scratching the Surface here.
The Futur
Chris Do, host of YouTube channel "The Process" talks about branding, design, business and user experience design in this ultra-successful and insightful podcast.
Tags/ design, inspiration, graphic design, massimo vignelli, ellen lupton, steven heller, michael beirut, design observer, podcast, 99% invisible, studio dumbar, debbie millman, design matters, patreon, radio, typeradio, the futur, chris do, jarrett fuller, itunes